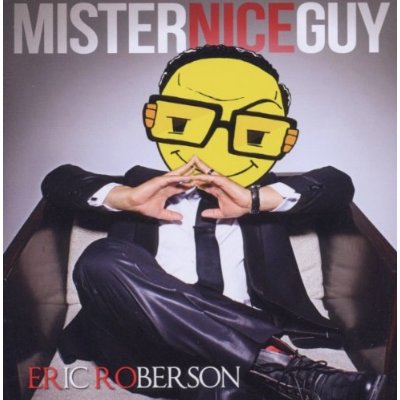 I was first introduced to Erro's music through his running mates Dwele, Phonte, etc. I bought his album …Left and was impressed with his talent. In 2008 or so, I was able to catch him in concert in DC and I bought the rest of his albums from him right then and there. I haven't looked back as he's easily one of my favorite male singers. His ability to tell stories and convey what I'm thinking is uncanny. I'm not sure what to expect from this indie release, nationally distributed (cop it from your local Target, Best Buy, etc.) follow up to Music Fan First, my favorite of his albums. It's a tall order to beat that one, but I'm sure that Mr. Nice Guy himself has more than one trick up his sleeve.
Generally speaking, there are at least two sides to every guy, the good "nice guy" side and the more complex, "dark side." For those of us that Rock out more to the nice side, we have a few songs to choose from. Of course, Mr. Nice Guy is our jam. "Mr. Nice Guy, yeah last to be thought about, first one she's turnin' down" is more than a well written hook. As much as women say they just want a nice guy, they give up the goods (emotionally and physically) to someone that wouldn't remember their name if it wasn't for the sex. I think it's cool if that's what you're on, but stop acting like it's not.There's nothing I don't like about this song and it's a strong way to kick off the album. Picture Perfect appeals to our romantic side. The idea of being so infatuated and enamored with the apple of our eye that we state she's "picture perfect." It's always cool to hear us talk about real emotions. Shake Her Hand is his latest foray into the complications of external attraction while in the confines of a relationship and choosing the relationship instead of the newness. If you liked "Borrow You" and "Tale of Two" you'll love this.
Like I said, we have our dark side too, and there are songs that appeal to that side as well. Love's Withdrawal isn't necessarily a dark song, but the idea of rolling in a friends with benefits relationship in the first place isn't what nice guys are made of right? The song details the often confusing lines of friends with benefits and lovers scared of commitment. At what point does it go from lust to love and is that a good or bad thing? How Would I Feel asks the question of how would you feel if she snooped in on your emails and phone texts…like you did her. There are only two outcomes when you go snoopin', you find something (real or imaginary) and get pissed or you end up feeling stupid because there is nothing there. Some will pretend to be relieved, but that only lasts temporary as you will probably keep snooping until you find something that justifies your sneaky ways.I loved this song the moment I heard it. Talking Reckless takes place on an outing in a space with someone that you've known intimately while seeing someone there that you've also known intimately. How do you act? Those off glances and smiles thinking about flashbacks and trying to conceal the envy, attraction, and feeling that you have a secret that her new man doesn't know. Male Ego may resonate with guys more than any other song on this album. Guys know that settling down means that you are responsible for someone's feelings and ultimately, you're going to be faced with those tears that you caused; something no man enjoys.
Bottom Line:
My own bias aside (score may reflect that, I'm human) this is an amazing album and is close or even tied with Music Fan First for best Eric Roberson album to date. Mr. Nice Guy is a well crafted examination of the often oversimplified stereotype that is being a man. We are often complex and even when it seems that we're all alike and simple, there is much more to our thoughts than what is publicized. If I'm ever fortunate (?) enough to have a movie made about my life, this album will be the soundtrack.
Score 4.75 / 5
Written by Saule Wright
You can read Saule Wright's full track by track review here.