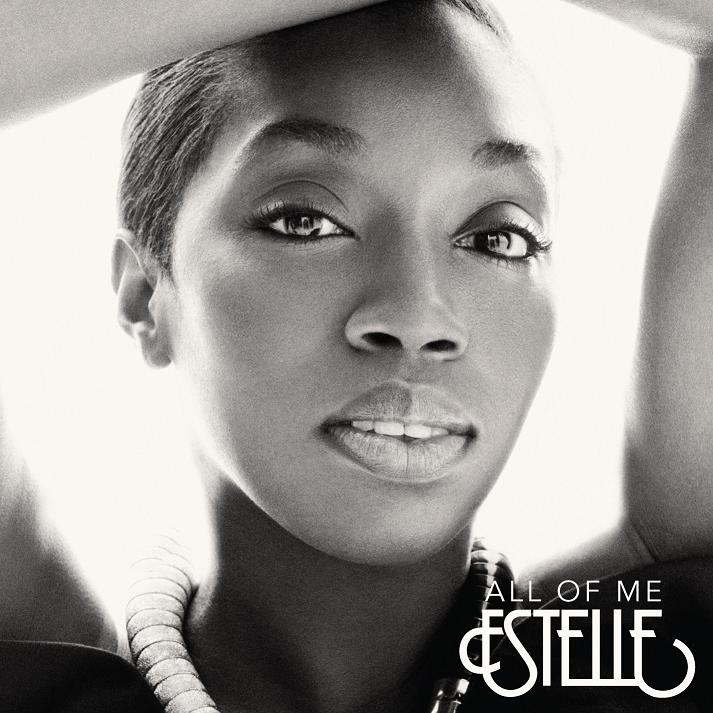 Estelle is back on the scene after her typical 4 year break with some new music. She's coming off the heels of a Gold album powered by the hit "American Boy" and help from some names such as WIll.i.am, John Legend, Cee-Lo and of course Kanye. Even since 2008 the music scene has changed quite drastically and after the lackluster numbers by two previous singles, it's still a bit curious to see what we'll get this time around. I'm sure that the talented Estelle has a few tricks up her sleeve so I'm excited to unwrap All of Me.
One of the things you'll definitely notice on this album is Estelle's ability to be a bit of a chameleon and sound like some of your favorites. She puts you in the mind of Mary Mary on Love the Way We Used To. It is a very inviting song both musically and lyrically. There is an extremely laid back approach to the writing on this one. Speak Ya Mind is an uptempo jam that mimics Adina Howard's "Freak Like Me" melody. Back To Love seems to take inspiration from Coldplay and she holds her own in her duet with Janelle Monáe, Do My Thang. Even with such varied musical expressions, she still manages to deliver some really good music.
It also is important to note that she does branch out a bit on this album as well. The album lead in, The Life,is full of energy and has a good carefree message. This is a good way to kick off the album and the track is pretty nod-worthy. We also get more dance music with International (Serious). I'm confused as to why this one wasn't selected as the next single as it not only has the star power, it's one of the best songs on the album.
I'd have to say that if this album has a standout moment though, it comes on Thank You. This song is one of the best songs Estelle's ever performed. There is an undeniable Mary J Blige spirit here that honestly makes you double and triple check what you're listening to. The soulful lyrics, vintage soul melody, and late breaking drums really move this song unlike anything else I've heard from Estelle since maybe her debut album. "These tears I cry sure won't be the last / they will not be the last, no / cause this pain inside / never seems to pass / it never seems to pass me by / so I thank you / said I thank you / yes I thank you / for making me a woman."
Bottom Line:
It's impossible to summarize this album without noting the attempt to pay homage to Miseducation of Lauryn Hill which appears to have inspired the conversational interludes between some of the songs. While the album may not be completely successful there, it's still successful as an expression of creativity and diversity. I fear that while searching for the big single to launch this album (evident by the exclusion of two previous singles and Break My Heart peaking at 33) they slept on International (Serious) and that may end up costing sales, at least initially until that song is promoted. I don't know that the album has more than one moment that makes you really remember it, but since when has putting out a solid album been a bad thing? All of Me is a really good album that showcases Estelle's diversity and outlook on life right now and is definitely worth a listen.
3.5 / 5
You can read Saule Wright's track by track review at nappyafro.com (http://www.nappyafro.com/?p=27650)