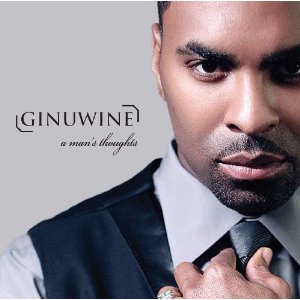 Time and time again, a singer will come up with a producer or writer and establish themselves while making their mark in r&b. After much success, the artist will decide they want to see if they can succeed on their own and go in a different direction; often times with less success. Ginuwine is a perfect example of that scenario. Timbaland was the up and coming producer who masterfully crafted the sound on his first two albums, leading both to platinum status. He was the one who gave him such hits as "Pony," "Same 'Ol' G," "What's So Different" and "So Anxious." However, the two would only collaborate once over the course of his next three albums.
For an artist who primarily doesn't write his own lyrics, it's even harder to gain a consistent sound, which is what Ginuwine has struggled with on his previous three releases. This culminated with his previous album "Back II Da Basics" being the lowest selling and charting of his career. On "A Man's Thoughts," he is able to gain that consistency, and even though he collaborated with Timbaland for a song on this album, that is far from the highlight here. The album is exactly what the title states, "A Man's Thoughts," documenting what you would expect a man to be thinking at various points in romance. In fact, he enlisted the right set writers to paint a picture in each song that express thoughts most men have had at one point or another in a relationship.
The album begins with "Show Off," an up-tempo song describing how Ginuwine found the finest girl in the club and desires to meet her. This is the first of many songs written by R.L. from the group Next who did an excellent job writing and singing backup on this album. This is followed by another up-tempo jam, "Trouble," where Ginuwine has not only met the girl, but gets to dancing with her and fantasizes about more. Through these songs, he uses the beginning of the album to set the tone as the beginning of a relationship.
Now that Ginuwine has met the girl and made her his, like a typical relationship it has many ups and downs. "Open the Door" and "Orchestra" are two beautiful mid tempo jams that let this girl know Ginuwine is serious about having her in his life. "Even When I'm Mad" finds him confessing how bad he has it for this girl even when they argue. R.L. masterfully penned each of these songs had such a big hand in the success of this album that it actually made me crave to hear a new solo album of his own.
Next, the highly anticipated Timbaland collaboration comes up called "Get Involved" which also features Missy Elliot. After five years of being out of touch, the three got back together for a reunion of sorts. Unfortunately, the song doesn't really fit into the flow of this album and feels forced. Timbaland provides an up-tempo disco sounding beat on a song that is not reminiscent at all of their previous collaborations. It really pains me to say that this album would have been better with this track left off.
The album is not all positive though, and like most relationships, it includes deception and forgiveness. On "Last Chance," which is the first single, Ginuwine croons about a relationship that is on the rocks and begs for a one more chance. As usual, the production of Bryan-Michael Cox creates an instant hit. "One Time for Love," another B.M. Cox production, is another highlight of the album where Ginuwine is trying to work out a relationship that has gone off track. It may not be a full album of the Timbaland sound, but Ginuwine certainly enlisted a cast of producers and writers who know how to make excellent r&b music.
While this may not be anywhere near the classic Ginuwine sound we heard when he first came up, "A Man's Thought's" is definitely a step in the right direction back to r&b respectability. Thankfully, he didn't rely on any gimmicks or radio friendly sounds primarily made for the radio. Although he didn't go back to his roots in terms of production, he did put together an album full of pure r&b that flows perfectly from beginning to end. Ironically, Timbaland was the one thing out of place on this album, which is less of a slight to Timbaland and more of a credit to the growth in Ginuwine's career.
Rating: 3.5/5