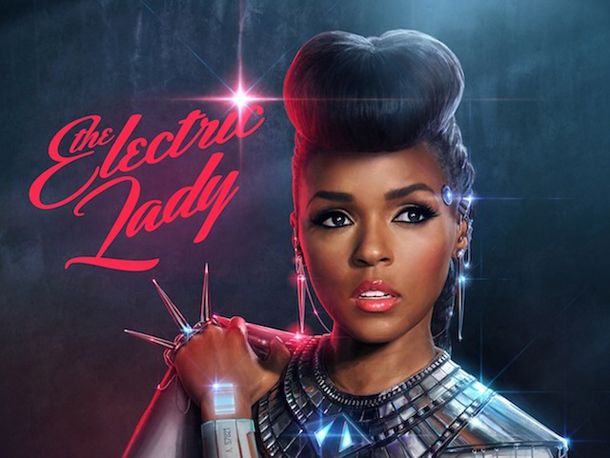 Words by Edward T. Bowser, SoulInStereo.com
I never thought the savoir of R&B would be a woman who pretends to be a robot.
But Janelle Monáe is here, and she's changing the game.
Her 2010 album, The ArchAndroid, and 2007 EP Metropolis: Suite 1, stretched the conventions of soul. Cloaking herself in the persona of android Cindi Mayweather, Monáe transforms into a futuristic freedom fighter aiming to bring love and peace to an oppressed society stuck in the past.
If that sounds too weird and experimental for your tastes, go ahead and click that little X at the top of your browser and close this window. Monáe's sophomore album, The Electric Lady, isn't for you. But Monáe isn't about conforming to current standards, she's about creating new ones. The ArchAndroid is one of the strongest albums of the past decade and The Electric Lady isn't far behind.
The very second those weepy strings swoop in on the album intro "Suite IV Electric Overture," you know you're set for an experience. Sounding like the opening to a James Bond flick, the story unfolds right before your ears.
Consider The Electric Lady one big lesson in the evolution of music. First stop, the '60s. "It's Code" is futuristic Motown – borrowing elements without blatantly mimicking the style. In the '70s, "We Were Rock and Roll" sounds like Soul Train on a spaceship. "Primetime" pairs Janelle with Miguel for an amazing '80s ballad straight out of Prince's playbook. And speaking of the Purple One, he shows up for "Givin' 'Em What They Love," in what becomes a 5-minute jam session. "Look Into My Eyes" exudes Latin flair while the title track, featuring Solange, knocks with the sounds of classic '90s R&B.
On her afrofuturistic journey, Monáe uses the album as a platform for empowerment. Those souls that android Cindi Mayweather are trying to save are the very women listening to this album.
"Electric lady, you're a star/You got that classic kinda crazy/but you know just who you are," she says on the title track and it becomes the theme of the set. "Q.U.E.E.N." urges women to embrace their individuality while "Ghetto Woman" is a tribute to the fortitude of hardworking ladies. And some tracks directly pay homage to women trailblazers – Monáe blasts off and leaves her problems behind on "Sally Ride," named after the first American woman in space while she and Esperanza Spalding leave men spellbound on "Dorothy Dandridge Eyes."
Amazingly, The Electric Lady is an album that looks back in time while moving light-years ahead in the future. It's a history lesson set to song.
If you're looking for mindless, repetitive club "bangers," or any attempts at mimicking the success of those overplayed "techo-pop" tracks you're better off tuning into 106 & Park. While some artists are stuck in the here and now, Monáe's looking to the past and rocketing into the future.
I'm starting to buy into this "time-traveling robot lady from the future" stuff. It's the only explanation for albums this good.
Best tracks: "Primetime," "Electric Lady," "Dorothy Dandridge Eyes"
4.5 stars out of 5
Can't get enough of Edd? For more album reviews, relationship talk, pop culture news and Keith Sweat hero worship, visit SoulInStereo.com and follow him on Twitter @etbowser.