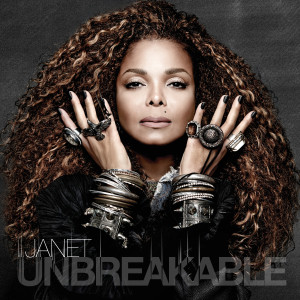 Words by Edward T. Bowser, SoulInStereo.com
Let's just be honest: There is no way Janet Jackson's comeback album can reach our absurdly high expectations.
I mean, ol' Damita Jo would have to build a time machine, get her Poetic Justice hat and braids, and fly back to 2015 in the "Scream" spaceship to appease fans looking for that '90s nostalgia.
The bar has been set impossibly high because, well, Janet has had impossibly successful career.
So no, Unbreakable, Janet's 11th studio album and her first release in seven years, can't compare to instant classics like janet. and The Velvet Rope. But it does prove that she's still one of the greatest talents to straddle the lines of pop and R&B.
First single "No Sleeep" was met with mixed reviews – some saw it as little more than a sleepy album cut. I disagree – it's the type of sensual R&B that may be passé on Top 40 playlists, but it's the sound that shaped Janet's career. Unbreakable is a showcase of Janet's diversity – ballads, pop tracks and dance tracks are all well-represented. They're the building blocks for her unbreakable career.
Janet's always been the queen of the dancehall and her crown is firmly intact here. Janet effortlessly turns back the clock on "Burnitup!" – with vocals that sound eerily like the King of Pop himself – crafting a dance tract that sounds current, yet doesn't abandon her signature sound. "Dammn Baby" sprinkles soulful R&B inflections with finger snaps right out of DJ Mustard's bag of tricks, maintaining that duality between past and present. That's even more prominent on "Night," a track that drifts Janet toward EDM but, thankfully, doesn't suffocate her vocals with overbearing production. It works well.
A large percentage of the album is surprisingly ballad heavy. That might be a turnoff to fans aching for Rhythm Nation 2K15, but forget the pacing and listen to the message – Janet really has something to say. "After You Fall" features gentle vocals with actual CLARITY – none of that mush-mouthed cooing that plagued her previous albums. "Your resilience is so brilliant," she says, providing comfort to weary hearts.
Strength in the time of storms – ladies, sometimes that's all a brother needs.
"Lessons Learned" offers more sublime wisdom, as does "Black Eagle": "Just remember when you're overwhelmed, dream and take time to love yourself." Sappy? Maybe. But these are the messages the world needs to hear right now, and they have a deeper meaning when they're delivered by legendary artists.
Unbreakable's main weakness is shared by pretty much all of Janet's albums – with 17 tracks, the running time is slightly too long, with tracks like "2 B Loved" getting lost in the lengthy shuffle. That's not even including the bonus tracks (which are basically just 17 different version of "No Sleeep"). Also, this set is just DYING to have more midtempo R&B – the title track and criminally short "Dream Maker/Euphoria" almost felt like teasers.
Regardless, Janet's reunion with longtime partners Jimmy Jam and Terry Lewis is a rousing success, and a credit to their musical dexterity. From the sweaty funk of "Gon B Alright" to infectious groove of "Take Me Away," Unbreakable is a showcase of the evolution of pop and R&B.
Will Unbreakable meet your expectations? If you're expecting an album as monumental as Control, probably not. Instead, expect another strong album from one of music's greatest trendsetters. Regardless of expectations, her legacy is unbreakable.
Best tracks: "Unbreakable," "No Sleeep," "After You Fall"
4 stars out of 5
Can't get enough of Edd? For more album reviews, relationship talk, pop culture news and Keith Sweat hero worship, visit SoulInStereo.com and follow him on Twitter @etbowser.