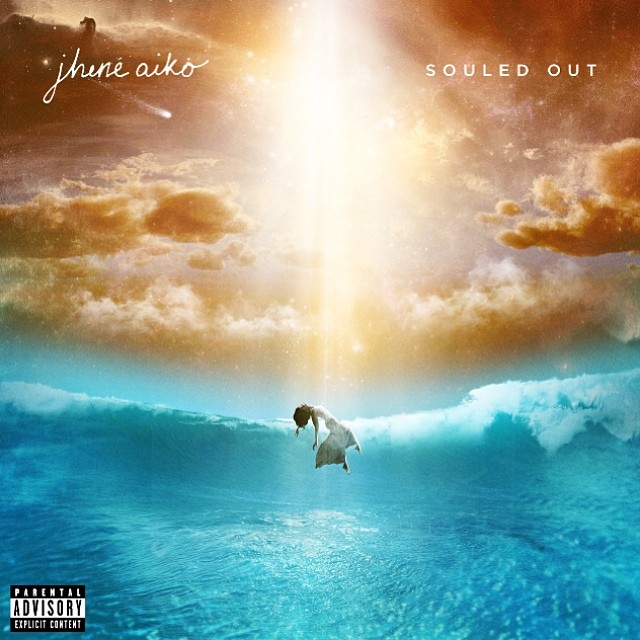 Words by Edward T. Bowser, 
SoulInStereo.com
Jhené Aiko's road to music superstardom has been long, winding and flooded with emotion. She had a stint with B2K as Lil' Fizz's play cousin, label drama that caused her debut album to be shelved, the birth of a daughter, the passing of a brother and renewed success with the release of a successful mixtape and EP.
Every bit of that emotional journey has been compressed into her long-awaited debut, Souled Out. But unlike her R&B contemporaries, who unleash their feeling with ear-shattering high notes or harsh, angry lyrics, Jhené's feelings are much more understated. Her emotion seethes intensely but quietly, which was evident on her breakout single "The Worst."  Souled Out is the continuation of that journey.
Jhené's airy vocals tend to float around like feathers caught in a breeze, which means it's up to her lyrics and production to drive home the stories of her songs. Keys tinkle while 808s sporadically pound on "Limbo Limbo Limbo" while "Wading" gently coasts by like, um, waves. "The Pressure" might possess the most interesting construction, with the random strings that accent the beat – it's easy to get caught up in the instrumentation.
"Spotless Mind" sounds like a summer breeze on wax while Jhené calmly breaks down the faults in her relationship: "shame on me for changing, shame on you for staying the same." There's plenty of blame to go around and on a track this inviting, it's hard to hold grudges.
Jhené usually refrains from finger-pointing, only coming close to losing her cool on "Lyin King," where she tells her dude "you just go around breaking hearts just to see what's inside." Usually, though, she's caught up in the moment, whether it's total infatuation on "It's Cool" or turning a blind eye to her relationship's blatant flaws on "Eternal Sunshine." Jhené's most emotional moments burst forth on "W.A.Y.S." and "Promises," which both serve as love letters to her daughter and brother.
Souled Out is a swirling cauldron of emotion and it's really easy for the listener to get lost in the music. And that's not always a good thing. Occasionally, songs like the hip-hop laced "To Love & Die" offer a needed change of pace. However, more often than not, Jhené insistence on singing in just one key, along with atmospheric production that bleeds from track to track, make the album sound like one big, long song. It's great as background music but gets monotonous after awhile, especially when you add in Jhené's tendency to repeat lyrics multiple times in each song. It was cute in "The Worst" but gets old REAL fast here.
The best thing about Souled Out is that it takes risk in a genre that seems terrified of change. There are few guest stars here (only Common, Cocaine 80s and Jhené's family members show up) and no sad attempts to claw at radio play. Jhené's true to herself and her art.
Souled Out is a slight dip on her emotional rollercoaster but she's not far from reaching the top.
Best tracks: "Spotless Mind," "The Pressure," "Wading"
3.5 stars out of 5
Can't get enough of Edd? For more album reviews, relationship talk, pop culture news and Keith Sweat hero worship, visit SoulInStereo.com and follow him on Twitter @etbowser.