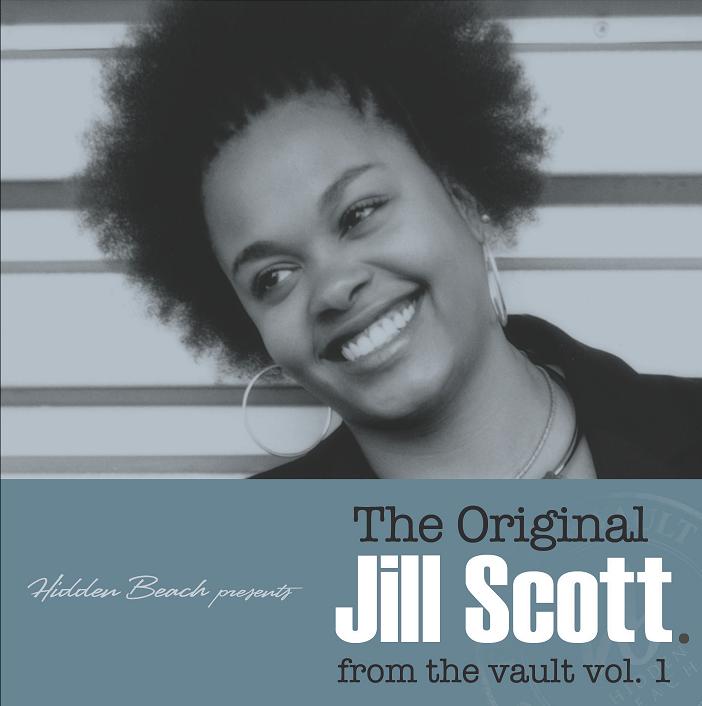 For the second time in 2011, we are blessed with some Jill Scott music. As a solution to the much publicized issues between Jill and Hidden Beach, a series consisting of previously unreleased Scott songs was released for our consumption. I would imagine that that would lead to these albums having a mixtape sort of quality to them. That is pretty different from her normal releases which are all very focused arranged. I'm assuming though, and they know what they say about that so let's just get into The Original Jill Scott from the Vault, Vol. 1.
1. Intro-Love To Love Prelude
Quick intro, nothing to note here.
2. I Don't Know (I Gotta Have You)
Produced by Carvin Haggins, Ivan Barias
I dare anyone to sit still when this starts. Everything about this song is like a R&B revival making you clap, dance, bob your heads, and feel her soulfully tell this tale with ease. The harmonies are extremely well done and Jill sounds so happy singing here that I wish this would have been included on one of her albums. I've got a feeling I'll be saying that last line a lot…so I'll spare you.
3. Wondering Why? (You Don't Talk To Me)
Produced by Anthony Bell
Jill is quick to point out that she's not an entertainer, she's an artist. So I guess it's natural for me to feel like there is something more tangible about her making songs that have that coffee shop, open mic feel. It's hard to qualify what I'm saying verbally, but there are moments when she just seems really dialed in and feels like she's reaching into your soul and putting those feelings on wax. This song, a story of one of being lost in a failing relationship, is a great example. There isn't anything complex about the song, and I guess therein lies it's greatness.
4. The Light (original mix)
Produced by Dre & Vidal
It wasn't until I heard the other version that I made up my mind that I wasn't a really big fan of this version. Something about the tone of this song is undeniably heavy in relation to the vocals and it seems to be a bit out of balance. I think the track is cool, and the vocals are cool, but together, they just don't work for me on this version. Don't mind me though, I'm being overly critical because that's my job, you'll probably enjoy this just fine.

5. Wake Up Baby
Produced by Ronald "Pnut" Frost
This is the first moment that you get the feel that this was not constructed as an album, but instead a collection of songs. There is a real break in flow from the previous song to this one. However, this song is one of my favorites on the album. Again, this is one of the songs that really speak to me…and it's about women understanding their value.
Then grandma comes, creeping to my room
all quiet like, while I find my shoes
she then tells me, babe, this ain't the way
if he really cared for you
he wouldn't be calling so late
wake up baby, wake up baby
he don't really care for you
don't you have school in the morning
wake up baby, wake up baby
he don't really care for you
I know you have important things to do
She says I'm old enough to know
how the loving flows
if he honks outside
if he waits in his car
oh baby (3x) he ain't seeing you
like the jewel, like the flower you are.
6. Lovely Day
Produced by DJ Jazzy Jeff
…yes, that "Lovely Day." The original is one of my personal favorites but hear me out. I think Jill's version is good, but the emotion Bill put into the hook is missing. With the extended notes, you could hear him smiling like, well, like he was having a lovely day. Especially when he hit the chorus for the 3rd time and jumped up a few octaves. This version misses the mark in the same way that Maroon 5's version of the same song missed the mark, that happy emotion. Then you have versions done by Diana Ross and Kirk Franklin that seem to capture and convey that joy. Like I said though, this is a good version. Take a listen for yourself.
7. Dear Mr. & Mrs. Record Industry
Produced by Ronald "Pnut" Frost
I'm resisting to just type out the lyrics and nothing else. Add this to my list not just of favorite songs this year, but one of my favorite Jill Scott songs ever. We get some soulful guitar work and powerful vocals. She's draped with some throwback soulful harmony by her background singers to really make you wonder, yet again, how this song didn't get included on an album. Lyrically…I won't spoil this, you need to hear it. This may be the strongest song, in all aspects, on this album.
8. Love to Love
Produced by Alric and Boyd
I don't like this song…and I don't know how to candy coat it at all. From the track to the out of tune style of the song, it just doesn't appeal to me. You have to remember though, I said previously in my review of Light of the Sun, I'm not really a fan of those out of tune type songs.
9. Running Away (suite)
Produced by Adam Blackstone, George "Spanky" McCurdy, Eric Wortham
Staying true to her statement that she's an artist, we get another one of Jill's suite songs. The previous episodes ("La BOOM Vent Suite", "Love Rain" and "Imagination/Crown Royal Suite") are typically longer, more artistic and give you the feeling of being there in concert as she does her thing. Just like those versions as well, this one is really raw and sounds like it was done in one take, ad libs included. The added bonus hearing what sounds like actual process recording this song and vibing out to the music. Every Jill Scott and music fan will love this one.
10. I'm Prettier
Produced by Pete Kuzma
This is a really important song. In a time when women Black women are repeatedly under attack by media telling them that maybe marriage isn't in the cards for them and our own brothas objectifying them to the point that they are propositioning them for sex before the idea of an actual date, to commercials telling them to buy this make up and underwear with the butt already in them, we forget how instrumental she is to us. This song serves as a reminder of not just how much she has to deal with in the family and society, but how naturally "pretty" they are. Pete Kuzma did a great job of giving us a nice easy track that allows the lyrics and vocal arrangement breathe.
11. Comes to the Light (Everything)
Produced by Ronald "Pnut" Frost
It's not often you find a song from a woman talking about her own infidelity. Now, I'm not talking about this being Jill's personal life here at all, but I am talking about the story told in the song. The fantastic thing about this song lyrically is that it could easily be a man singing this song (you know the usual suspects right?) and nothing is lost because it's ambiguous like that. It's written with a focus on the emotions and based on how it's delivered, you may find yourself feeling bad for the person singing the song.
12. Holding On
Produced by Adam Blackstone, George "Spanky" McCurdy, Eric Wortham
To close out the regular release version of the album Jill goes Jazz on us. The track creates a smokey, Cotton Club atmosphere where this story is told from the stage. This songs style reminds me a lot of Norah Jones music on her debut, just to give you some idea of what it sounds like. It's hard to really present this one for you because a lot is lost in translation specifically on this one, from audio to me typing.
13. The Light (Piano Mix)
Produced by Dre & Vidal
THIS version of the song is the one I prefer. The tempo is reminiscent of Get Lifted John Legend music. The previous version was more funky and this one has a much more Hip Hop DNA about it. The way the track changes influences how you'll feel about this track is pretty amazing.

14. And I Heard…Do You Understand [Live]
Produced by Jill Scott
I won't ruin this one for those of you that purchase the Deluxe version of the album…but if you're on the fence about purchasing the regular or the deluxe, and you call yourself a Jill Scott fan…you need this version for this song alone.
Bottom Line:
If you told me that Hidden Beach was going to release some unreleased Jill Scott music into an album, this is what I'd expect to get. This is almost like going into a time machine and getting her music. I'd imagine that the majority of the music on this release was recorded somewhere around 2000-2004. Now, I may be completely wrong about that but it certainly has the feel of the music from her first two albums. Most of the time, you're left questioning why this song wasn't on an album anyway. Anyone who loves Jilly from Philly's music will be delighted with this album. There are moments in the arrangement that seem to stumble a bit here and there but it all comes together to give a really great look at the artist known as Jill Scott.
Rating: 4/5
Written by Saule Wright
You can read more reviews from our newest contributor at www.soulections.com or www.nappyafro.com