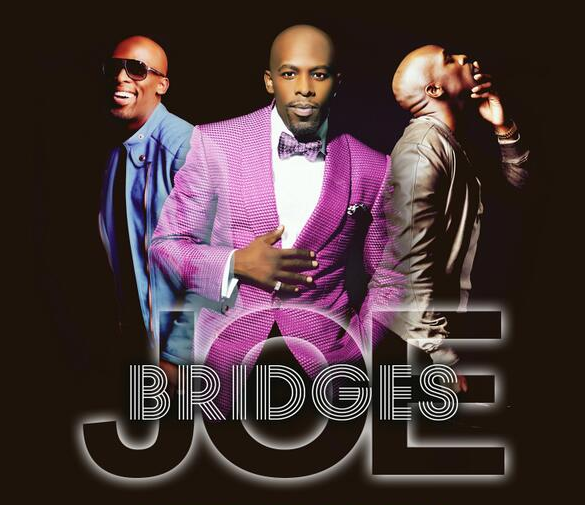 Words by Edward T. Bowser, SoulInStereo.com
Joe makes this R&B thing look so easy.
For an artist who has been around since Fox was showing new episodes of "Martin," Joe has shown no signs of slowing down, consistently releasing strong material on an almost yearly basis.
He's the hardest-working man in R&B.
On his 11th album, Bridges, it's business as usual for Joe – a showcase of the same crystal clear vocals and alluring production that have become his trademark for more than two decades.
Joe fans might notice a few callbacks to last year's release DoubleBack: Evolution of R&B. Both "Mary Jane" and "Love & Sex" return here as remixes, featuring 50 Cent and Kelly Rowland, respectfully. True to the album's name, they serve as a bridge back to Joe's older work, tying the old with the new.
That theme continues throughout the set, which can be divided into infectious upbeat cuts and classic crooning. "Love Undefeated" boasts big band brass (say that three times fast, playa) while "Future Teller" is a groove perfect for the steppers in the house. On the other side of the coin, Joe slows things way down with "Till the Rope Gives Way," a traditional ballad wrapped in layers of emotion. It's easily the best vocal performance on the album – don't be surprised if this one gets a Grammy nod next year. Joe, as always, is vocally pristine, effortlessly changing tempo with ease.
Joe isn't afraid to wear his heart on his sleeve, a role he's accustomed to. He glides down the midtempo stairsteps of "Dilemma," where he's caught between two women. Joe warns listeners to put their woman first on "If You Lose Her" ("even though the stakes are high you're playing with her heart") and breaks down a woman's insecurities on "Blame Her Broken Heart On Me," but winds up looking for direction himself on "The Rest Will Follow": "I should have listened to the preacher's sermon/'cause now I'm reaping what I sow."
On paper, Bridges seems like the perfect release – strong production, flawless vocals and themes his core audience can relate to. But where the album falls short is the intangibles.
At 16 tracks, the album runs a bit too long, with tracks blending together in your mind after awhile. Also, after 11 releases, we know Joe can whip out a solid album in his sleep, but what would have pushed this album to the upper levels of his catalog is a standout track or two, something to distinguish this set from the norm. There are flashes of innovation – Joe carjacks Prince's little red corvette for "Love Sex Hollywood" and sounds great singing in Prince's trademark register – but otherwise the album is just more of the same.
That "same," though, is still better than most R&B you'll hear all year.
Bridges proves that, once again, Joe delivers. At this point, it shouldn't be a surprise. He can't help but win.
Best tracks: "Blame Her Broken Heart On Me," "Mary Jane (Remix)," "Till the Rope Gives Way"
3.5 stars out of 5
Can't get enough of Edd? For more album reviews, relationship talk, pop culture news and Keith Sweat hero worship, visit SoulInStereo.com and follow him on Twitter @etbowser.