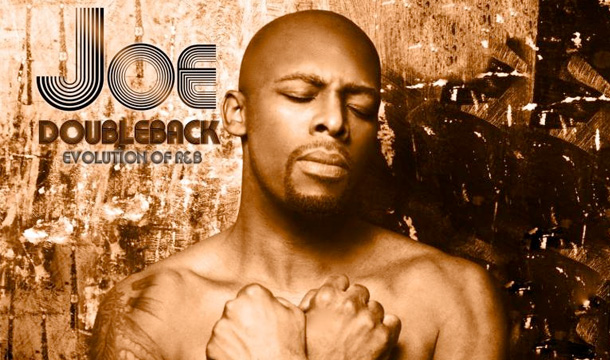 Words by Edward T. Bowser, SoulInStereo.com
Fellas, if you could have the voice of any R&B singer, whom would you pick?
The choice is easy for me. Joe Thomas.
I can't think of a voice that's more fluid than his. For 20 years now, he's made creating hit records look (and sound) so easy.
Joe continues his streak of consistency with DoubleBack: Evolution of R&B, his 10th studio release. I do have to take issue with the album's title – there isn't much here in the way of evolution or innovation. It's the same, reliable Joe we've known since the days of "I'm In Luv."
And that's a good thing, of course.
Joe's vocals hop elegantly between the brash horns and bass guitars of "Something for You." The groove is warm. Comforting. Familiar. It's Joe at his best.
Joe soon settles in the role of the wise big brother, using his life experiences to impart knowledge to listeners. "Sometimes you gotta put in work just to make it work," he says on "Easy." Life lessons follow on the funky "Compromise" and he even puts his own struggles on display with "Baby" and "Magic City." Specifically, the latter has Joe looking for love in strip clubs but by the time "I'd Rather Have Love" hits, he realizes the error of his ways. "Find yourself a love or you'll find yourself alone, he advises in the intro – perfect advice for noncommittal guys who fear they'll miss their chance to ride the freak train.
Never fear, DoubleBack isn't just a preachy advice column. Joe's still the master of setting the mood. "Sexy" and "More" (not be confused with "More & More") live up to the standard set by earlier hits like "I Wanna Know" "Let's Stay Home Tonight."
The album is an airtight collection with few flaws. The only hiccup is "1 to 1 Ratio," with weird lyrics that come off kinda clunky. Thankfully Joe's effortless vocals make up for any shortcomings. I mean, on the track "Mary Jane," he makes the word "Bellagio" sound angelic.
I told you, I wish I could sing like that guy.
In the meantime, I'll stick with DoubleBack, yet another solid entry in Joe's impressive – and consistent – catalog.
Best tracks: "Easy," "Baby," "More"
4 stars out of 5
Can't get enough of Edd? For more album reviews, relationship talk, pop culture news and Keith Sweat hero worship, visit SoulInStereo.com and follow him on Twitter @etbowser.