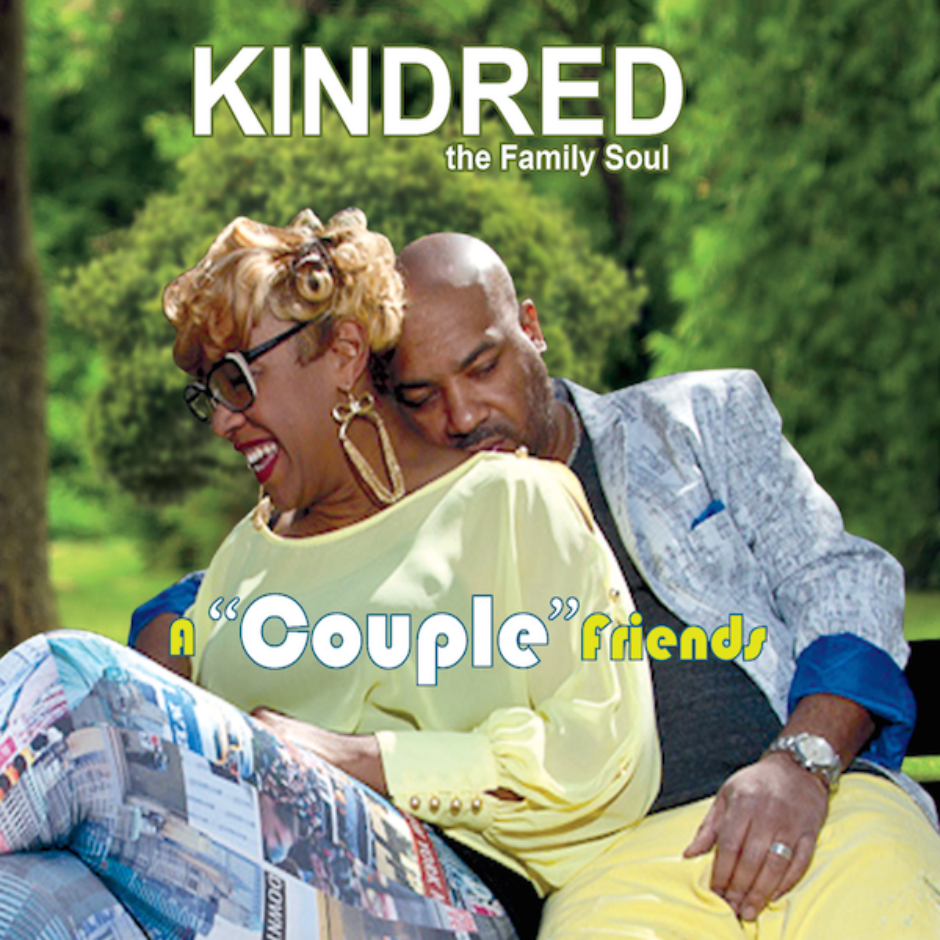 Words by Edward T. Bowser, 
SoulInStereo.com
Why do y'all keep running to Steve Harvey n' dem for relationship advice? Kindred the Family Soul has been dropping jewels for over a decade now. They're the face of family values in modern R&B.
Fatin Dantzler and Aja Graydon aren't just man and wife, nor are they simply the First Couple of Soul – they're marriage counselors implanted firmly on your playlists. They're the cool couple down the street that you turn to for advice when your partner is getting on your last nerve. You can always expect Fatin and Aja to give you that real.
A Couple Friends, Kindred's fifth release, is a perfect title. They're not just man and wife, they're friends first. That camaraderie fuels the chemistry on each track here, and it's also a testament to the lessons of love they share.
"Call Me Crazy" takes typical R&B tropes to the next level. We've heard a million songs about singers treating their mates to lives of luxury. But Kindred is much more relatable – and realistic – as they show just as much love to each other during rough times:  "Hard times don't last, learned a lot from the past," Aja sings. "They say it's a beautiful life, I say it's a beautiful ride." Aja has long been one of R&B's most overlooked voices and is a gentle contrast to Fatin's soulful rasp, best exemplified on "Get It Got It."
Love through hard times is a true test of a relationship. Fatin keeps it 100 on "Everybody's Hustling": "Working two jobs but need two more/try not to get sick 'cause you're uninsured." But Aja's not stressing about medical bills because "We got the kind of gold you can't count." "One Day Soon" encourages listeners to constantly chase dreams, while "Not Complaining" confesses that fights are a normal part of relationships – forgiveness is just stronger.
Somebody should have clued in Toni Braxton and Babyface on that lesson.
The album's atmosphere  is warm and inviting, like a conversation at grandma's house. But, also like a trip to grandma's, sometimes the constant life lessons and  preachiness  can get repetitive and wear thin. Kindred tries to lighten the mood at times, with the classy night-on-the-town vibe of "Lovin' the Night" and even Kindred's kids get TURNT UP for "Momma Said Clean Up," which is funny and brief enough not to be overbearing. Still, those diversions might not be enough to hold all listeners' attention.
Perhaps the album's greatest lesson is the importance of giving. At the end of the title track, R&B pioneer Valerie Simpson gets some shine as she lays down some keys. Kindred was obviously heavily influenced by Simpson and her late husband Nickolas Ashford and this song serves as their tribute.
A Couple Friends gives back too, providing listeners a bit of guidance as they stroll (and stumble) down lover's lane. The album's far from perfect, but neither was Kindred's journey. That makes it all the more endearing.
Best tracks: "Call Me Crazy," "Everybody's Hustling," "Get It Got It"
3.5 stars out of 5
Can't get enough of Edd? For more album reviews, relationship talk, pop culture news and Keith Sweat hero worship, visit SoulInStereo.com and follow him on Twitter @etbowser.