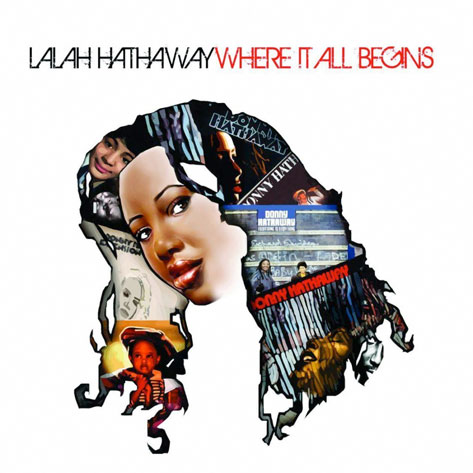 In today's cliché first, talent second market you can almost look at sales and tell what albums are good…but inversely. The more it sells, the less I tend to like the actual album. I don't know if that's a indictment of the industry and commercial tastes or some kind of comment on my own self-conscious. Either way, when you look at Lalah's body of work, it's the only logical explanation to why she's not bigger than she is. I first got familiar with her in 1999 with The Song Lives On which is one of my top 5 albums of all time, period. I was vaguely familiar with her work before then, but I'd never listened to a full project. That album made me a fan and I ended up discovering that way too many folks still are "familiar" but haven't listened to an entire album and it just like when that was me, it makes no sense. So, off my soapbox, we get a new album from Lalah entitled Where It All Begins and with a title like that, I'm curious to see what it sounds like.
I think it'd be safe to say that while Lalah tends to do what she feels musically, she can be mostly tied to jazzy and R&B type music traditionally. You get more of the same on a few songs on this album. On "Always Love You" she gives us that R&B styling but not in the confines of a typical song structure. The song is a dedication to that special someone but is by no means a ballad. I think one of the more interesting things about this song is how her voice is almost another instrument that helps make the song come together. Most times, you hear vocals follow the melody of the song but on this one, it feels like her voice is almost is freely gliding to the music to the point that if you heard the vocals and the music apart, you wouldn't link them together. However, when they are together, it's really enjoyable and harmonic. "This Could Be Love" is another song that feels like what you're used to on an R&B album. Following with the emotional theme of the song, musically, this one helps put you in a place to just slow everything down and think about what's going on. "Sounds just like it, looks just like it, feels just like it, like this could be love. Hurts just like it, feels just like it, real just like it, like this could be love." The title track, "Where It All Begins" is also a much slower song but it has a whimsical feel to it. She takes that musical landscape to hold R&B church, reassuring you that you have to be true to who you are, being sure not to let other folks lives dictate your path. "Say what you mean, mean what you say."
As much as those songs have helped build her core fanbase, there are some really dance friendly songs on this album. This really helps give Where It All Begins a decidedly more uptempo DNA than her most recent projects. The lead song, "Strong Woman", is inline with the other top releases this year (Kelly Price, Ledisi, Jill Scott) in providing a much needed anthem for the ladies. This song is a banger, no other way to put it. The synthesized bassline and hard hitting drums march you along the song behind lyrics like "she dedicated, but you playin', I suggest you choose, cause you finna lose, a strong woman…before it's too late, boy I think you better respect it." Another funky drum driven track is "My Everything." I can definitely see this song being accompanied by a drink and a two step to the dance floor. This one is really unlike anything I've really heard her sing, musically and vocally. Lyrically, the song is a dedication to that special someone with various moments where the title is sung on repeat.
There are 3 stand out moments on this album that help define it by the album title. "I'm Coming Back" is a Vesta song that was previously done on Lalah's self-titled debut album. It's really fitting that on an album titled Where It All Begins she remakes a song that really made fans fall in love with her in the first place. If you haven't heard her first remake you should check it out prior to this updated version so you can appreciate the differences. For the first time, if I'm not mistaken, she takes on a remake of her fathers music solo. I know she's been a part of other remakes, but I don't think she's ever done a remake herself. "You Were Meant For Me" is one of the songs that helped solidify Donny Hathaway's legend, and just may do the same for her on this faithful remake. She takes care to not change the spirit of the song, but still manage to make it her own. Bloodline aside, I'd suspect that someone hearing this version would link the two together without a second thought. This is my favorite song on the album. On "Dreamland" She goes with an almost celestial lullaby song to end the album. Painting the picture of singing this song to her daughter prior to bed, she really brings this back to the title of the album. It feels full circle that she's singing this song to the next generation as a foundation for greatness.
This has been a great year for the women of R&B and this album is another in that truth. From start to finish, this is one of the more enjoyable albums offered this year and a must have for any Lalah fan. If you're new to her music, you'll really get a feel of her wide vocal range as well as the depth of her musical influences ranging from Hip Hop to Country. Where It All Begins is, in my opinion, the most varied, enjoyable, and insightful look at who Lalah Hathaway is. 4.25/5
Written by Saule Wright
You can read Saule Wright's track by track review of the album here.