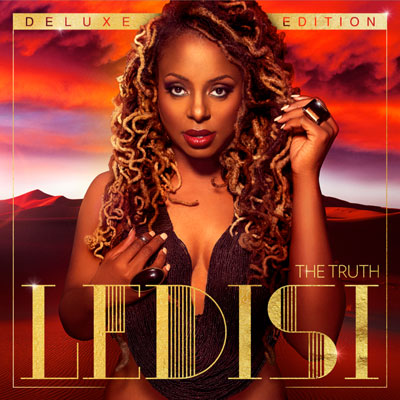 Words by Edward T. Bowser, 
SoulInStereo.com
The truth is often a bitter pill to swallow but R&B powerhouse Ledisi makes it a lot easier to digest.
The music veteran's seventh album, The Truth, is pretty self explanatory – an exploration of the tough truths we encounter in our relationships. To tackle these heavy subjects, Ledisi steps out of her comfort zone, releasing arguably her most lively and uptempo collection to date.
It's a risk that pays off.
If you're a fan of Ledisi's single "I Blame You," you'll find lots to love here. Ledisi emotes with the spirit of a girl experiencing her first crush. Infectious hand claps drive, "That Good Good" making it tailor-made for afternoon radio playlists. And while "Rock With You" bursts with a similar energy, don't expect Ledisi to hide behind the beat. Her vocals – always her strong point (literally) – truly are the star of the show. Don't believe me? Ledisi slows things down with her signature style on "Lose Control," outright saying "It's going down when you get home." Word.
Ledisi sounds like she's having the time of her life here. However, don't expect the whole album to be a happy-go-lucky experience. Like I said earlier, the truth can hurt.
"The way you feel about me has changed/you don't look at me the same," Ledisi belts out on the title track. She drops more actual factuals on "Like This," her voice permeating through the midtempo groove as she urges her lover for clarity in their relationship: "You know how good my love is, you said it last night" – Ledisi just put dude on blast. You didn't have to take it that far, playa.
Ledisi's quick to stand by her man's side, though, as evident on "Anything": "Anyone who tries to curse you/by default they're cursing me too/so watch what you say about him or there's gonna be problems." Ledisi's teaching women a vital lesson – when your man hurts, you hurt. Ride with him.
I told you, there's truth in these lyrics.
At just 10 tracks, there isn't much room for error. Thankfully there are very few missteps, save for awkward metaphors on "Missy Doubt." Ledisi's blatant honesty and Sunday-morning sanctified vocals are more than enough to make up for those shortcomings.
Poignant and striking, Ledisi's latest is about as solid of a release as you could ask for. We're just a couple of months into the year but The Truth is already one of the strongest albums of the year, in any genre.
Accept that as the truth.
Best tracks: "Lose Control," "I Blame You," "The Truth"
4 stars out of 5
Can't get enough of Edd? For more album reviews, relationship talk, pop culture news and Keith Sweat hero worship, visit SoulInStereo.com and follow him on Twitter @etbowser.