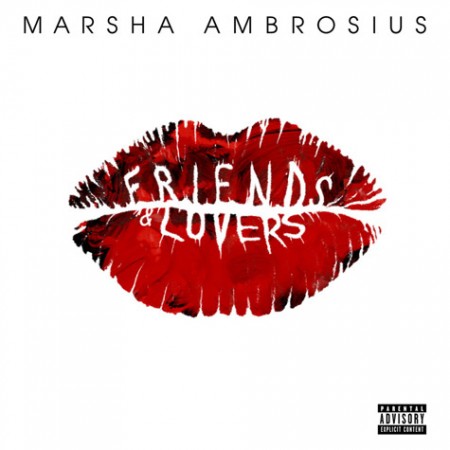 Words by Edward T. Bowser, 
SoulInStereo.com
Marsha Ambrosius has some of the sweetest vocals in the game right now, but lord knows she loves to get nasty.
That shouldn't be a surprise though. Even as one-half of the duo Floetry, the English songstress was the voice behind some of the sexiest tracks of the early 2000s.
Following in the tradition of her stellar debut, Late Nights & Early Mornings, Friends & Lovers is a conceptual romp fueled by lust but driven by the hope for love. More importantly, Marsha sounds absolutely fantastic.
When "So Good" opens with the line "I wanna do you right know," you know what the deal is. It's a hard-hitting (…um), heart-pounding (…well) bedroom banger that climaxes with soaring high-notes.
We're one track in and it seems like Marsha has a one-track mind.
"Night Time" fantasizes about after-hours rendezvous while "69" leaves nothing to the imagination. But what separates these songs from the immaturity of a Trey Songz is that even though they're explicit, Marsha's soft vocals and atmospheric production keeps the mood sexy, rather than raunchy or outright ratchet.
But the album isn't all about sex. In fact, the exploration of other themes is what really puts this album over the top. "Shoes" has Marsha running back and forth over her ungrateful lover – she can't decide whether to make him breakfast or hit the door. "Stronger," Marsha's interpretation of Sade's classic "Love Is Stronger Than Pride" blends jazz and hip hop expertly. Even Dr. Dre shows up for a verse – just don't ask him about Detox.
The breezy "You & I" and slinky "La La La La La" are a great change of pace. All that baby babble on the latter's hook could have easily ruined the song if overused but Marsha scales back the titular la-la-la's, using them to accentuate her infatuation with her man, not as a gimmicky crutch.
Things slow down just slightly – figuratively and literally – during the second half of the album. Tracks like "Love" and "Cupid (Shot Me Straight Through The Heart)" are vocally sound, but they're not as imaginative as their counterparts. "Spend All My Time," a powerful duet with Charlie Wilson, and "OMG I Miss You," with its appropriately weepy production, stand out much more.
Few artists can convey passion like Marsha. From bed-breaking sex to heartbreaking anguish, every line – every note, seeps with emotion. When she sings, you feel it.
That's why Friends & Lovers feels like a bonafide hit.
Best tracks: "So Good," "Night Time," "Shoes," "You & I"
4.5 stars out of 5
Can't get enough of Edd? For more album reviews, relationship talk, pop culture news and Keith Sweat hero worship, visit SoulInStereo.com and follow him on Twitter @etbowser.