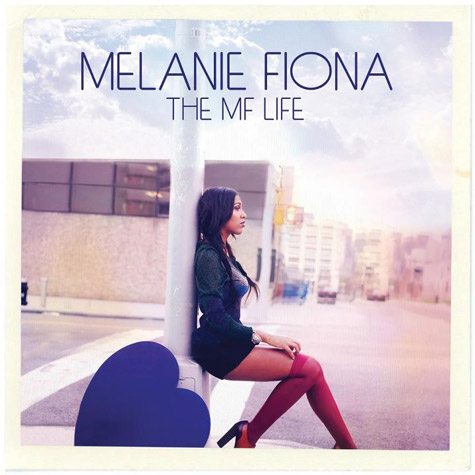 It's widely known that Melanie is Canadian, a beautiful mix of Indian and African heritage and can flat out blow. Did y'all know that she was in a group with Drake? How about that she delayed signing with a major label because she didn't want them to change her into the over-sexed images that we see all too often? I think it's entirely possible that her strong maturity that shines through her music, may be the reason she's not a bigger star than she is. We tend to let talent slip by us if it's not presented in the same cookie cutter manner that we're used to. Thus artists like Ledisi, Melanie Fiona and others end up getting Grammy nods on albums that don't tend to move units. Everyone sings the praises of The Bridge, but it has yet to go Gold. So what can we expect from someone that has respect by the masses but not the sales? If history is any indication, you'll be coming to her before she'll be changin' to pick up sales, so let's see if that's true.
Melanie's previous offering was a really good intro into her love of music and how she manages to live outside of the nice neat little box of R&B by grabbing influences that are born elsewhere. This Time is a Hip Hop banger produced by No I.D. and features J.Cole to help convince you even more. This song is about making the best of a second chance at love with someone and being determined to succeed, the combination of Hip Hop and attitude couldn't be any more at home. Change the Record is a pop smash waiting for a video. Strong rhythmic beat and keys, the simplistic but effective drums and rock themed harmonies really make this the best "crossover" song on the album. Not to be outdone, B.o.B. has the best rap feature on the album fitting the song perfectly. Watch Me Work and Can't Say I Never Loved You are also outside the box but aren't as strong as the other songs on the album.
The strongest songs are still R&B and Soul influenced though with lyrics that are throwbacks to a time when what you said was more important than how you looked. We're all aware of the powerful 4 AM by now, but that's not even the best song on the album.No I.D.also produced Break Down These Walls. It's a song inspired by those relationships when you try to love someone and they seem to push you away as hard as you try to love. There is strength in the lyrics of this song. "My heart beats every beat for you / it hurts when you're hurt / I'm through when you're through." Drake proves to provide some insight and soul himself on the song he helped pen, I Been That Girl. It is speaking on the various situations of being the mistreated afterthought of the relationship while continuing to do more than you can/should to make it work..it may have you evaluating your own relationships. L.O.V.E. is a great feel good song that is undeniably John Legend and equally good. On an album that is full of songs about heartbreak this one feels like a breath of fresh air…not that the other songs are bad at all but it does help to lighten the mood. If you enjoyed Wake Up with John Legend and the Roots, you'll enjoy this instant vintage song.
If you get the regular version of this album, Bones or Wrong Side Of A Love Song are the best songs. Bones has that throwback vibe, harmony, horns, finger snappin' soul and lyrical power to make it hard to deny. Wrong Side Of A Love Song thrives on Jack Splash's production and arrangement as the song builds and commands your attention. If you can (and you should) spring for the Deluxe version, Rock, Paper, Scissors is one of the best songs I've heard this year and THE best I've heard that isn't on Robert Glasper's Black Radio album.
Bottom Line:
Nowadays, music is largely made on a machine or two instead of the actual instruments. The scream of the strings as fingers slide down the neck and the faint release of the rest of the force from a live drum hit are sounds that seem to be reserved for Jazz or Roots albums, as it pertains to urban music. Melanie Fiona has managed to construct one of the most honest and eclectic albums I've heard without sacrificing her soul and genuine love for real, honest, music. Where The Bridge was slept on and under-appreciated, she managed to make an album that should resonate at the register. Carefully picking her features as well as the production and lyrics of this album make it worth the wait and that wait is understood when you hear the final product. It's early and depending on how a few albums are categorized, I fully expect this to be a top 5 album at the end of the year. Melanie managed to set the bar really high for artists this year, let the MF Life begin.
Score 4.5 / 5
You can read Saule Wright's track by track review at nappyafro.com