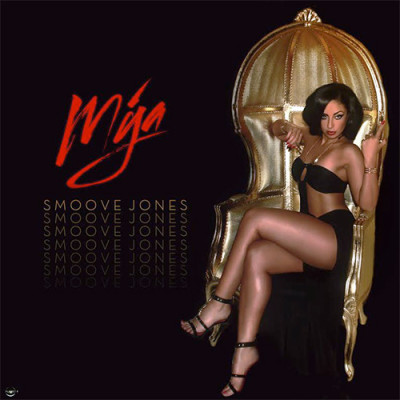 As the r&b genre has moved away from the mainstream and the major label structure over the past decade, many artists have gone under appreciated and overlooked in the process. Being an independent artist allows for the ultimate creative freedom, but doesn't always allow for maximum exposure. As a result, r&b fans haven't always been able to track down the good music they've been yearning for.
Mya is one of those artists who has certainly gone under appreciated. She developed herself into an r&b favorite following the release of her debut in the late 90's, and hits like "Movin On", "Case of the Ex", "Best of Me", and "My Love Is Like…Wo" made her a star. She further increased her celebrity by being a part of the massive hit "Lady Marmalade" from the Moulin Rouge! soundtrack which made her a household name.
She has now returned with her 7th studio album "Smoove Jones" which released on February 14th, 2016; exactly 18 years after she released her debut single "It's All About Me" featuring Sisqo. What many may not have realized is that this is Mya's 8th project as an independent artist, including EP's and Mixtapes, via her Planet 9 record label. What many may also not have realized is, she has continued to make good music.
"Smoove Jones" is no exception.
As the album begins, you're tuned into "Smoove Jones Radio" and Mya is the host. She promises to take us for a ride, and that's certainly how the album plays out. The strength of "Smoove Jones" is in the diversity of sound, where Mya is able to effortlessly mesh contemporary r&b with progressive production. She gets trendy at times, but does so tastefully, and only to accentuate where her music is rooted in.
The album's first single "Welcome to my World" is a great example. Mya gets smooth and sensual over the mid tempo groove where she takes her man into her zone. The next single "Team You" falls into the same category, featuring background chanting similar to what you'd hear from Future, but those are only minor details on this smooth r&b cut. Mya professes her love for her fans on the song, and that's really who this album is all about pleasing.
She really shines on "One Man Woman (Ol' Skoo' Joint)" which is vintage 90's ballad. Her vocals are beautiful as ever and we're taken back to the elements that made us love Mya in the first place. The song that follows is "Circle of Life (Ol' Skoo Joint)", a dance floor ready house song where she gets her groove on. She then gets super smooth on the breezy song "Coolin'" where she compares her man's love to Summertime.
Things get interesting on "Elevator" featuring a rap verse from Smoove Jones, which is actually Mya rapping herself. It's a progressive song, but Mya doesn't stray too far from her comfort zone. "Spoil Me" follows a similar pattern equipped with trap drums and an uptempo beat, but once again Mya seems right at home.
"Smoove Jones" wraps up at just 12 songs and it's clear that even on her own, Mya knows how to create good music. The album is a success in creating an r&b album in 2016 that maintains the integrity of the genre while also incorporating progressive sounds. While so many artists struggle to maintain commercial relevancy, and have the quality of their music suffer in the process, perhaps they can look to Mya as a blueprint on how evolve gracefully.