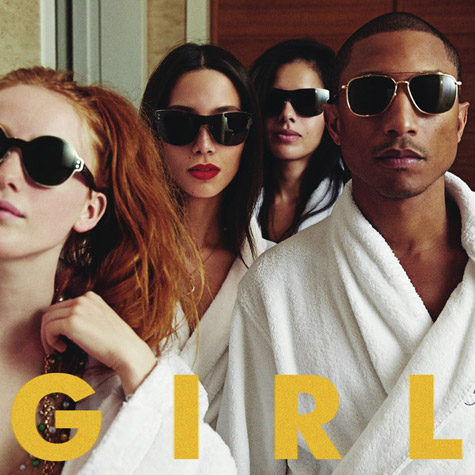 Words by Edward T. Bowser, 
SoulInStereo.com
Timing is everything.
After systematically dominating multiple genres in 2013, Pharrell Williams' time is now.
Unless you spent the last 12 months in a coma, you've witnessed Skateboard P (and his massive mountie hat) bestow his platinum touch on everyone from crooner Robin Thicke to electronic kingpins Daft Punk. And he has the Grammy's to prove it.
The common factor between all of Skateboard P's 2013 successes is that he's mastered the art of infectious, upbeat music. His sophomore solo effort G I R L, an ode to womanhood, is just pure, unadulterated fun.
In an era where R&B has been over saturated with atmospheric, murky and downright depressing music, G I R L is a breath of fresh air.
Again, it's just fun.
If you can't groove to P's latest single, "Happy," you need a soul transplant. And that's just where the fun begins. "Marilyn Monroe" opens with sweeping strings straight out of a Disney score before the tempo ramps up. Those strings return with furious energy on "Gust of Wind," with Daft Punk doing their soulful Stormtrooper routine on the hook. On paper, it shouldn't work but considering the wild success of "Get Lucky," you should expect nothing but greatness. They deliver.
The album's upbeat tone is the perfect setting for Pharrell's homage to women. Don't expect a hard-hitting feminist message a la Beyonce or shameless pandering to get ladies to drop their draws. "Life to me is easy, people make it complicated," P croons on "Brand New," his Motown-tinged duet with Justin Timberlake. Pharrell clearly has his head in the clouds, claiming he's feeling brand new "like the tag is still on me."  Even when he's bragging about being a lady-killer on "Hunter" ("taxidermy all on my walls") he's still somehow endearing. He never takes himself too seriously.
P reaffirms his lady's beauty on "Lost Queen," vowing that he's "never to busy to tell you that you're pretty." But he also realizes the importance of self-love, urging women to search inward on "Freq," the second part of "Lost Queen."  "You gotta go inward to experience the outer space that was built for you."  "Lost Queen" and "Freq" are two halves of one powerful message.
The album's biggest flaw is, well, Pharrell's flawed voice. Some fans like to pretend he's the second coming of Curtis Mayfield but let's be honest – P tries way too hard grasping for notes that are way out of his reach. Purists will definitely be put off, especially if they attempt to endure an entire album of off-key falsettos.
However, Pharrell overcomes those shortcomings by submersing himself in his production. Many of the tracks here, especially "It Girl," sound like a live performance, complete with engrossing instrumentation and imperfect vocals. But who cares when you're having this much fun?
If you're looking for a pitch-perfect R&B album, look elsewhere. But if you're looking for a good time, call up Pharrell's G I R L  and lose yourself to dance.
Best tracks: "Happy," "Gust of Wind," "Freq"
4 stars out of 5
Can't get enough of Edd? For more album reviews, relationship talk, pop culture news and Keith Sweat hero worship, visit SoulInStereo.com and follow him on Twitter @etbowser.