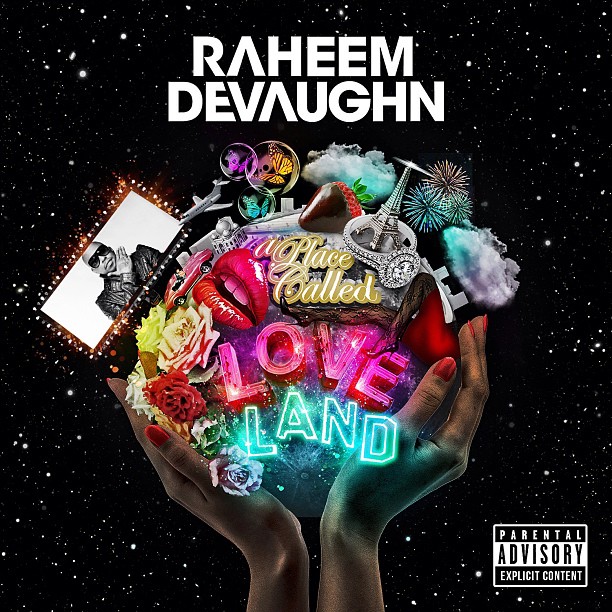 Words by Edward T. Bowser, SoulInStereo.com
I'm a stubborn guy, but never let it be said that I don't listen to my boys.
A couple of weeks ago, my homie Tom – the boss man of this very site – hit me up with the most excited text message I've ever received from him:
OMG this Raheem DeVaughn "Ridiculous"!!!!!!
Yep, he had all those exclamation points. Probably a few more too.
Now I certainly didn't doubt my man's enthusiasm for this new single. For nearly a decade Raheem has been energizing R&B with his love lessons and harmonic vocals. Still, I had to hear it for myself.
And oh yeah, Tom was right. The Ne-Yo produced single is a definite standout, perhaps one of the best tracks of Raheem's career.
But that's the just start. A Place Called Love Land, DeVaughn's fourth album, proves to be one of his strongest sets to date.
Attribute the success of this album to two things – diverse arrangements that pay homage to the last 30 years of music and strong, engaging songwriting.
The opening beatbox on "Wrong Forever" will immediately win you over – Raheem immediately dives into the track with vocals that ache with guilt for his indiscretions. "Pink Crush Velvet" is vintage Prince, complete with falsetto and not-so-subtle innuendo. And the strings that fuel the soothing interlude "Dear Love Queen" are straight out of the mid-90s.
Over the years, my main complaint about DeVaughn's music is that some of his sensual lyrics are too over the top, crossing the line from sexy to silly. The heavy handed metaphors on "Greatest Love" push their luck ("call me Michael Phelps, the way I be swimming in it" and "Mr. H20, the way I make it flow") but Mo Digga's superior production will win you over.
But don't misunderstand me: The great production isn't simply smoke and mirrors. Raheem's vocals often steal the show, especially when the track slows to a crawl on "In The Meantime" and Radio Raheem's voice powers through. And his voice sounds absolutely exquisite when backed by Boney James' sax on "Maker of Love."
The album's only shortcoming is "Make 'em Like You," which by no means is bad, it just gets lost in the shuffle of superior tracks.
Hopefully, A Place Called Love Land won't get lost in the shuffle of this fall's high-profile releases. In a year of solid releases, it rises near the top.
This album proves one thing: Never doubt's Tom opinions. Or Raheem's talent.
Best tracks: "Ridiculous," "Wrong Forever," "Greatest Love"
4 stars out of 5
Can't get enough of Edd? For more album reviews, relationship talk, pop culture news and Keith Sweat hero worship, visit SoulInStereo.com and follow him on Twitter @etbowser.