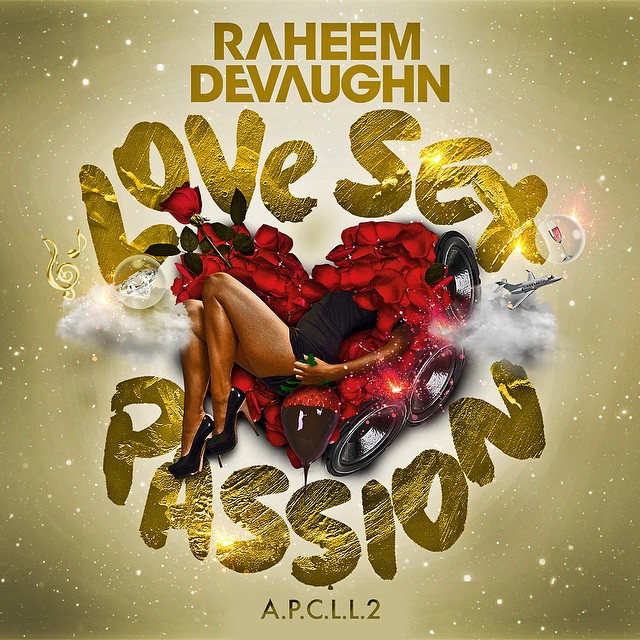 Words by Edward T. Bowser, SoulInStereo.com
Here's a PSA from your favorite music writer – Valentine's Day is this Saturday.
Fellas, step your games up. And ladies, you aren't off the hook either – brothers deserve some love as well.
If you need a little inspiration, simply turn to the King of Loveland himself, Raheem DeVaughn. Radio Raheem's fifth album, Love, Sex & Passion stays true to its title by exploring love from all angles, from the carnal to the emotional.
The album's intro is a condensed version of  DeVaughn's last album, A Place Called Loveland. Those are big shoes to fill, but , Love, Sex & Passion starts strong with "Black Ice Cream." Raheem loves to use playful metaphors when seducing his women, and he goes all out here: "you be the scoop, I be the cone … you be the queen, I be the throne." Typically lines that compare "Jodeci and Marvin" to "Baskin Robbins" are enough to give me the sugar diabetes, but   Raheem delivers them with such conviction – and with great vocals – that you can't help but love it.
But Valentine's Day is more than just feeding your sweet tooth – it's about showing appreciation for your lover as well. And that's when  Love, Sex & Passion really takes off.
First single "Queen" is a wonderful tribute to womanhood: "You gave birth to all the land/you're the backbone of every man."  The horn section is the star of "Pretty Lady" while the almost dreamlike "Never Never Land" has Raheem pledging total devotion.
And what's love without a pledge of devotion? The high notes on the hook of "Nothing Without You" plead without getting too whiny, a message that is reiterated on "My Heart (All I Know)." It shows a vulnerability that's too often missing in today's music.
As usual for a Raheem album, DeVaughn also tips his hat to his musical roots. He flat out says on "Temperature's Rising" that "this feels like 90s R&B." It does – more specifically, it feels like R. Kelly's "Seems Like You're Ready." "Sun Proof Room" sounds like it was ripped from the same decade while "Strip" has Prince all in its DNA, from the bouncy keys to the screechy screams.
Still, the album slightly suffers at times from Raheem's usual weaknesses. The overall running time of the album is a bit too long, as things begin to drag on the last third of the album. And yeah, those heavy-handed hood metaphors still can be too much at times. The references to Bath & Body Works make for some awkward structuring on "Feather Rock Lovin'" but thankfully the sexy saxophone drags you back in the experience. Sure, the song is a bit more adult contemporary than what some of y'all listen to but, hey, you gotta grow up sometime. Grown n' sexy folks need love too.
While not quite as rock-solid as his last release, DeVaughn's Love, Sex & Passion is still a diverse depiction of the ups and downs of romance. Valentine's Day is just confined to one day in February. Raheem keeps that magic going for the remaining 364 days.
Best tracks: "My Heart (All I Know)," "Queen," "Black Ice Cream"
4 stars out of 5
Can't get enough of Edd? For more album reviews, relationship talk, pop culture news and Keith Sweat hero worship, visit SoulInStereo.com and follow him on Twitter @etbowser.