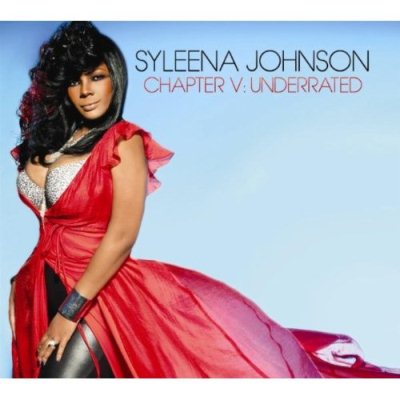 It took me a while…ok, we're well beyond a while now…to figure out how I wanted to approach this review. As she stated in her interview with us, the fans really named this album based on them feeling she was underrated. Syleena doesn't have the commercial success to match her live show or vocal power, so it's fitting. That said, do I go back and review her previous projects and use that as a comparison for this review, or review this like the average music listener may…as the first time I heard her? Well, I eventually chose the latter but you should def check those albums out as well. Anyway, let's see what Underrated is all about.
For those of you that love uptempo, Hip Hop infused dance songs, you are very well taken care of on this album. Underrated features AK of Do Or Die and even Syleena spitting a few bars. In today's hybrid music industry and the current sing-song cadence of most rap songs, Syleena proves that she can hold her own. This track serves as the opening round of the album which is scheduled for 12 rounds. She carries that boxing theme throughout the song and stakes her claim to the title of this album with a solid intro.She follows that up on the album with the big lead single, A Boss. This song is sassy, strong, dismissive, assertive, and defiant in the face of a male dominated world. Where guys tend to dictate the actual working rules of relationships and women end up tailoring their expectations, this song is about setting the rules, finding someone that will fit within the rules, and accepting nothing short of her demands.Then on Go Head we hear from Na'tee, a female rapper from Louisiana who I also hope to hear more from soon. The song talks about sayin that if you can't handle me and what I require from a relationship, then you can "go head and play." If I was a chick, this would be my ringtone.
Showing that she has musical, as well as vocal range, we get some more familiar sounding R&B and Soul songs as well. Fade Away isn't about making demands but it makes a statement nonetheless. Syleena talks about being dedicated and loving that special someone and assuring them that her love will never fade away. Angry Girl has been making it's way around the net and for good reason. If you haven't heard this one yet, feel free to check the video here. The most soulful song on the album is Little Things, my favorite song on the album due to it's sincerity and throwback feel. It's about the appreciation of the little things and how that really endears you to someone.
It's not all Hip Hop and R&B though, she even has a bit more fun and does some uncommon things on this album. Label Me feels like it was recorded over the claps from "Hey Mickey" from the 80's. It's very uptempo, fun and light-hearted. Syleena provides another attitude track similar to the first 2 songs on the album. On The Champ and Bad Person she embraces her sexy side much like men do whenever we get a chance. We spend a lot of time in this industry talking about how men sexualize women, but not about how women can own and embrace their own sexuality. I wonder how far these two songs will go in changing that?
Bottom Line:
This album, like most of her albums, will slip through the gaping commercial cracks while those that support her will have a new favorite. The sad part is that this albums limitations are not in the album itself, but in the lack of radio play and support at the register. Syleena has given us one of the best translations or updates of Mary J. Blige's classic album What's the 411 that I've ever heard. There is something here for everyone and if you see it, you need to do yourself a favor and pick it up. At the end of this 5th album, Underrated isn't just a title, it's unfortunately the truth.
Rating: 4/5
Written by Saule Wright
You can read Saule Wright's full track by track review here: Syleena Johnson – Chapter V: Underrated