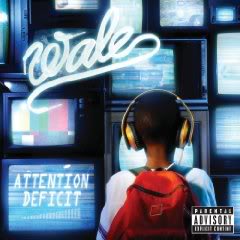 Every few years, the hip hop world see an artist release a debut album which is more highly anticipated than just about any other album that year. In the past decade, Fabolous, 50 Cent, Kanye West and Rick Ross all were met with the same type of hype and managed to live up to their billing. Now in 2009, DC native Wale has the hype machine in full effect for his debut album "Attention Deficit." Besides having to push his release date back due to touring with Jay-Z, he also served as the house performer for the MTV VMA's and has a video out for his single featuring flavor of the moment pop star Lady Gaga. Will Wale be able to live up to the hype like his predecessors?
Although he chose the name "Attention Deficit" for the title, it's very clear that he WAS paying attention when it came to the details of putting this album together. It's evident that Wale is a very smart man from the subject matter he covers throughout the album. He has also enlisted an A-list of producers who help to ensure the listener stays bobbing their head on every song. In fact, Wale possesses a charisma and advanced flow that you would expect from a veteran; all the ingredients for a successful album are present here.
The album serves as a celebration of sorts, and after years of struggling to make it, including the release of five mix tapes, he deserves that opportunity. This is most evident on the Mark Ronson produced "Beautiful Bliss" which features Jay-Z protégé J. Cole. On this anthem toasting to the good life, I was almost waiting to hear Jay himself spit a verse since this is the type of song he made famous. On "World Tour," he boasts about being famous and known in every major city, borrowing the chorus from the A Tribe Called Quest Classic "Award Tour." These are the types of feel good songs you would expect out of someone who struggled for years to get to this point.
He details that struggle on "Mama Told Me:"
Mama told me it'd be days this, but I aint ever ever think it'd be a day like this
Not now not ever, and now until forever, you will never need another
Sorry hip hop it took me so long to get on, but as long as I'm on it is on
I'm reppin for the scholars and the hustlers, meanwhile, show mama I aint drop out for nothing
I swear these dollars gonna add up, and I aint shallow, material things suppress bad luck.
You can just feel from his words there were many nights where he didn't think he would ever make it. Wale goes on to show his struggles as a black man on "Shades" featuring Chrisette Michelle. He details the obstacles for a dark skinned black man in comparison to one of a lighter shade. This culminates with the line:
They say black is beautiful, but ask them beautiful light girls if it's black they attract to usually
What if Barack's skin was all black, truthfully would he truly be a candidate or just a black in community?
With guest appearances from neo-soul singers sprinkled throughout, the album also takes on a soulful tone. Rihanna provides the chorus for "Contemplate," which is a gloomy song about the deception from a female. Next, Marsha Ambrosius croons on "Diary" where Wale recites a few pages from his diary on the negative things he's seen in the world. One thing he has accomplished on this album is establishing himself as a conscious rapper; one who understands the ways of the world and is able to effectively convey his message.
If I was to find a fault with this debut, it would be the amount of guest appearances. Of the 14 tracks on the album, only four of them have Wale alone on the song. On the flip side, it shows the respect he's garnered in the industry in putting together an impressive list of guest appearances. Besides the features already mentioned, Bun B, Pharrell and Gucci Mane also add to the cast. Despite all the guest appearances, Wale is still able to shine through as his features only stand to complement his style and help him celebrate getting here.
There is no doubt in my mind that with his debut, Wale has managed to live up to the hype. In fact, he followed the exact formula for creating a successful album in terms of sales and he comes off looking like a veteran in the process. I would not be surprised if Jay-Z gave him a pointer or two while on tour together. Despite the "Attention Deficit" title, he was definitely paying attention when crafting his debut. Only time will tell how far his career will go, but it's obvious Wale is already a star in the making.
Rating: 4/5