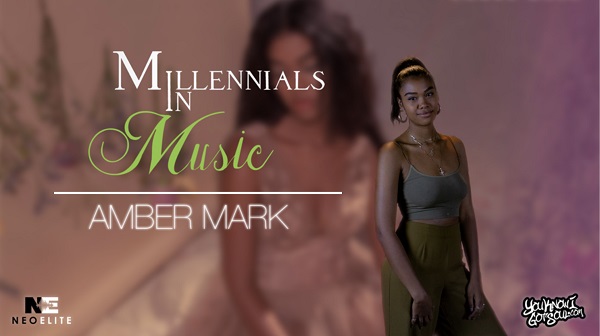 Amber Mark is a 23 year older singer and producer from New York, who's recently been on the rise. Signed to Interscope Records, Amber is known for her soulful sound and combination of Pop and R&B. In May 2018, Amber released her new EP, Conexao, which can be found on Apple Music, Spotify, Tidal, and Soundcloud – – along with her other music.
In this episode of Millennials in Music, Amber discusses the meaning behind the music, her writing process, and how she has developed as an artist. Amber talks about her growth with becoming more open in areas such as loss, love, and relationships. Despite Amber feeling that her first project, 3:33am, which covers the subject of the passing of her mom, as her most meaningful body of work; Amber explains how Conexao serves as a transition into finding love again. Watch the interview for more on Amber Mark and look out for her debut album in early 2019.
– – – – – – – – – – – – – – – – – – – – –
– – – – – – – – – – – – – – – – – – – – –
Produced by the Neo Elite, Millennials in Music is an interview series geared towards millennial fans of Soul, R&B, and rising thoughtful Hip-Hop artists in order to create a deeper level of connection between creatives and their fans. The purpose of the series is to have a candid dialogue with the next generation of superstars that inspires and elevates their fans.
Subscribe to Neo Elite: http://bit.ly/2cNV6nz
Neo Elite on Twitter: https://twitter.com/theneoelite
Neo Elite on Instagram: https://www.instagram.com/theneoelite/
Neo Elite on Facebook: https://facebook.com/theneoelite
https://www.theneoelite.com/
Subscribe to YouKnowIGotSoul: https://bit.ly/2lFi1Vw
YouKnowIGotSoul on Twitter: https://twitter.com/ykigs
YouKnowIGotSoul on Instagram: https://www.instagram.com/youknowigotsoul/
YouKnowIGotSoul on Facebook: https://www.facebook.com/youknowigotsoul
https://youknowigotsoul.com/
Subscribe to Amber Mark: https://bit.ly/2yOGEZt
Amber Mark on Twitter: https://twitter.com/Amb3rMark
Amber Mark on Instagram: https://www.instagram.com/instagramber
Amber Mark on Facebook: https://www.facebook.com/AmberMark/
https://www.ambermarkmusic.com/