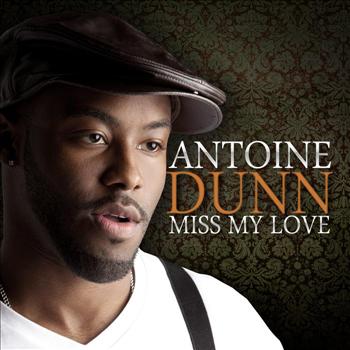 Antoine Dunn returns with "Miss My Love", the follow up to his smash debut single "Can't Forget". If you missed it, Antoine spoke to us about his upcoming debut album "Truth of the Matter" in this interview. We're huge supporters of Antoine and love his style as an old soul for the new generation.
R&B singer Antoine Dunn's new single, "Miss My Love," is set to hit radio airwaves on April 24, 2012, and will be available for download on May 8 at iTunes and Amazon.
"Miss My Love" (#MissMyLove) is Antoine Dunn's second single from his soon-to-be-released debut CD, 'Truth of the Matter.'
"The song, 'Miss My Love,' is about being in a position where you have to choose between love with a very special young lady and your career," said Dunn. "In the song, your career is like a train ride, where you have to make the decision to either hop on the train that goes to the next station, or stay with her, and be willing to deal with the possibility of having regrets."
After its release in September 2011, Dunn's first single, "Can't Forget," blazed its way up the UAC radio charts all the way into the Top 20, peaking at #17, giving him the exposure he needed to land the opening act position for Anthony Hamilton on his "Woo Tour" last winter.