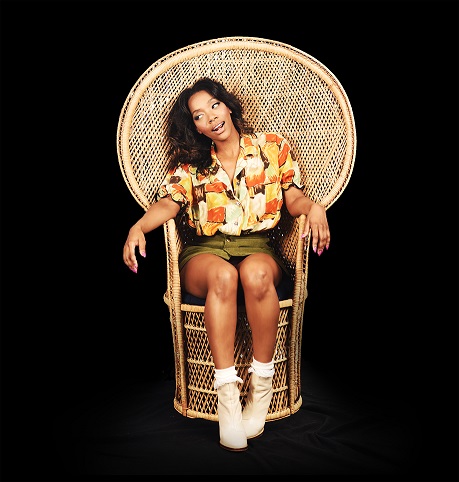 In recent years as r&b has faded from the mainstream a bit, the genre has benefited from TV shows as a valuable promotional tool. Not only does it help to keep our favorites in the spotlight, but it also helps to introduce us to exciting new talents. One of those new artists is singer Ash, who's currently starring on Kelly Rowland's BET TV show "Chasing Destiny". Although her journey as an artist started many years earlier, including background vocals for the likes of Janelle Monae, and release her debut project "The Perfect EP" last year. Now we get to experience a part of her journey play out in front of our eyes on TV as she strives to take her career to the next level. YouKnowIGotSoul caught up with Ash and discussed her origins in music, the creation of her "The Perfect EP", how she originally got on "Chasing Destiny", what it's been like working with Kelly Rowland, and more.
New episodes of Chasing Destiny air every Tuesday night at 10 pm on BET. Tune in to see Ash's progress on the show!
YouKnowIGotSoul: Talk about your origins as an artist. At what point in your life did you realize you wanted to become an artist, and how did your journey begin?
Ash: I knew I wanted to be a singer/songwriter at a very young age. However, I was a very shy girl. Plus I have a sweet voice, so I never felt accepted in the gospel singing circle at the churches I grew up in. I was very self-conscious about my voice and writing and didn't know if it would ever be accepted or "cool" enough as a singer and if people would ever like my tone and approach. I dreamt about it day and night and wrote songs and stories obsessively as a child, but I would be that "star" only in my bedroom. I still have all of the notebooks I wrote in since the age of 8. Once I got to college though, I knew that I had something special that I wasn't willing to keep private. I told myself that I would face my fear and shyness in the face and begin pursuing the gift I'd been given. I was fortunate enough to do "extra" work in a Tyler Perry film and began watching friends of mine in the business meticulously and learning. After graduating from Spelman College, I moved to Washington D.C. to work in the federal government. After almost a year of being there, I saved up about8 $8,000 dollars and bought a one way ticket to LA to spend some time with some mentors of mine to write out a plan and jump out to pursue a career in music. I moved back to Atlanta about a month later and within a couple of months, was hired as a background singer/dancer for Janelle Monae. In 2015 after 4 years touring with her, I decided to put out some music of my own, The Perfect EP, and that was the beginning of me kind of stepping out and sharing music with the world in an official way as an artist.
YouKnowIGotSoul: What artists influenced your sound the most growing up?
Ash: My very first influences were my family. My mother and late grandmother, amazing singers! Wow! I still get nervous singing in front of mom. My father was a music connoisseur. When I was a toddler, I remembered The GAP BAND and Stevie Wonder playing religiously throughout the house. My older brother played tons of GUY and Prince so I grew up with an obsession of the funk, soul, synthesizers and pop of the 80s. The hair, clothing, sound, sexiness… I would watch Action Jackson as a kid, back to back, just to watch Vanity sing and perform. Chaka Khan, Journey, Destiny's Child, Erykah Badu, Barbara Streisand, DeBarge, SWV, Janet Jackson, Amel Larrieux, the late Selena, Celine Dion, TLC, Aaliyah, Babyface, D'angelo, oh my goodness, the list goes on. I was always attracted to artists who had a certain feel; Something bigger than the voice, a connection; Artists who were the music.
YouKnowIGotSoul: How did you originally get the opportunity to become a background vocalist for Janelle Monae, and what was the experience like?
Ash: Friends of mine told me that she was going to be going on tour and was kind of looking, loosely, for singers. Nothing was set in stone, but they put my name out there to her and I just kind of waited around to see if I'd hear anything. About a month later, her music director, Terrence Brown, gave me a call and said my name came highly recommended and to send them a clip. I sent a youtube of me singing "Cruisin," by Smokey Robinson and by the end of that week, I was hired! I was over the moon! She's one of the most innovative artists out here and I was so excited to experience working around her and the amazing WONDALAND creatives.
YouKnowIGotSoul: Talk about the creation of "The Perfect EP" which you released last year.
Ash: Oh wow. It was definitely a challenge. I was on tour and would have these ideas and concepts, meshed with ideas I'd had for years that I really wanted to get out. On top of being on tour, my father was very ill. So I'd be traveling with Janelle and flying back and forth to and from Oklahoma City to spend time and care for my father, who was my best friend, and then when I had a day or hours in Atlanta, I'd record. He (my father) was very intense about me putting out music. I created a to do list and in between all of that I'd create. I was very fortunate enough to have an amazing producer and co-writer, Terrence Brown, who helped me to carry it out and get it done. Unfortunately, my father passed on January 11 before it was released, but he heard it and loved it and stuck with me and supported me until the end. The last thing I had on my list was shooting the video for my song "Anyway." I called him before we began shooting, at that time, he could no longer speak as he was transitioning, but I knew he could hear me. After I shot the video, he passed. The EP was a very emotional and spiritual release for me. I felt like I was finally equipped and ready to step out and share my art. The music was so special to me that I didn't even want people to see my face/body on the cover. I had artwork as the cover. I wanted honest feedback and love for the music to be priority, not what I looked like. Shockingly, releasing it with no label, no marketing team, no manager, nothing, just hard work between two folk, The Perfect EP climbed the itunes pop charts on 2/10/15. I wasn't even checking for it, but a friend of mine had apparently been watching and showed the climb from #143, two above Rihanna's "Unapologetic" album to #119 as it landed under Beyonce's self-titled album. I don't know how high it got, maybe that was the height, I didn't keep checking, but it was so so inspiring and rewarding. Those women are remarkable and huge, so to even land anywhere near any one of their existing projects, new or old, was so shocking. I was so glad that people liked it and supported the music as a small, unknown, independent new artist. I am always touched, everyday, by someone new, anywhere in the world, stumbling upon it and tweeting, emailing or instagramming their love for it. The EP is definitely like reading journal entries of mine throughout life and my honest unique perspective on love, relationships, forgiveness, and dream chasing. I believe all people can connect with it in some way.
YouKnowIGotSoul: Take us through some of the individual songs on "The Perfect EP" and what they mean to you.
Ash: "Lost" is about the space I was in while preparing for a release of my first EP and losing my dad. It was the last song written, but first song on the EP. I felt like I should be so happy but I was so devastated. However, I knew I had to keep pushing through and that every moment, every event, would be worth it and was necessary at the end.
"Anyway" is about forgiveness. Facing any and every situation with a payback in love and selflessness. It's the best way to live.
"Dear Dream" is about the love hate relationship you have with your dream. Sometimes the thing you're most passionate about, the thing you're created to do, seems so damn far away. It tells that special story. It could be a lover, a career anything. We all walk that path.
"Perfect" is about loving with no boundaries. It's an "in spite of" "you don't need to do or be this" kind of love. I did that in forgiving my father for not being around when I was growing up. I do that in dealing with people, relationships, love, things and even myself, everyday. I strive to live up to loving as I wrote in my song.
YouKnowIGotSoul: Talk about being casted on the new BET show "Chasing Destiny" and what the experience has been like.
Ash: Amazing. Nerve wrecking. Fun. An honor. Being in a space with 14 other amazingly talented young women and challenged to be better is life changing. Kelly and Frank are amazing and every moment is worth note taking.
YouKnowIGotSoul: How did you originally get the opportunity to be a part of the show?
Ash: I heard about the show in the fall of 2015 from a close friend of mine. I was back and forth about auditioning, but after reading about it and learning Kelly Rowland and Frank Gatson would be leading the girls, I was like hey, If I'm lucky enough to be cast, I could learn so much by being under their tutelage. The idea of having the opportunity to connect with other young women in a strong girl group was exciting. I sent in my information to the casting agency and when I was called back, was like, what? Wow! So I went to the big in person audition in Atlanta, which was very intense, and gave it all I had. We had a couple of songs to choose from on a list, hours and hours of waiting, tons of girls and when my time came, I was myself and left it there. When I was called that I'd made the top 15 to go to LA, I was beyond shocked and extremely excited.
YouKnowIGotSoul: How do you feel that being on the show can help boost your career?
Ash: I don't know that I look at it from a "boost my career" perspective. The entertainment industry is so big, it's bigger than you. I believe that anytime there's an opportunity to be in the presence of folk who know way more than you, who understand things in a bigger way, it's time to roll up your sleeves, put on your glasses, sit down, shut up and learn. I felt it was an honor to have 5 minutes in their presence and listen to them speak and give advice. It makes me a better woman, student, teacher and creative. So having the opportunity to spend actual time with them, man, I began evolving immediately.
YouKnowIGotSoul: How has your experience been working with Kelly Rowland?
Ash: Kelly Rowland is a light. She has a piercing honesty that's covered with cotton. She has the experience, even as a young woman, to lead and guide you with seriousness, conviction and with love. She's grooming and shaping us in a beautiful way and it's an honor to be here.
YouKnowIGotSoul: Anything you'd like to add?
Ash: Frank Gatson as well. He's an amazingly talented man. He has tons of charisma, humor and deep feedback; constantly sharing what he sees in us all and how we can be better. I'm so grateful to be a part. I truly am. Please continue to support this honest show; Tons of talent, individuality and growth. Thanks so much for sharing my story, very grateful for this interview. Kisses, hugs and love.