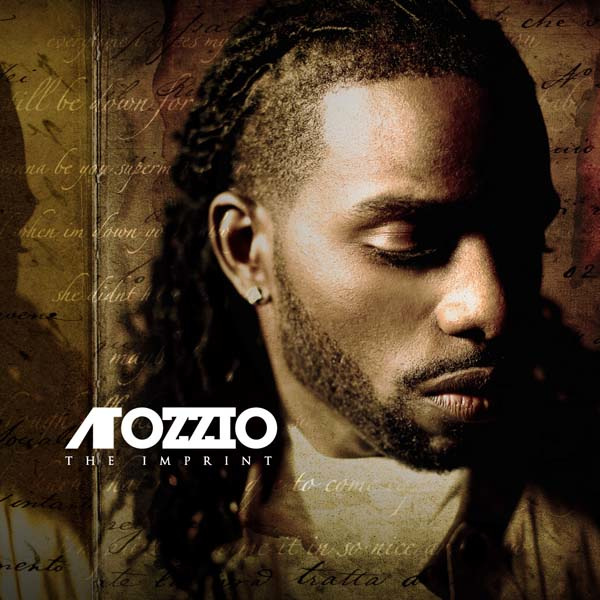 Atozzio Towns, better known as Atozzio, has been penning tracks for the likes of Chris Brown, Ginuwine and Mario in the last couple of years. Now he's ready to bring everyone into the world of Atozzio the artist. In this interview, Atozzio talks about his new album "The Imprint" and the importance of the songs to him personally. He also gives us his thoughts on his music leaking and lastly talks about his upcoming tour in Japan.

YouKnowIGotSoul: Talk to us about the album "The Imprint" and what the overall sound of the album is like.
Atozzio: "The Imprint" is a collection of stories. It basically tells the story from my heart's point of view. As a writer, we can write a song. Most writers write songs from their heart, from their experience. Other times they can go in the studio and make up something, but this album is a collection of stories from my heart. My heart is basically telling a story of what I go through every day whether it's love, breakup, happiness, pain, fun. That's basically the way I'm viewing it because I put the heart into making this particular project.
YKIGS: I know for a lot of artists in the US, starting out anywhere besides the States is sort of looked down upon. How come you decided to release it over in Japan?
Atozzio: My fans are Japan have responded very well to my music from the past when records started coming out. Unfortunately they were leaks, but they responded very well to those records. Sometimes, me being American, I've noticed America grasps stuff a little later. There's nothing wrong with that. Everybody's different. Overseas, they understand the true art form of music and appreciate R&B. They are statistically one of the biggest countries in the world that buys music. So it just made a lot of business sense and everybody wants to be appreciated to their truest. That's the reason I went ahead to Japan because I know they would appreciate the music and also buy something that they really love.
YKIGS: I know you're going to be touring in Japan soon. Give us some dates and details.
Atozzio: The tour is set for September 21st to the 28th. We plan on giving the fans an opportunity to meet and greet. We're looking at doing something with MTV Japan. My team PS Media Talent and the label are working on things right now. They will announce more details and we will give out more details as we get more information about it. It's definitely going to be a great experience. I just want to give so much to my fans because I just love my fans. Words can't even describe how much I love my fans and the way they've embraced my music.
YKIGS: Your first single "I Quit" has gotten a lot of solid feedback so far. How did that song come about?
Atozzio: That's funny because it goes back to the first question about my heart telling a story. I originally wrote that song four years ago and it was intended for a female artist. I was so stumped in the studio that particular night. The artist we initially wrote the song for is a female artist who is on the label that we share in Japan. Her name is Jordyn Taylor. I was in a relationship at the time and my ex was getting on my nerves so bad*Laughs*. We were going through a lot of issues. She so happened to come to the studio that night and I just looked over and we just had this argument maybe 10-20 minutes before I even went in the booth and the words just came to me. It was just like "I Quit, this is like a job to me and I don't want to work anymore. I'm putting in my two week notice in tonight through these words so you'll understand I'm looking for a new job. This is long hours, underpaid and underappreciated." *Laughs* That's the truth. Even though that's my personal experience as man, I thought woman would relate to that because it's vice versa for women and for men.
YKIGS: One song that I noticed on the album is "Kryptonite". We know the song is also on Mario's "Go" album. Tell me about the history behind that song.
Atozzio: That song is the reason that Atozzio the artist even exists. The song was originally intended and meant for me. Always was and always will be. I had a meeting with Atlantic three or four days prior to the song actually being done and I didn't know what type of record I was going to be presenting to them. The record was given to me and I will always give God credit for everything that I do regardless of what I do. The song was just that, it was just God given to me because it was so true to who I am. I just wrote the song while driving and while I was in Wal-Mart. I wrote the song in like 30 minutes. When everybody heard it like my family, guys that I hang with whether they're in the streets or 9-5, they were like "Oh my God, this is how I feel. This is my life." When the big heads started hearing it at different labels and stuff like that, my A&R and President felt the same way. They were like "Man, this is a record that men are even going to buy because they're going to feel this is their own personal story." The song got the attention of Rodney Jerkins, but through the business of the industry, it ended up on Mario's album which was a great album. I thought when I did my own project in retrospect, it would bring back and let the world hear my version that they were intended to hear from the beginning.
YKIGS: A song I know you penned not too long ago is Ginuwine's "What Could Have Been". Tell me about that experience and talk to me about the song.
Atozzio: Working with Ginuwine was an experience; great dude and funny. I haven't been around a lot of celebrities but I've been around a lot of artists that I've written for. Him and a little off subject Usher. When I met Usher and Usher being who he is, coming off "Confessions" which sold 20 something millions of records. He was so inviting, welcoming and humble. He changed my life to this day and I tell everybody this story. He shook my hand and he introduced himself like "How you doing? I'm Usher Raymond." I felt like "You don't need to do that. You are who you are." Ginuwine was the same exact thing. He got in the studio and he was like "I've been in the studio for 15 years but you're a man just like I'm a man. Obviously I'm coming to you, needing your help to give me something dope to help bring me back to the forefront of music, so I'm never going to treat less than I am. I've been around the world and I've sold millions and I've had number one hits. You are human and I'm going to treat you like one. I don't care about this fortune and fame stuff. We are all the same; we bleed, eat and cry. We all do the same things." Dude was very welcoming and humble. He taught me so much about the business and how not to let it get to my head. Even when we were doing the record, he was telling me about different situations in his life and it just made sense. He was saying something like "If I would have done it this way." It's about a woman, but at the same time it's "What could have been had I done this. What would have been the difference in my career and life?" That's where the song was derived from. It's the same for me. It was a true testament of everything that he'd been through whether it's life, financial, personal. What could have been if certain situations had changed.
YKIGS: Although I felt the song was a good one, it didn't perform on the charts as well as one may have hoped. With the way the music industry is now, do you think real R&B can still be successful?
Atozzio: R&B will definitely be successful. You have to look at greats like Michael Jackson, Aretha Franklin, Stevie Wonder, Donnie Hathaway and even Etta James are still thriving. Look at how Beyonce revived Etta James "At Last" in that movie. I'm a movie and a music head, so I knew about Etta James when I was a little boy. I knew about different people that people my age don't know, but she brought Etta James so right now people know who Etta James is. R&B was once pop music and my thing is to make it pop music again, which is only popular music. R&B will definitely find its place back amongst the lead genres. Only difference is for us as artists, to be honest, we have to stop dumbing our music. The great artists we just named, the two key things they were doing but one in particular, they were giving us great songs with great melodies, but they were also singing like it was no tomorrow. They were singing like they were going to lose their voice in ten minutes, so they sang to the world like they meant every last lyric. That's what we fell in love with. Even the new age artists like Joe, R. Kelly, Ginuwine, Gerald Levert, Keith Sweat, Johnny Gill. Those guys sing songs. That's what I grew up listening to and what my Mom listened to. They were like "Damn that boy is singing. I love this song!' Even if you hated the song, you would still be like "That boy is singing!" That's what R&B is all about. It's about giving your soul in music. If it's all about sex records and club records, then it's not R&B. That's not what it was. It will go back to being that once everyone says "Look, we have to research and go back to our roots." Once you forget your roots, you forget your foundation and who you are. If you remember those, you find out what your foundation is and you know who you are. So it will definitely be successful and I'm aiming to make sure that it's back in the forefront of music.
YKIGS: You've been a victim of having a lot of your songs leaked. As a new artist, do you think that kind of gives you exposure in a way? And also talk to us about it from the perspective of Atozzio the songwriter.
Atozzio: Recently, I've had like five new records leak in a week. One is a song called "It Feels Like" featuring Yung Joc, second is "Uh Uh" which was originally intended to make this album but it's going to make "The Imprint 2" and a couple of other songs. People are gravitating to these records and the Yung Joc one is a pop track. I originally wrote it for Estelle and it's has a fun theme. It reminds you of "American Boy" just a little bit. Whenever someone talks about me, I'm going to see it with the way I have my Twitter set up. People are talking about this record, they love it and tweet it. I'm going to different blogs and they're talking about the record and how dope it is. Even with the deals that came about, it's because of the leaked records. We hate it because sometimes, certain artists feel like "Oh man, the world has heard this songwriter's version so I don't want to do that record." Me as an artist and when other writers write for me and their version leaks, it doesn't really matter. For me an artist, going back to the R&B statement, I'm going to sing the crap out of it like it's no tomorrow so it doesn't bother me. It helps the record because if I'm an artist, if a song leaks and it starts blowing up, as a business man and an artist, I'm going to be like "I want that record. I don't care who is singing it. I want it because the world is gravitating to it. All it needs is a bigger platform. If I'm that platform and I got millions of fans, I'm going to do it because I'll make the record bigger." I think it helps. It hurts from the perspective as a songwriter because once again, some artists might not want to take it. They might say "Oh that song has leaked. I don't want it anymore. People have heard it. When I do my album, I want it to be exclusive so when they hear it, they hear songs they've never heard." So when songs leaked, people can feel like "I've already heard that." But once again, not necessarily because they may have heard Atozzio's version, but they haven't heard Chris Brown's version. They want to see what Chris Brown's version sounds like and Chris Brown has a lot more fans than Atozzio does. So why not do the record? If they're already loving the record, they can continue to make it that much bigger if it's their record. I think leaking is one of those conversations where you have to agree to disagree with some people because some people may say "I don't like it" and some may love it. I wish some of these records had not leaked because for my second album, I can't necessarily put them on it because they're coming from me and I'm an artist now. So yeah, it's like I hate it. If it's a demo of a song that somebody has and they're not trying to be a hit songwriter or artist, it's not a big issue because it's going to put you out there and if me as an artist, when I get around to hearing the record and it's big, I'm going to take it. If you're a songwriter who is trying to be an artist like myself, it's only going to make you a bigger artist because more people are going to be more in tuned with your stuff and they're going to want to hear more from you. This is all in retrospect to how I got my opportunity to even have an album released in Japan. It's because of leaked records. Whatever is meant for me is going to be for me. I don't hate it, I don't love it. As long as the world loves them and I keep getting good comments, then keep leaking them. But when they start saying "This is Trash," then maybe I'll have a problem.
YKIGS: Anything you'd like to add?
Atozzio: I want to thank and shout out Japan for all their love and support. I've had the number two album in the country for the last three and a half of weeks. That's such a blessing. I don't look at the U.S., U.K. or whatever, they're all the same to me. I have to shout out my team PS Media Talent for being so gracious to do what they've already done. Thank you to you guys for everything that you guys are doing. The last thing I want to say is to everyone who reads or listens to this interview: Never ever get detoured by anything that may seem that it's out of reach or unattainable. Anything is attainable. Everything is going to eventually work itself out. Believe in yourself, you are your own worst critic. Believe in yourself because nobody can do what you do because there's only one you. Everything has a time so just keep working on it whether you're an artist, songwriter, producer, blogger, writer. Just believe in it and you'll eventually get your shine.