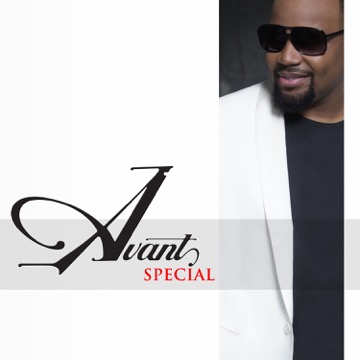 R&B singer/songwriter Avant is excited to announce his eighth studio album The VIII (The Eighth) to be released on September 25 via Mo-B Entertainment/Caroline. The thirteen-song album features production by Travis Sayles and Bob Robinson (Tim & Bob) and will captivate true R&B music lovers with Avant's magnetic voice and beautifully interwoven lyrics. The first single off the album, "Special," which is a romantic song that breathes new life into love and commitment, is gaining a lot of push on the Urban AC charts jumping from #17 to #13 with airplay in Chicago, Cleveland, Orlando, Tampa, Jackson and Charleston among others including Sirius XM and Music Choice.  Fans can purchase "Special" on all digital retailers as well as The VIII will be available for pre-order August 25 on iTunes.
Celebrating 15 years in R&B, Avant has accumulated an impressive catalog of hits that has included "Read Your Mind," "Makin' Good Love," "Don't Take Your Love Away" and "You and I" featuring Keke Wyatt among other chart toppers. On The VIII, he continues to create his signature formula of success, touching the emotional chord of the listener.
 
"I try to keep everything in perspective as things just go on in life. I'm a writer that writes from real life—a narrative. I try to write from what I see… I keep it fresh and new for the people," states the Cleveland native. "With all my music, I want to leave classics that everyone will remember and be a part of the soundtrack of their lives."
 
With the release of The VIII, Avant has upcoming appearances in Houston, Detroit and London as well as he is gearing up for a new tour, which will be announced later in the summer.