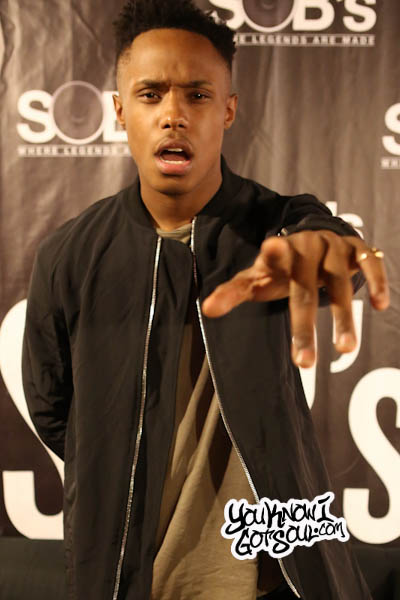 Avery Wilson made his introduction to the world on The Voice as a young r&b singer with a powerful voice developed well beyond his years. Although he didn't win the show as predicted, it did open the doors for him to team up with superstar writer Sean Garrett and eventually sign to Clive Davis and RCA Records. Everything is lined up for him to have an industry impact in a major way as part of the new generation of r&b. He's got his first two singles out now, and was recently introduced to the media in Atlanta in a listening event hosted by our friend Rea of AllHipHop. YouKnowIGotSoul sat down with Avery Wilson during a recent promo run in NYC and discussed his linking up with Sean Garrett, being co-signed by Clive Davis, the progress of his debut album, getting his start singing in McDonald's, and much more.
YouKnowIGotSoul: You've been developing this reputation as one of the best young voices coming up in r&b right now. As you developed this talent, who has influenced you along the way?
Avery Wilson: When it comes to vocals, really the biggest voices of all time. There's Whitney Houston, Celine Dion, Usher, Beyonce, Tank. The big voices and real voices that people really cling to. I think that's what got me so interested in vocals period. I think that's why I sing the way I sing because when you study, you're a product of what you study. When I was a little kid, I was always in the mirror singing a long to these songs and trying to mimic what they do, every run, every note.
YouKnowIGotSoul: You got a chance to put those talents on display on The Voice at a young age. How do you feel like that experience helped you and also hurt you, since it put expectations on you at such a young age?
Avery Wilson: Honestly, that whole process of the voice was super exciting. It was eventful. I learned a lot of things about myself at a young age that I had to know to do the things I'm doing now. To be prepared and stayed prepared, always stay ready. I can't really say that it's done anything wrong or put any bad light on me. It's taught me a lot about myself and opened up a lot of gateways for me to do a lot of other things. I'm so appreciative of that experience.
YouKnowIGotSoul: When you didn't come out on top on the show, did you take that as a setback or learning opportunity?
Avery Wilson: As a young kid, that being my first opportunity on TV, honestly I did feel like I kinda let my family and me down. But that wasn't the case. As I grew up and matured and learned, I found out it was just the door opener. After I had even got off the show, Sean Garrett came straight to my house. He was very interested in me as an artist and we talked and developed right after that. That was really just a segue for me. At the time I looked at it like a halt, but it was something that really helped me.
YouKnowIGotSoul: Obviously it hasn't hurt you at at, because here you are doing even bigger things. Talk about Sean Garrett and how he came into the picture.
Avery Wilson: Before I even did the show I had auditioned for him and he was interested. Me being the forward person, always wanting to do something even as a young kid, I felt like I had to get it done whether it's by myself or with a team. I tried The Voice and it happened and he came to my house right after. We've always been in connection and he's given me advice since day one to help me move forward and better myself as an artist and personal human being. We've always had this connection since the first day I met him.
YouKnowIGotSoul: Talk about becoming this Vine celeb. You've grown a massive following on there. At what point did you know it was something special?
Avery Wilson: To be honest, I never really even paid it any attention until I got into 600,000 followers. I was just making videos. At first I tried to be a comedian because I'm funny off of this singing thing. I started making videos and I was just doing regular covers of what people wanted to hear. I really didn't pay it any attention and then I started to see it was growing. Hundreds of thousands of views, likes and re-shares, so I thought I was on to something. I started to take it a little more serious and go into depth and really start to figure out what songs that are popular that will get more likes. It became something bigger than what I thought it was. It was an unexpected test trial and I went with it.
YouKnowIGotSoul: Let's talk about how you signed with RCA. The Voice had ended, Sean Garrett had reached out and you linked up with him. How did you transition into the deal with RCA?
Avery Wilson: When I signed with Sean, we developed for a year and a half and then we went and saw Clive Davis and I auditioned for him. I didn't know what was going on. I was upstairs in the Sony building in Clive Davis' office. I auditioned for him and it was kinda like he was interested. We talked and got to the business. I really liked RCA because I liked how they got down, their artists, their process. I really just signed with them because they get into the artist and I'm so glad to be with RCA, they treat me so well.
YouKnowIGotSoul: I think it's awesome to see Clive Davis embrace you. He's been following you around on your press runs and really helping to promote you. What is the biggest thing you've learned from him so far?
Avery Wilson: The biggest thing is that no matter what your age is, it's never too late to stay in the game. That's one thing that people try to do, they try to count him out for his age, but he's the sharpest tool in the shed that I have. He's so smart, and age has nothing to do with it. He shows up to work everyday, he's in these meetings, he did the promo runs with me getting up at 6 o'clock in the morning. What 70/80 year old person do you know doing that? That gives me so much inspiration that he's still doing that today and he's been doing it for so long.
YouKnowIGotSoul: Tell us about how your debut album is coming along. You've released a few singles so far.
Avery Wilson: My debut album is coming along great. With the singles "If I Have To" and "Change My Mind", I can't even explain it. I'm just super excited that I get to really just connect with who I am. I'm not just a baladeer or sits behind a piano. I'm definitely a part of this culture and what's going on right now in this moment. The fact that I'm able to introduce all different levels to who I am and sides of what an artist is to the people, that's very exciting. People need to understand that about me, I'm not just one way. It's so many things you can do and that interest me and I find interesting. I'm so glad I can show that with my first couple of singles leading up to my album.
YouKnowIGotSoul: What writers or producers have you had a chance to work with outside of Sean Garrett?
Avery Wilson: One thing I will say with this process, a lot of people try to typecast and put people in a small box perspective of what a person is about. Sean is the most open, genuine producer that I've met that has accomplished so much and still ready to get in the mud and work hard. For me, working with him is never an option of not working with somebody. Harmony Samuels, James Fauntleroy. We've worked with so many different producers that get into their own world. It's not because he's Sean Garrett we're only working with him, he's just so open to work with others and use their gifts as well.
YouKnowIGotSoul: We were so happy on your first single that we got a chance to hear your vocal abilities which is something you've built a name for. The younger generation in r&b doesn't seem to focus as much on the vocals. Will that be a challenge for you in the future?
Avery Wilson: I don't think that will be a challenge in the future because I feel like where music is going, a lot of rappers are using a lot of melodies too. The melody in the music and the singing part of the song and just that whole coloring part of records nowadays and I feel like it's coming back. For me to come back and sing again, it's not something that's far fetched. I listen to so many artists like Future and Rich Homie Quan and Drake. They all rap but they all have melody. We're not losing that side of music. It's not technically r&b but it gives us room to still come in and do what we do.
YouKnowIGotSoul: I was reading about your dad and how he helped you get your start doing open mic nights at some McDonald's restaurants he managed. Take us back to that situation.
Avery Wilson: When I was too young to get into clubs and do night life gigs, my dad, he's a partner of McDonald's, he started me out singing in one of his restaurants. I got the opportunity to do this thing called Open Mic which is every Wednesday and still goes on now, which surprises me because it gives kids the opportunity that I had. It's a really friendly vibe and I think it's really cool I got to grow up doing that, who can say that? It's definitely been a process and a journey.
YouKnowIGotSoul: Anything you'd like to add?
Avery Wilson: If you are watching this right now, make sure you go get my single "Change My Mind" featuring The Migos. You gotta turn up with me, it's on iTunes, Google Play, Spotify. You can follow me everywhere @AveryWilson.