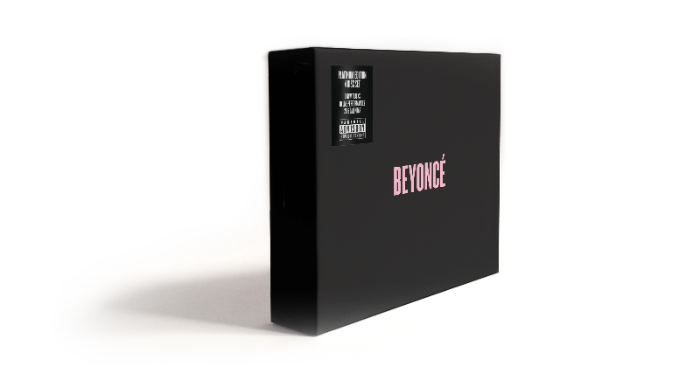 On Monday, November 24, 2014, Beyoncé will globally release BEYONCÉ Platinum Edition Box Set.  The 2 CD/2 DVD limited edition package will include new songs, "7/11" and "Ring Off" plus four new and unreleased remixes with some superstar collaborators. The original, critically acclaimed self-titled visual album, featuring 14 songs and 17 videos, is also included.
The special edition box set features a live performance DVD that chronicles the year-long "Mrs. Carter Show World Tour," a mini version of the official 2015 Beyoncé calendar, and more.
Each PLATINUM EDITION BOX SET contains:
MORE audio CD with two brand new songs and four unreleased remixes with collaborations from Kanye West, Nicki Minaj, Mr. Vegas and Pharrell Williams
" LIVE" DVD featuring 10 live performances from the "Mrs. Carter Show World Tour" with artist commentary and an accompanying photo booklet
BEYONCÉ Original audio CD featuring 14 songs and accompanying photo booklet
BEYONCÉ Original DVD featuring 17 music videos
The official 2015 Beyoncé mini calendar
Fans who previously purchased the original BEYONCÉ visual album digitally will be given the opportunity to add the bonus materials.
BEYONCÉ PLATINUM EDITION is available for pre-order now.
 
PLATINUM EDITION BOX SET:
MORE AUDIO CD
7/11
Flawless Remix (Featuring Nicki Minaj)
Drunk in Love Remix (Featuring JAY Z & Kanye West)
Ring Off
Blow Remix (Featuring Pharrell Williams)
Standing on the Sun Remix (Featuring Mr. Vegas)
 
"LIVE" DVD
Run The World (Girls)
***Flawless
Get Me Bodied
Blow
Haunted
Drunk In Love (Featuring JAY Z)
1 + 1
Partition
Heaven
XO
 
ORIGINAL CD
Pretty Hurts
Haunted
Drunk in Love (Featuring JAY Z)
Blow
No Angel
Partition
Jealous
Rocket
Mine (Featuring Drake)
XO
***Flawless (Featuring Chimamanda Ngozi Adichie)
Superpower (Featuring Frank Ocean)
Heaven
Blue (Featuring Blue Ivy)
 
ORIGINAL DVD
Pretty Hurts
Ghost/Haunted
Drunk In Love
Blow
No Angel
Yoncé/Partition
Jealous
Rocket
Mine
XO
***Flawless
Superpower
Heaven
Blue
Grown Woman