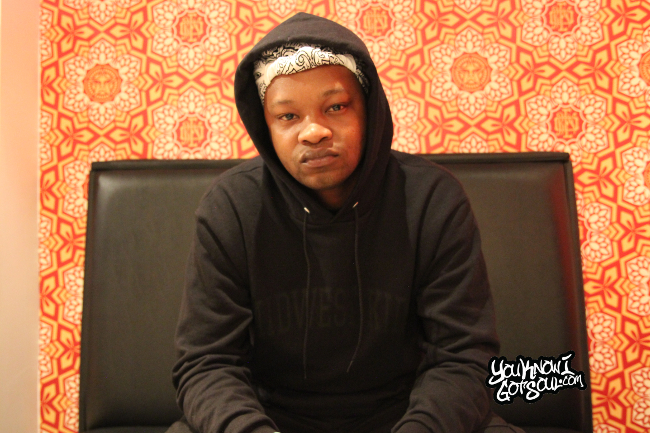 BJ The Chicago Kid has been one of the most consistent R&B artists over the past decade and he brought more solid music to the table with his latest album "1123" which came out a few months ago. One song that stood out on that project was "Feel The Vibe" which actually appeared on Barack Obama's summer playlist. YouKnowIGotSoul had a chance to talk to BJ about his new project and the creative process behind some of the songs on there. We also discussed some issues that we see in R&B today including the lack of bridges, weak vocals and Hip Hop influencing the genre way too much.
YouKnowIGotSoul: Talk about the approach when creating your latest album "1123".
BJ The Chicago Kid: Just to give people another dimension of who BJ is. No album should ever be the same, you could go back and buy the first album all over again. It's a must that we be different every album.
YouKnowIGotSoul: Your debut album "In My Mind" was Grammy nominated and you've been gone for three years, so what was the mentality creatively?
BJ The Chicago Kid: I just wanted to have fun. Music is something that I always do everyday. It's not something I have to pump myself up to do this or anything. This is one of the easiest flowing things in my life.
YouKnowIGotSoul: You hooked up with the likes of Danja and Cool & Dre and the project sounded like a lot more fun.
BJ The Chicago Kid: BJ is fun. Another dimension of BJ is something that you wouldn't know until I give it to you. Anybody that knows me knows that I'm fun when the energy is right.
YouKnowIGotSoul: A record that surprised us was "Champagne" which was written by Rico Love. That doesn't sound like a song that we would hear from you, but you pulled it off.
BJ The Chicago Kid: I didn't pull that off, I do this shit so use your words wisely. *Laughs* Again when I give you another dimension, I'm teaching you something about me so you can't act like you know what you're learning about. When you're in school, you sit in the student's desk because you're not a teacher. Your mental must be different when you're learning about somebody and you're getting to know somebody. If you think you know it all, go to a different class and teach something else.
YouKnowIGotSoul: Your record "Reach" with Afrojack was a surprise for a lot of R&B fans. Talk about that one a little bit.
BJ The Chicago Kid: Afrojack is a good friend and an incredible producer, DJ and teacher. He taught us so much and he learned so much from us too with our style and how we do what we do. "Reach" is one of those records that will live on forever.
YouKnowIGotSoul: And of course everyone has been talking about "Feel The Vibe" with Anderson Paak. Talk about that record because we love the production as well as the subject matter.
BJ The Chicago Kid: If you love that song, that's why I think it's very helpful to listen to the music with an open mindset. When people say my name, they say "Grammy nominated" but they have to listen with those same ears that they speak those words with because it allows you to understand a little bit more about me. This is only my second album with Motown and that's the only label I've ever been on. There's still a long journey to go. I think because the first ride was so amazing with "In My Mind", I think it spoiled people in a sense. And then my absence and experiencing other things, I think it all goes hand in hand with people remembering that I'm one of those special kinds of artists. I'm not an artist that comes in and gives you the bubblegum shit. My shit is real, but I may come seven years later. I'm a Prince, D'Angelo and of that caliber. I'm not a microwavable type of artist and the industry has to remember that. Anytime me and Anderson Paak. get together, it's fun whether there's a microphone is around or not. It's cool when we're able to capture magic and make some cool record. Shout out to Danja and Anderson Paak.
YouKnowIGotSoul: How did it make you feel when Barack Obama put that record on his summer playlist?
BJ The Chicago Kid: Super cool. I was in Japan when I found out, so when I found out I was like "This is super cool". He continues to support us and I will definitely forever support him.
YouKnowIGotSoul: We're always concerned when our R&B artists collaborate with Hip Hop artists, but it seems like your record "Worryin' Bout Me" with Offset is in your realm.
BJ The Chicago Kid: Anything I do is in my realm. I think my fan can tell if I'm comfortable or not, so I think the judgemental shit should stop. They can kiss my nuts with that. I am who I am. If I haven't proved the cloth that I'm from yet, I feel they should just unplug and not fuck with me. I only do high level shit. It's so many elements that people don't know and that I'm learning as well. It was a dope move by my label.
YouKnowIGotSoul: Of course you covered Ella Mai's record "Close". Not only do you love 90's R&B, but you keep up with today's stuff. For a lot of R&B listeners, it's tough because we compare it back to the 90's. How do you keep up with it?
BJ The Chicago Kid: I love to listen to what's magnetic like how I like to make it. I love to be drawn into something amazing and I think a lot of artists I've known before, they put out a single that the world got to know them for. I'm really just waiting for the world to understand what we've always been understanding as well. It's really cool to find amazing people and then they go on to become something great in the same genre as you. It becomes incredible and you guys do more incredible stuff together, that's what it's all about.
YouKnowIGotSoul: R&B has changed drastically since the 90's. How do you maintain the essence of R&B as you maneuver through the industry today?
BJ The Chicago Kid: It's all about feeling. Let's use Travis Scott for example and we see the insane marketing and promotion with "Astroworld", it probably all started from an idea. That's what it comes from and the moment we stop looking at things like it's more than starting as an idea, the more we can actually be better. Stop trying to be somebody that you can be better than and I think it's all about perspective. If we don't kiss their ass so much, we can actually see the space that we can be better than them in. A lot of people just kiss ass so much instead of seeing their own greatness and that hinders us from being all amazing.
YouKnowIGotSoul: It's tough to promote an R&B project these days. A lot of your peers put out great R&B music, but it doesn't get the same attention that a Hip Hop project may get.
BJ The Chicago Kid: R&B has definitely taken a long growth spurt even since my entry into the game. It actually has grown so much to the point where we're talking about it right now. It is growing and it will continue to do so. There's many more artists that actually put out quality music that helps it grow and all of these collective artists continue to help make this more popular by the day.
YouKnowIGotSoul: We spoke to Bridget Kelly not too long ago and we were just reflecting that period from 2012-2015 which we consider to be the toughest time for an R&B artist. Talk about that era and how you were able to breakthrough?
BJ The Chicago Kid: Very true. Honestly those days there was less to think about. Those days I just simply did what I did and didn't care about anything. Knowing that I was inspired by only true inspiration, I think it only allowed the product to be pure. A lot of things that are popular now, I was doing then from singing in a random places with an acoustic guitar, we were doing that for years. To continue to do that now feels weird because I feel like I'm walking back into my earlier self. I just need to find new cool ways to do things that I've already been doing that they're late doing. Those are some of those things that allow people to get into my music and want to work with me from the likes of Kendrick, Travis Scott and also the underground artists. It's always been a magnetic thing that I've released and it's only been because I've been steadfast, but I've also chosen to grow within those times. I didn't let those times change me for the bad, I continue to learn from it and I continue to give it to my all because when you give it all in your worst times, it continues to build those bricks to make that world you're trying to build of your own. You continue to build those bricks and never stop. That's one of the things that Nipsey Hussle said.
YouKnowIGotSoul: Of course we have to evolve and adapt with today's R&B. How do you maintain the soul in your music knowing that you don't need to necessarily sing like K-Ci anymore to be successful?
BJ The Chicago Kid: It's gotta be in you, not on you. This music is a business, but it starts with something that you're naturally amazing at and something that won't leave you alone. It's something that steals you away from your friends and family. You're just stuck at this computer or TV being amazed by what you see. That's what this thing starts from. This thing doesn't start from you seeing someone singing and you want to sing, it's already in you. If it's not in you, you're not built to do this shit. You don't get to choose R&B and Soul music, it chooses you.