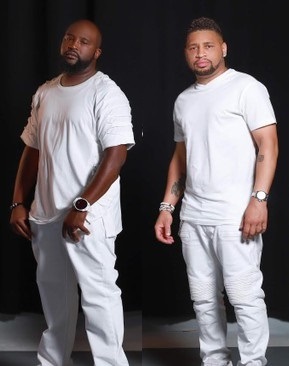 Legendary R&B group Dru Hill have gone through a number of lineup changes over the years, but none have drawn quite the attention of their latest. Their decision to add Smokey and Black from fellow group Playa drew praise from most R&B lovers, but left plenty of questions. They had big shoes to fill after all after stepping in for founding member Jazz.
We had the duo as guests on a recent episode of our SoulBack R&B Podcast and discussed their decision to join the group. They also filled us in about the album Dru Hill has been working on. Check out what they had to say:
YouKnowIGotSoul: Talk about how you became a part of Dru Hill.
Black: It's definitely been a blessing, just to be able to get paid and your job is to go do something that you love to do. Something you were born to do. It doesn't get better than that, other than seeing my kids accomplish their goals. It's been a crazy but blessed change.
Smokey: Just knowing these guys for over 20 years, and kind of bringing our talents and abilities together, it's really epic. Just sitting here thinking about it, I don't know of anyone that has ever done this or can have the ability to sing from two different catalogs. It's that major!
Black: Sisqo and Nokio and the whole Dru Hill family have just been such family. We were a part of that 20 years ago when we went on our first tour with them. We developed a bond. When you're on the road a lot of times when it's you and another artist, a lot of times it's you against the world. We were able to build a real brotherhood. We were kicking it from show to show and city to city. To upstanding and talented dudes, Sisqo and Nokio. It's crazy.
Smokey: Tell them about the speakers!
Black: This is some behind the scenes type stuff. A lot of times the closing act doesn't allow the opening act to use all of the speakers. So when the closing act comes on, the show already sounds big a lot of times, because they're not using all of the speakers. Dru Hill was totally against that. When they opened their arms to Playa, they really welcomed us. The love they showed us back then it wasn't fake. They were content with themselves. A lot of people who are insecure, do insecure type stuff. They weren't insecure about us being on the same level sound wise. It's always been a brotherhood. That's probably why it fit so well, we were already had over 20 years of friendship and love and admiration for each other.
YouKnowIGotSoul: How is the chemistry?
Smokey: When we first got together and sang, it was literally a decision to give it a shot on the way to the venue. When we got on stage with them, it just worked. I think that for a short period of time like wow, that worked. After we got to thinking about it, of course it would have worked. That's the easy part. We're all talented and doing something we love to do and been doing for over two decades. Of course we know on that aspect how to make it work. Then last minute, we decided to go into the studio to see if that worked. We went into the studio and decided that worked too. From that point on, it did not stop.
Black: Our sounds are different, but our influences are the same. Us being a part of Da Bassment, shout out to Jodeci, DeVante Swing, K-Ci, Ginuwine, Dalvin, JoJo, Missy, Timbaland, Magoo, Tweet, Sugah. Us being a part of that, it just made sense. If you listen to Dru Hill early on, Sisqo was definitely compared to K-Ci, and we grew up listening to K-Ci and had the opportunity to work with him for years. Like Smokey said, professionally we all can sing, that was the easy part. Going into the studio kinda confirmed what we already knew. From that point on, it's just been us gelling. Dru Hill always has a high octane show with dancing and singing, no lip syncing. It's just been a maturation of super dope individuals. Nobody has an ego, and everybody is working for the greater good to elevate Dru Hill to greater heights and bring real R&B music back.
YouKnowIGotSoul: Talk about the new Dru Hill album.
Black: I'm going to be honest and unbiased as I can. It's a super dope album. Working with producer Troy Taylor who is already a legend, set the bar pretty high. It's a collaboration of beautiful harmonies and beautiful written songs. If you love R&B, you are going to love this album.
YouKnowIGotSoul: Prior to joining Dru Hill, did you ever have hopes of working on new Playa music?
Smokey: We had always had hopes and aspirations of doing a new Playa album. Recently we were speaking of releasing a single and starting there. But as far as us being totally done with music whether we went the Playa route, or solo route, or behind the scenes writing and producing, that was never on our mind. It just made so much sense not only to become a part of the Dru Hill movement, but it also was an exciting thing to. It was like our homeboys wanted to come together and do some stuff. It was a no brainer. The only thing that I was concerned about at the time was that the Playa legacy did not get tainted. That was something that the whole Dru Hill family was not all about, tainting that. That's why whenever we go out on stage, we give you a piece of Playa.
YouKnowIGotSoul: What about the reaction from fans who aren't comfortable with Dru Hill changing their lineup?
Smokey: I would say that one of the key factors, and it all stems from our bond and not being any egos. When you hear the new Dru Hill music that is coming, you will hear a lot of all four of us. It's not like some people may have thought we joined Dru Hill to be in the back. All four of us are in the front. That's one of the things I think that's very positive to making sure Dru Hill as well as Playa unified shines.