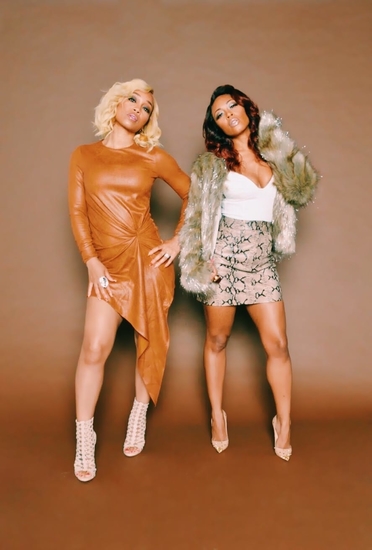 R&B group Blaque thrilled fans when they announced they'd be releasing their shelved "Torch" album. This was supposed to be the group's third album and was set to release in 2003; fans have been asking for it ever since.
We recently had Brandi D from the group as a guest on our SoulBack R&B Podcast and she discussed the creation of "Torch", why they've decided to release it now, and future new music from Blaque. Check out what she had to say below.
YouKnowIGotSoul: Talk about your previously unreleased album "Torch" that you've got coming out.
Brandi D: The "Torch" album is the very last major label studio album that we recorded with Natina. This is pretty much the last album you're going to get with the three of us, which is super special. We recorded this album when we were signed to Elektra Records. Some things happened over there, label things change, label heads change, and Sylvia Rhone was over our project. Once she moved to a different company, they basically just decided to drop a lot of her artists. We were one of them. The blessing of that situation is that they gave us the album. We own the album. Losing Natina and just trying to figure out what to do next, our fans just kept saying they really want the album. They even put a petition out! Shamari and I thought instead of putting out a new album with just the two of us, we would just give the fans what they've been asking for. They've been asking for this album even before Natina passed away. Our 20 year anniversary is coming, and what better way to give our fans what they've been asking for forever, and celebrate with them with this album. We're really excited! Hopefully they love it as much as they've wanted it.
 
YouKnowIGotSoul: We've heard that this is not your favorite album. Was that because the label dictated the sound?
 
Brandi D: I'm really nervous about it. Like you said, it was not our favorite album, the sound was really driven by Syliva and the label. They picked a lot of the producers that we worked with on the album. It's not like we had a big hand in creating as far as the writers and producers. Now when I listen, I think it's not as bad as I thought. Everybody who has heard it so far has loved it. They say it sounds like we recorded it today and it's not as old as it is. I can't wait to see all of the reaction.
 
YouKnowIGotSoul: What do you think would have been different if it had released back in 2003?
 
Brandi D: I don't know! I think that we had a couple of strong singles like "I'm Good", which is actually not a part of the album, but they used it as an introduction to the new Blaque sound, through the soundtrack to "Honey". They dropped "Ugly" with Missy Elliott. I think it would have set us up to do more great music in the industry. I feel like God's timing is incredible. For people to feel like it sounds like we recorded this album today, it was God's timing to come out now. I'm grateful for that.
 
YouKnowIGotSoul: What plans do you have for Blaque to release new music?
 
Brandi D: We're going to definitely be releasing some new music after we do a good run with "Torch". We really wanted to do this first. I feel like otherwise our fans would have been like "Ok we like this new stuff, but where is 'Torch'?"
*Laughs* So we wanted to give them what they wanted and then hit them with the new stuff.