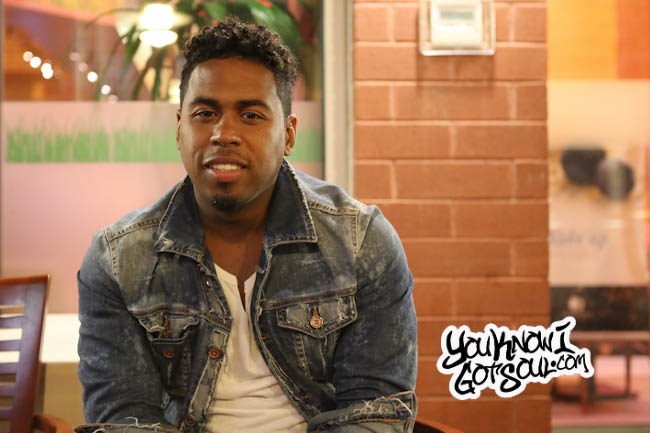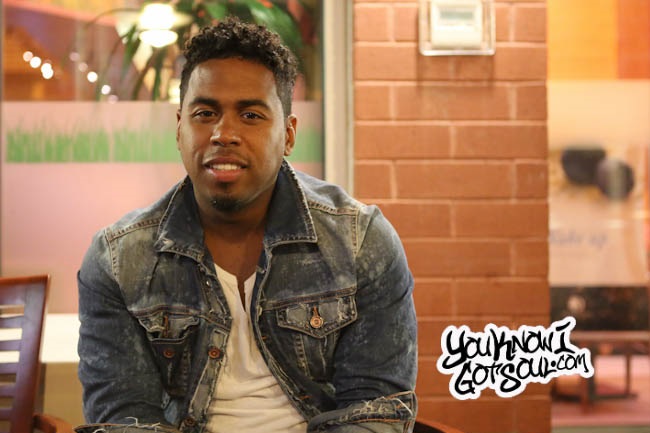 Bobby V. is not only gearing up for the release of his movie "Hollywood Hearts" featuring his debut acting role, but also his new album of the same name. He's always been one to evolve his music and his last EP "Peach Moon" showed off an adult sound he hadn't ventured into before. Now the new album will find Bobby venturing into a futuristic sound of r&b, his take on where the genre needs to evolve to. The release comes on the heels of the "Kings of Love" tour where he partnered with J. Holiday and Pleasure P to create a live show with two of the best in his generation. YouKnowIGotSoul caught up with Bobby V. during a press run in NYC and discussed what to expect on the new album, how the tour came together, and his futuristic r&b sound.
YouKnowIGotSoul: You've got this new album coming out to coincide with the release of your "Hollywood Hearts" movie. What can we expect the music to sound like.
Bobby V: Man, I worked with Tim & Bob on the album of course. I worked with an up and coming producer named Emerson Brooks who produced "Unbelievable" and a couple of tracks I released last year. He's from Toronto, amazing producer. I feel like this album right here is like a futuristic…this is what r&b should be at right now. No disrespect to Usher and all of these guys, but I guarantee this is the hottest r&b album of 2016. People have put out some great r&b albums, but this album right here, this is the blueprint of where r&b should be going. The direction of it is amazing, I can't wait for you guys to hear it. I look at it as futuristic r&b.
YouKnowIGotSoul: The "Peach Moon" EP was the last project you had and on there was a really grown sound, you kinda went back to the roots of r&b. Did you tap back into that at all?
Bobby V: This is totally different. The "Hollywood Hearts" album is so different. Working with Emerson Brooks for the majority of the album, he'd take a vocal and make it sound like an instrument. The album is along those lines. Uptempo songs and very futuristic. I'm just excited of how organic the album is and how organic it's going to grow. It sounds nothing like any album I ever did. It's awesome.
YouKnowIGotSoul: We loved this "Kings of Love" tour you were a part of this year with Pleasure P and J. Holiday. It was great to see r&b artists of the same generation coming together. How was that experience?
Bobby V: We actually just had a show this weekend in Philly. It's great to just be able to do shows with cats who sing. Shout out to Pleasure P and J. Holiday. To be able to do shows with these guys, I love it. They are great singers and they have a great show. The camaraderie among us is awesome too because even though we're cool, we're trying to go out there and bust each others ass every night and have the most panties thrown up there! I love to perform with r&b singers. A lot of times you get paired with rappers and the crowd is more rap oriented. With us doing shows, this is a real r&b crowd and I can bring my keyboard out and play a bit.
YouKnowIGotSoul: How important was it for you guys together? A lot of artists are out there on their own doing shows.
Bobby V: It was good. I think that's what's wrong with r&b, we're not coming together as much as we should. I think that's what built rap and made it as big as it is today, all of the artists collaborate. We as r&b artists, we've gotta put our pride aside, and that's what we did with this tour. We took less money but we made it happen for a bigger cause, to help bring r&b back.
YouKnowIGotSoul: How challenging is it for an artist of your generation to remain commercially relevant in this landscape? You've got hip hop radio, and you've got urban A/C radio, but there is no middle ground.
Bobby V: There is no middle ground. It's very challenging and that's one of the reasons I wanted to do the movie because I felt like that would be a better platform to put my music out. A lot of the songs on the album are in the movie. It's definitely very hard. R&b is becoming a lost art, there aren't even really any new r&b artists coming out. What new r&b artist came out this year? Most artists coming out are from previous year or older. I feel like r&b is in a state of where it needs to come back. It's going to be extinct soon because rappers are singing. As an r&b artist, we're in the studio thinking "Maybe I need to make a song where I'm not really singing, but I'm rapping." It's rap singing. We end up falling into a category where you're rapping. It's kinda hard not to do it when you're hearing every song like this. I feel like r&b cats need to start coming together more and collaborating with each other and we can bring it back. It starts with guys on the top to mess with guys in every position.
YouKnowIGotSoul: One thing you've always done well to get exposure for your albums was release a commercial single, and then have the rest of the album be traditional r&b. You started doing that years ago and many have followed that trend.
Bobby V: Even on this album, I have one commercial single, but for the most part, you have to get people's attention. Radio is what everybody is listening to. Even with "Peach Moon" project, no songs made radio, so not many people knew about the album. Now if I had a commercial single to go with it, it might have allowed people to know about it. You kinda have to get their attention with that radio record, then they know the album is out. If you make just straight up r&b records, you won't hear it on the radio unless you go straight up adult contemporary. For the mainstream, you really have to do conform, and if you don't, your music won't get heard.
YouKnowIGotSoul: Anything you'd like to add?
Bobby V: Check out the movie October 8th, "Hollywood Hearts", and my album is out the same day. Make sure you go to iTunes and check it out. I guarantee you'll love the movie and the soundtrack.