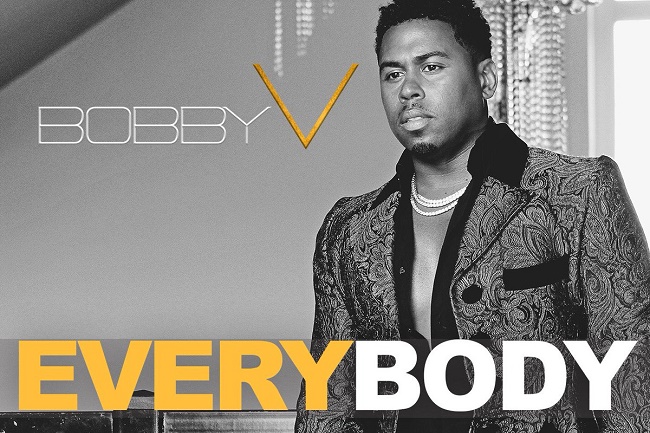 When you think about artists who haven't stopped since their debut, Bobby V should be one of the first to come to mind. He put out his last album "Electrik" just last year and now he's ready to drop some more new music. He has the new single "Everybody" which will be out tomorrow along with his upcoming album "Sunday Dinner" which is set to be released on Valentine's Day next year. YouKnowIGotSoul had a chance to talk to Bobby about the very successful Millennium tour with B2K, Mario, Lloyd and Pretty Ricky, his upcoming single along with what's happening in R&B today with genres blending. Also listen to the full interview to learn more about his early beginnings with Mista, linking up with Tim & Bob and some of the music that inspired him growing up.
YouKnowIGotSoul: What are your thoughts on R&B today? It seems like attention spans are at an all time low.
Bobby V: Today's music is instantaneous. First of all, everyone is an artist because you have to compete with the world. Anybody can put autotune and make a record now. You have to think of the most clever and dumbest thing possible. It has to be clever now, but it also has to be dumbed down for it to resonate. Now there are artists that break through the cracks like H.E.R. or Daniel Caesar, those are artists that are blessed enough to hit people with that real soul and really do them, but it also takes a label that believes in you or put the right money behind you to take you to that level. Most labels don't want to do that, they want you to do all the work and then they'll jump in on the back end.
YouKnowIGotSoul: We always see you chiming in on our Instagram to talk about R&B and we can tell you're not happy with where the genre is at.
Bobby V: I really don't think it's in a good place. Now there are artists that are doing it and I sign artists through my label Veltreemusicgroup, but when people send me artists that sound amazing and I'm like "I feel that but what radio station is going to play their song?". It's tough because if you're a real singer, musician or artist, you're not really appreciated and don't get me wrong, I don't listen to a lot of rap but the rappers will just get up and jump around the stage and people will go crazy. People will say "Their show was amazing" but when an R&B artist gets up on stage and play the guitar, keys and sing their lungs out, they aren't going to get the same praise as the rappers. I'm not hating on the rappers, but I'm just showing where the listeners are now and where music is. That really hurts as an artist and for someone that goes out and really sings on the stage.
YouKnowIGotSoul: Another challenge is that there isn't really a definition for R&B anymore. I know you're close with Khalid, but do you consider him R&B?
Bobby V: I think he's R&B but with a twist, but I don't know where to put him. He's more R&B/Pop to me. Even though his records are R&B, I think he's surpassed the genre. When you get into a certain level, you surpass the genre of music that you initially are in. It's almost like Jay-Z is Rap/Pop because Pop is just popular music. Khalid does make some soulful music, but he's surpassed R&B. To me R&B music is almost like a cap which is unfortunate. Even though it crosses the genre lines sometimes, it doesn't cross the lines like Rap does because I think R&B is more soulful and you have to have a soul. A lot of people don't have that within them to enjoy the R&B element. It's almost unexplainable in a sense.
YouKnowIGotSoul: Our inside joke when it comes to the definition of R&B is "If it doesn't sound like Charlie Wilson, it's not R&B".
Bobby V: *Laughs* That's kind of true. That's why I can't put Khalid all the way R&B like that. He'll go there, but he won't go all the way there. You'll want him to hit the big note, but he'll mellow it out. He's an awesome artist and I'm so proud of his success. He's where a lot of artists want to be including myself. I want to be at the level he's at, but I think when you're at a certain soulful level like Tank, he's a real R&B artist so he may never get to the Khalid level. I'm an awesome R&B artist but I'll never get to the Khalid level. Same with Charlie Wilson because there's a level of soul and I think if you have that, it's kind of hard to get to that level to crossover. Of course there are exceptions to every rule to where white or mixed people like R&B music, but when I think of really crossing the lines, Khalid has done that because his show is 90% white people. Tank or Charlie Wilson will do a show and it'll be 5% white people. Khalid is really taking R&B to another level. Can you think of another artist who makes R&B music and their show is 90% white people?
YouKnowIGotSoul: That's definitely a good point! Now you were part of the Millennium tour earlier in the year which was super successful. Take us back to that whole experience.
Bobby V: That experience was amazing because I was on the Scream tour back in 2005. I went on another tour in 2010 with Keri Hilson, Keyshia Cole and The-Dream. That tour was like the Scream tour but this Millennium tour was bigger. As a musician especially an R&B artist, it's a series of highs and lows. That's probably with everyone in life with a job, there are high and lows. At the time I was probably at a low place. I wasn't in a good place and then they announced that I was on tour, I couldn't believe it. I want to shout out my manager Melinda for making things happen. I was really at a low place. I have a beach property and I was there all by myself during the new year. I was just praying because I just believed in the power of God. I really spent a week at my beach crib and I was by myself. I didn't want to be around anybody, I just wanted to bring the new year in by myself. Then we got the announcement that I was going to be on the tour and I was like "This is unbelievable!". I didn't believe it when I got the first deposit in my account. I didn't believe it until I was doing soundcheck during the first show and I remembered Lloyd walked in right behind me. I was like "We're official now!". The tour did a lot for my career, my soul and my morale. I had some trying times before that for a year prior. 2018 was probably the lowest point in my life, so for me to end 2018 with an announcement that I was going on a major tour that was bigger than the Scream tour, it was great because it opened a lot of new doors for me. It got a lot of people to see that I play keys and really perfecting my craft. I went in on the show and gave it my all every night. Even though I was early on in the show, it just really boosted my morale and took me to a new height and level. I'm so thankful for that opportunity.
YouKnowIGotSoul: What was the percentage of white people at those shows? *Laughs*
Bobby V: That's what I'm trying to say! *Laughs* The percentage was very low. It might have been 2-5% but we sold out 40 out of 45 dates. That was really good for R&B. Most artists on there were soulful artists like Mario. He's one of the best singers I've heard and he really sings really well. He gives a good show and there were a lot of good people on that tour. It was just awesome. I had a great time and I was just thinking about that tour today. I'm hoping we can do that tour every year!
YouKnowIGotSoul: Now you worked with the late LaShawn Daniels on "Turn The Page", what do you remember about working with him?
Bobby V: He's such an awesome singer man. I remember recording that song and that's a high song, the key that I'm in is extra high. I remember trying to sing it and LaShawn was singing it effortlessly. He wanted me to sing it just like him and I was like "I can't sing that like you!'. I just remember being in the studio with him and how soulful he is and how much of an awesome songwriter he was. Him and Rodney Jerkins when they worked together, it was magic. When we did "Turn The Page", it was magic and it's just sad he had to die. We're all going to die at some point, it's inevitable. You just don't want it to happen so soon and at that age.
YouKnowIGotSoul: What do you have coming up?
Bobby V: I'm dropping a new single. I have a deal with SRG label through Universal Records. I'm dropping a new single called "Everybody". It's an uptempo type of song. It's an up to date R&B type of record, but I'm still singing. I still have the live instrumentation that brings it back to that real Bobby V. This record is like my "Beep, Beep" record. It's fun and it's just talking about being in relationships. It's something everybody goes through and you just want to know if they're texting just you good morning or everybody. I plan on dropping the album next year on Valentine's day. The album will be called "Sunday Dinner" and my sister came up with the name and I totally agree with it because on Sundays, me and my family get together and we just have real conversations whether it's about Donald Trump or relationships or who you're dating. I feel like the album is a compilation of things that happen at Sunday dinner. I get a lot of my love, joy, peace and foundation at Sunday dinner. That'll be the newest installment of Bobby V. The first single I'm dropping is "Everybody" and hopefully that pops off. I do have some more real R&B records on the album. "Everybody" is a mainstream type of record and I know the label wants me to do drop an Adult Contemporary R&B record, but I want to feel good. I want people to be able to dance and I just like records that move more than slow records. I like slow records for the album and that's awesome, but I want to give people feel good music. "Everybody" will be out everywhere on the 27th. I can't wait for you guys to hear it. I know you have been hearing a couple of snippets on Instagram. I describe the song as a 2020 Jodeci record. I'm excited for the people to hear it. Whether it goes plastic or platinum, it's still good to me. I'm not making music to go platinum, I'm making it for people that love good music, chord progressions and songs that touch the soul. I do music because I love to do it.
YouKnowIGotSoul: Let's give a shout out one time for your "Peach Moon" project because we still love that EP.
Bobby V: You see, "Peach Moon" got dusted in the wind because it was real R&B. A lot of people don't get it. I know this is YouKnowIGotSoul but a lot of people don't got soul. A lot of people don't understand it and that's where the disconnect comes. On Pop records, you don't have to push the limits. There's nothing wrong with that, but R&B is all about the runs and "Ooh yeah!". That's the special thing about R&B. It can make you laugh, cry and make you feel different than any other genre of music.