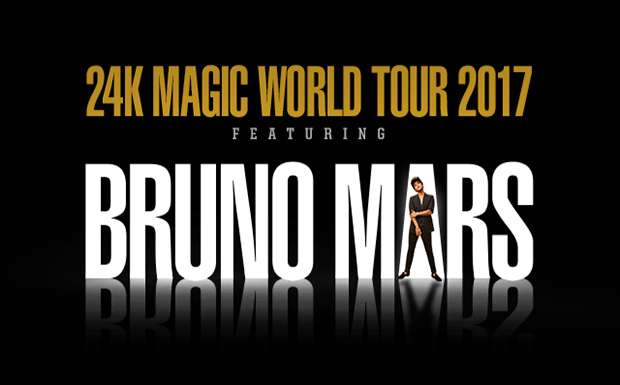 In an unprecedented and uplifting moment for the r&b community, pop star Bruno Mars has announced that he has added r&b stars Boyz II Men, Charlie Wilson, Ciara and Ella Mai to his 24K World Tour. The acts will help replace Cardi B who dropped out of the show earlier in the year.
The tour is in honor of his 2016 album "24K" which paid homage to the golden era of r&b in the 90's and helped that sound return to mainstream radio.
Mars, who is currently nominated for an Emmy Award for Outstanding Music Direction for his TV special "24K Magic: Live At The Apollo," recently announced that his international outing will close with a trio of homecoming performances in Honolulu, Hawaii. The three dates at Aloha Stadium are a record-breaker for the venue, with no other artist in its history to have booked that number of successive dates.
Check out the full itinerary of dates below.
Bruno Mars 24K World Tour Dates
Friday, September 7, 2018
Denver, CO*
Pepsi Center
Saturday, September 8, 2018
Denver, CO*
Pepsi Center
Tuesday, September 11, 2018
Wednesday, September 12, 2018
St. Paul, MN^
St. Paul, MN^
Xcel Energy Center
Xcel Energy Center
Saturday, September 15, 2018
Sunday, September 16, 2018
Detroit, MI^
Detroit, MI^
Little Caesars Arena
Little Caesars Arena
Wednesday, September 19, 2018
Philadelphia, PA*
Wells Fargo Center
Thursday, September 20, 2018
Philadelphia, PA*
Wells Fargo Center
Saturday, September 22, 2018
Toronto, ON**
Air Canada Centre
Sunday, September 23, 2018
Toronto, ON**
Air Canada Centre
Thursday, September 27, 2018
Boston, MA**
TD Garden
Friday, September 28, 2018
Boston, MA**
TD Garden
Monday, October 1, 2018
Newark, NJ**
Prudential Center
Tuesday, October 2, 2018
Newark, NJ**
Prudential Center
Thursday, October 4, 2018
Brooklyn, NY^^
Barclays Center
Friday, October 5, 2018
Brooklyn, NY^^
Barclays Center
Sunday, October 7, 2018
Monday, October 8, 2018
Nashville, TN^^
Nashville, TN^^
Bridgestone Arena
Bridgestone Arena
Thursday, October 11, 2018
Friday, October 12, 2018
Tulsa, OK^^
Tulsa, OK^^
BOK Center
BOK Center
Sunday, October 14, 2018
Dallas, TX^
American Airlines Center
Monday, October 15, 2018
Dallas, TX^
American Airlines Center
Tuesday, October 23, 2018
Los Angeles, CA*
STAPLES Center
Wednesday, October 24, 2018
Los Angeles, CA**
STAPLES Center
Friday, October 26, 2018
Los Angeles, CA^^
STAPLES Center
Saturday, October 27, 2018
Thursday, November 8, 2018
Saturday, November 10, 2018
Sunday, November 11, 2018
Los Angeles, CA^
Honolulu, HI
Honolulu, HI%
Honolulu, HI%
STAPLES Center
Aloha Stadium
Aloha Stadium
Aloha Stadium
*Boys II Men
^Charlie Wilson
**Ciara
^^Ella Mai