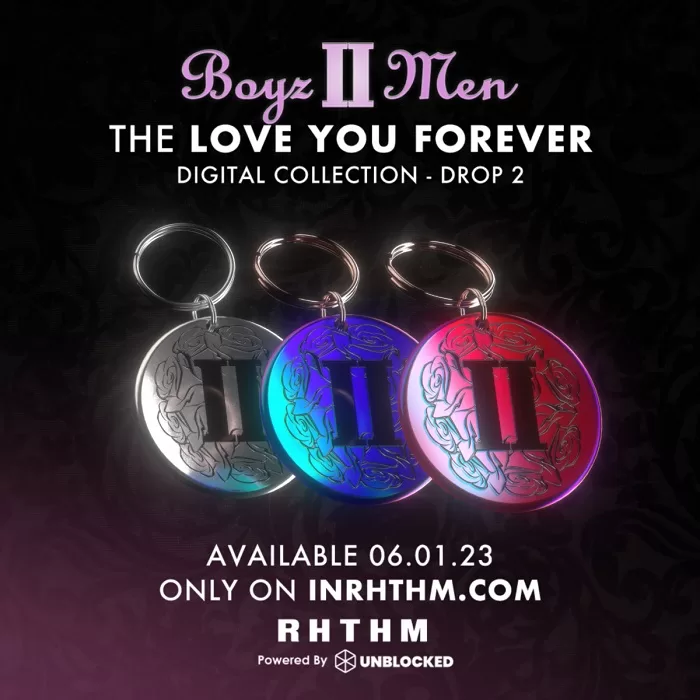 Legendary group Boyz II Men have just unveiled the second edition of their "Love You Forever" digital collection.
The second drop is called "I Love You" and arrived earlier this month. The iconic R&B group continues to celebrate the multifaceted expressions of love with the latest series exclusively on RHTHM, Primary Wave Music's digital collectibles platform powered by Unblocked and hosted on the Flow blockchain.
This second series, "I Love You" delves into a more playful and intimate side of love. With a nod to their hit song "Motown Philly," the series introduces three digital room keychains for the imaginary "Motel Philly," symbolizing the private, shared spaces where love deepens.
To bring the digital to the physical realm, collectors of this series will receive a physical keychain matching their digital collectible. The benefits also extend to exclusive merchandise and access to a private digital community curated by Boyz II Men.
Top collectors of the "Love You Forever" collection are also eligible for VIP experiences that include a meet and greet with Boyz II Men at select headlining concerts, offering them and a guest a chance to personally connect with the group and receive signed merchandise.
The "Love You Forever" community recently experienced an exclusive Q&A on Discord with Nathan Morris, Wanya Morris, and Shawn Stockman, further fostering the artist-fan connection that this collection embodies. Stockman previously stated:
"The process of shaking hands with our fans has dwindled. Times have changed and it's a little harder to do that. Things like this [Boyz II Men digital community] are really good because it allows us to stay in touch with those who support us."
Boyz II Men continues to redefine fan engagement by leveraging cutting-edge technology to offer fans the opportunity to own a piece of their legacy. The second series of the "Love You Forever" digital collection builds on the promise of reimagining fan clubs and artist relationships through blockchain technology.