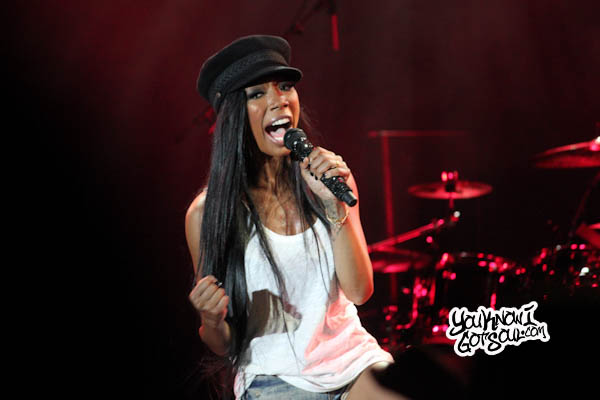 When you listen to the music coming from the new generation of R&B artists, you can definitely make the case that Brandy has been one of the most influential artists since her debut in 1994. Her signature runs have been imitated by many that have come after and her rapid fanbase is ever so enthusiastic on social media. Even though Brandy's has been rather quiet musically over the last few years, there's always a sense of excitement when she puts out something new. Last year she recorded the single "Beggin & Pleadin" on her independent label and now she's gearing up for the start of yet another era in her legendary career. In advance of her performance at the Mother's Day Good Music Festival at the Barclay's Center (click here for tickets), YouKnowIGotSoul had a chance to talk to Brandy about her hiatus from the music industry, her freedom as an independent artist and her vision as she moves forward as an independent artist.
YouKnowIGotSoul: The last time we spoke was when you had released "Two Eleven" so talk about that album as you reflect back on it five years later.
Brandy: I don't really think much about that album anymore. I'm more about what my sound is like now and my truth. It's about how I can comfortably express myself in songs. I haven't been this sure about myself in a long and about my music and just where I'm headed. "Two Eleven" was definitely a great starting point and there were great songs on that album. I loved recording with Sean Garrett and just feeling free enough to try things in the studio with him. It was a lot of fun and working with Bangladesh as well. He's one of the greatest producers of all time. I had a good time creating, but it's all about looking forward into what I'm doing now.
YouKnowIGotSoul: This long break you've had isn't new to you, but what's different about it this time around?
Brandy: I think this break is really me coming into my own as an artist and really making the motto of my life to be brave because I'm been through a lot and I'm still here. I feel there's so much purpose that's left in me to share with people and I'm just ready to use my gift in the right way because I know I have a gift and it's unique and different than anybody else's. I'm supposed to do something with it and I'm happy that I know that now. It's not just cliche or just something to say because I feel it. I'm happy about that.
YouKnowIGotSoul: You're an independent artist now, so what's going to change about your music and business?
Brandy: Music is infinite and personal. I don't want to put myself in a box. I want to try everything and I'm trying everything. I'm really trying to write what's in my heart and what I feel without a lot of help in that department. It's about being brave. I'm not an R&B singer, I'm a singer. I can sing any music that makes me feel inspired whether it's Country, a little bit of Rock and roll but within my roots as well. I'm not going too far with it, but it'll be within my roots. I feel like trying a different way to express my music because so many people have already taken from what I've done in the past and it kind of makes me not want to ever do anything that I've done before.
YouKnowIGotSoul: You're an artist that probably could have gone indie a long time ago because of your star power. Would you say there was some fear going that route initially?
Brandy: Yeah, when you don't know your values or who you are or you start to believe things other people are telling you, you get lost. I was more lost than afraid because I usually face things I'm afraid of. I was just lost because I didn't know what I meant to music or what music meant to me. Now I just belong solo and I belong by myself. I love singing with my brother and my daughter. I'll probably do a lot of features and I've done a lot recently, but I'm a solo artist.
YouKnowIGotSoul: Last year you had put out "Beggin & Pleadin". I know there was a lot on behind the scenes with that song, but what were you working on at the time when you put out that song?
Brandy: I'm still working on it. That's a part of my story. "Beggin & Pleadin" was my freedom song to set me free as an artist. I tried something completely out of the box and inspired by Ray Charles. The story on top of that was actually true because I was actually begging someone to come back in my life that does not belong in my life. I know that now, but at the time I really did a gut wrenching vocal on that beat and I wanted people to hear it. I just wanted to do it on my own. I wanted to put it out and get it on iTunes. I just wanted to know what that felt like. That was my winning song to even go further with my life now to continue to strive for great music and out of the box. "Beggin & Pleadin" is still part of the journey that I'm on because even though you don't hear music from me, but there is music. It's just about putting it out.
YouKnowIGotSoul: Our friend DJ Camper had announced that you guys were working on an EP together two years ago, but nothing happened. Whatever happened to that project?
Brandy: Well I think he spoke too soon. I think you talk to music with other musicians and you say things like "It'll be great to work with you!". He's pretty young, so he got ahead of himself and said that we were going to put out an EP. That was never my plan and that made me look bad in a way like I didn't own up to what was said. I had to go with it for a bit, but I stopped going with it. I'm not doing an EP with DJ Camper. I'm doing music for my life and it's not really with him. His work is fantastic, but I'm not working with him. I'm working with somebody else and I'm excited. i can't really talk about that, but I found a really great partner in music. It's really dope.
YouKnowIGotSoul: I know you can't really reveal who it is, but what has made you connect with this person on a musical level that's going to have us excited?
Brandy: I can mention that I did a feature with Sir The Baptist. He's a brand new artist on Atlantic and I think he's a genius on levels. That was one of the first songs that I've felt for a long time and it's a powerful song to give a prayer to God about delivering whatever your troubles are. The song was so magical and I want to try different things. I definitely found my partnership with a few people and he's one of them.
YouKnowIGotSoul: You've always had the ability to merge your sound with whatever is current at the time like you with "Put It Down" a few years ago. Right now the biggest thing is trap music, so can you envision yourself doing that kind of music?
Brandy: I've always loved amazing drums. I didn't know when they became trap drums. I don't know how to identity with that, but "Begging and Pleading" had some of those trap drums on that. Like I said, I'm a singer. I like to hear how my voice sounds on any kind of beat at this point. If it's hot and I'm moved by it, I'll do it. I'll try to put something on it whether it's trap, guitar or flute. It doesn't matter.
YouKnowIGotSoul: "Put It Down" was an effort by you to target your original fans as well as a younger crowd. Is mainstream success still important to you at this point?
Brandy: It's not as important as it was before. I think it'd be negligent to say that I don't want to be at the top of the charts. Of course I do, it's proof that your song is being heard. But I think it's more about the work for me and being proud of what I'm doing in music than what people think about my music. I want to like my music before you like it. I don't want to sell anything that I don't really like. I don't want to sell myself short just to get to the top of the charts. It doesn't feel that great. Feeling proud of your work feels greater than being at the top of the charts.
YouKnowIGotSoul: I've spoken some an artists like Joe and Tyrese who are contemplating retiring because of the decline in R&B sales. Can you relate to that?
Brandy: Well no because I've always tried to follow my own way. Yes, R&B is Rhythm & Blues but like I said, I'm a singer and I want to be able to sing any kind of music. I don't want to be in that R&B box. I can definitely feel where they are because R&B as a whole is not in a good place. Nobody is really trying to hold the genre down right now. All the artists are following each other. Artists are supposed to be leading and want to try things. I'm going to try and the R&B for me is about the soul on the record. It's not about a type of record. Whitney Houston put R&B in Pop music. You can put soul in any type of song. That's the first time I've ever said that, so that sounds pretty profound to me.
YouKnowIGotSoul: You have supporters that have followed you since your debut but you also have a lot of younger fans that discovered you after "Put It Down". What's that balance like for you?
Brandy: I think it's definitely a balance. Sometimes you give people a little bit of what they want and you can give them all of what they need. I'm only giving them a little bit of what they want. It's not going to be a whole song of just "This is what you want just to get to the next song on the album". It's going to be a little bit of what you want on the verses and then I'm going to drag you into another street. It's going to be that truthful street. Right now for me, I don't really have the time to not do what I feel. I've already done that in my teen years and 20's. I've paid my dues to try to do what I want to do and be proud of it. I say that humbly as I look back and reflect because I've been doing this since I was 16 and now I'm 38.
YouKnowIGotSoul: I hate to ask about timelines, but when can we expect the new music?
Brandy: I've gotten in so much trouble for saying when, but I know it's sooner than later. I have to get something out even if it's just two songs. Like something has to come out soon because I think it's been unfair to the fans to not have anything from me that they want. I was aggravated when Whitney Houston would take a long time to come back out. She had to come out all the time to me. I feel like I definitely aggravated my fanbase by not having anything out. It'll be soon.
YouKnowIGotSoul: Anything you'd like to add?
Brandy: I just think your questions are brilliant and you're a great interviewer. This was a really great interview and I had a really good time talking to you and telling you a few things about what I'm doing.