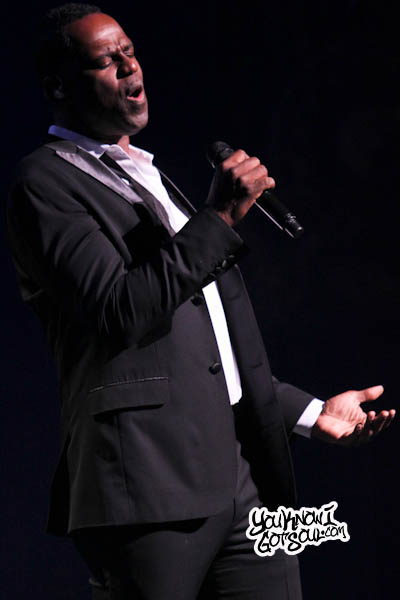 Brian McKnight represents a different time in the music industry. A true singer, songwriter, and musician, these elements have become lost artists in today's music industry. Rare are the times when a masterpiece composition well get the recognition it deserves, in favor of trendy tunes. To his credit, Brian McKnight hasn't wavered too much from his timeless formula over the years, and his new album "Better" represents yet another impressive step in that direction. YouKnowIGotSoul caught up with Brian to discuss the creation of his latest album, remaining an independent artist, industry frustrations, grooming his kids to be artists, and more.
YouKnowIGotSoul: Congratulations on the release of your new album "Better". We read that you wanted to take it back to the roots on this one and bring back the live instrumentation. What made it necessary for you to go that route this time around?
Brian McKnight: I'm never satisfied with what I do. This one, it kind of just happened one day. The entire band happened to be there at concert and I took all my guys and we did 14 tracks. It just worked out that way.
YouKnowIGotSoul: I noticed that the content really aligns with what you portray on your Instagram account, being in love and being happy. Was that what inspired the project, your life where you're at now?
Brian McKnight: It's interesting because this whole record was done in June, or even sooner. It was the label that made us wait this long. But now, our relationship has actually gotten stronger since I wrote all of these songs. We were a year or so into it, and now we're two and a half years in. When I look back on these songs, it really coincides with both of our Instagrams. Wow, it's almost like the songs are the road map. I know that sounds crazy coming from a guy, but it's the happiest I've ever been. I'll say to anyone, if this exists for me after all of the shit I've done, there is hope for everyone else.
YouKnowIGotSoul: You released this album "Better" through your own label. I know previously you were with eOne Entertainment and you've been independent for awhile now. What is your decision like to stay independent and release projects on your own as opposed to staying with a label?
Brian McKnight: It's tough. Even as we speak, I'm constantly being courted by labels and their backing. Obviously the market is there when you talk about the economics and the numbers, but it's hard to give up the freedom of being able to do whatever you want. Even if that means less record sales. For me able to do the records I want to do and not have to worry about this producer or that producer or that trend, I'm not really interested in that. I just want to be as creative as I possibly can.
YouKnowIGotSoul: It's interesting that labels are courting you. It'd be interesting to see if you made the same move because Tamia went to a major after being indie for awhile.
Brian McKnight: It's interesting for other artists that haven't been as hands on with their creative side. They aren't their own writer or producer. Trust me, I've worked with Puffy and Tim & Bob. It's the label people themselves sometimes and their credibility comes into play. Had it been the right person at the right position to be championing the cause, it's hard to find that person in the sea of people that are making records now.
YouKnowIGotSoul: One of the biggest frustrations is the lack of support for R&B. Does it get frustrating that your music isn't getting noticed like before?
Brian McKnight: What's frustrating for me is not knowing why. In the 90's when we ruled radio, people bought records. Sales were out of the roof. All records were going gold then. What I don't understand is why they decided to marginalize this soul genre for the sales that's happening now. It's not frustrating because every generation has its own thing, I just don't understand how it hasn't gotten better. That's the frustrating part. It's people like myself, R. Kelly and Boyz II Men.
YouKnowIGotSoul: How do you find the motivation to keep creating quality music? We had a conversation with another R&B artist who said it's not worth the time to create these masterpieces because it's not going to get the attention it deserves.
Brian McKnight: Well, I create because I love it. For me, if I can find one other person that loves it the way I do, then my job is done. If you're looking for it to be the way it was as far as sales, I think for myself, it's frustrating at times.
YouKnowIGotSoul: Are you content with creating albums and touring? Do you think at some point you'll just tour?
Brian McKnight: Hard to say. I live in the moment and right now, I am completely happy. I'm more happy than I've been in the last 10 years. I'm going to ride that. We've booked more shows than we've had in previously years, so it's working on one level. We just have to look at other opportunities that come our way. I'm happy though.
YouKnowIGotSoul: Your sons are also musicians and artist themselves. What's the biggest advice you've given them as they've begun their career as artists?
Brian McKnight: It's so difficult with them because they're actually young. The industry doesn't seem to want anything real and especially if they're black. That's another side no one is talking about. It's just hard because I don't know what to tell them. I grew up in a time where anything was possible. I'm not sure if those things are possible anymore. It's hard to tell them that because I don't want to discourage them.
YouKnowIGotSoul: What do you think it would be for a young Brian McKnight to go in the industry today?
Brian McKnight: I think I'd go back to college. *Laughs* I know it's funny, but when you look at anything I've done, it's certainly not from a black artist today. It's discouraging to say the least. If someone could say why, then it would make sense to me. But I don't get it.
YouKnowIGotSoul: How do you view your legacy in R&B? You have so many hits and quality albums.
Brian McKnight: I'm not worried about legacy. I don't even know what that actually means. I don't think anyone knows. I hope at some point in my career when my name is mentioned, someone will say "Oh yeah he has a good song!" I'd be happy with that.
YouKnowIGotSoul: Making music that people can enjoy and songs that move people, that's what it's all about and you've done that.
Brian McKnight: I appreciate that!