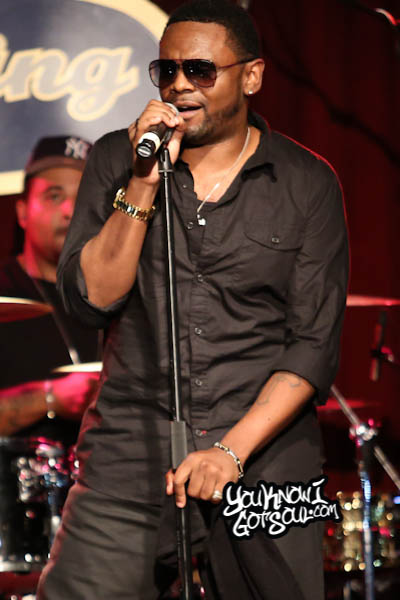 There has been a lot of excitement around the return of Carl Thomas when he released his new single "One With Heaven" recently. It's been many years since we've got a new single and album from the R&B icon, so the enthusiasm is justified.
We had a chance to have Carl Thomas as a guest on a recent edition of our SoulBack R&B Podcast to get the scoop on the new music and what's to come next. He filled us in on the creation of "One With Heaven", the upcoming project he's working on, and much more. Check out what he had to say below.
You can also take a listen to the full Podcast to hear him speak on his history in music and share some great insights with us.
If you've missed any of our previous SoulBack R&B Podcast series, you can check those out here.
YouKnowIGotSoul: Talk about your new single "One With Heaven".
Carl Thomas: "One With Heaven" kind of happened by accident. There is a poet in Israel by the name of Gila. She is world renowned for it; she travels the world to supply this positive energy. She reached out to me through my friend Jack Knight. She wanted to do music with American artists. I was really surprised that somebody like me was on her radar. I ended up doing the single with her. The lyrics are actually her poetry. All I did was sing the song.
YouKnowIGotSoul: So does that mean you don't consider this to be your new single?
Carl Thomas: This is not my new single, this is just a creative offering to my fans that have been rocking and rolling with me for this long. I felt like it was a wonderful opportunity to just stick my head out of that ostrich hole.
YouKnowIGotSoul: Are you currently working on a new album?
Carl Thomas: Absolutely. I'm excited about one I'm finishing up right now. I really don't know what to call it. I think that the fans are going to be really surprised to hear me in this vain. It's not Carl of any era, it's the Carl of the present. I just launched a new company along with my good friend Jack Knight. It's called New Earth Energy. It's not a record label, but it's everything multimedia, and we just happen to put out records. I'm going to be releasing my new offering under my own imprint. There are some really exciting artists that I'm working with right now. There is a group by the name of Radio Galaxy who are also incredible producers as well. Then there is an incredible R&B artist named Tony Henry who's a good friend of mine and who I feel is going to break through big. I'm really happy to give back in that manner. I'm happy to apply what I've learned. It's a blessing for people to trust you and your opinion. I'm also getting my son's project ready. That's right, my son David Thomas! We're working on his material right now. One day I asked him what it is that he does, does he sing or rap? His response was "Dad, don't define me!" *Laughs* I had to respect that. That's where we are in creativity. You don't have to set rules and stick by it. That's what I love about the freedom artists have nowadays. If you feel like rapping, that's what they're going to do. If they feel like singing, that's what they're going to do. But they're going to do what they feel.