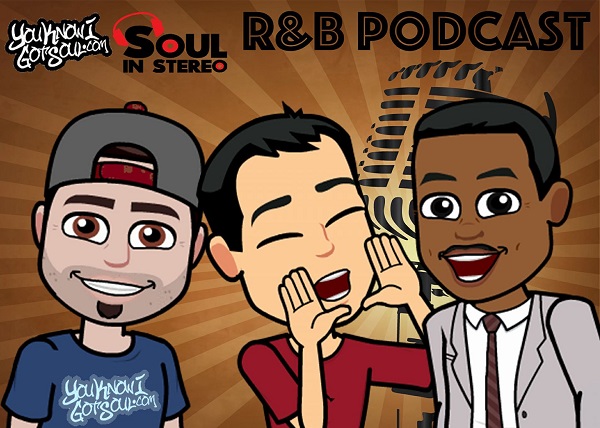 Follow our podcast on Soundcloud: https://soundcloud.com/youknowigotsoul/sets/youknowigotsoul-podcasts
Follow our podcast on iTunes: https://itunes.apple.com/ca/podcast/youknowigotsoul-podcast/id998813013
Follow our podcast on Google Play: https://play.google.com/music/listen?u=0#/ps/Imoe7gt6vd4v6iuf4yq5fyhy3e4
Follow our podcast on YouTube: https://www.youtube.com/playlist?list=PLVyB7WCEUIPl_CYZFTwiNLHqtCHaK2GcK
0:40: Review of I Love The 90s Tour with TLC, Naughty By Nature and Montell Jordan
6:00: Whatever happened to Montell Jordan?
8:00: Sevyn Streeter's new album "Girl Disrupted"
16:43: Daley's new album "The Spectrum"
21:25: New singles from Deborah Cox, Vivian Green, Dondria, June's Diary
25:32: 112 debuts new single "Strawberry"
29:53: Jagged Edge Unsung episode and new album "Layover"
41:13: Why didn't Dawn Robinson become a superstar after leaving En Vogue?
44:10: R&B Hall Of Fame nominations: Joe and Drake
It looks like the R&B gods heard us after we complained about the lack of music being released over the past month because we have a lot to talk about this week. We start off the podcast talking about the throwback tour that TLC is headlining with Montell Jordan and Naughty By Nature. Afterwards we get into the career of Montell Jordan and talk about his current plans in music.
We get into some of the new releases that came out over the last two weeks including Sevyn Streeter's "Girl Disrupted", Daley's "The Spectrum" and Jagged Edge's "Layover". We point out some of the highlights in each of the albums as well as the disappointment we experienced with them, especailly Jagged Edge's. The combination of trendy sounds and autotuned vocals didn't help their case at all. We also talk about some new singles from the likes of Deborah Cox, Vivian Green, Dondria Nicole, June's Diary and of course the much anticipated release of 112's comeback single "Strawberry". We also talk about the career of Dawn Robinson and why we feel she wasn't able to make that leap into superstardom as a solo artist. We also talk about Tank's new single "When We" and whether it's fair to criticize him because he did warn us that he was going to stop making real R&B a few albums back.
Lastly for the hall of fame, we try to induct everyone's favorite artist Joe as well as popular rapper Drake.