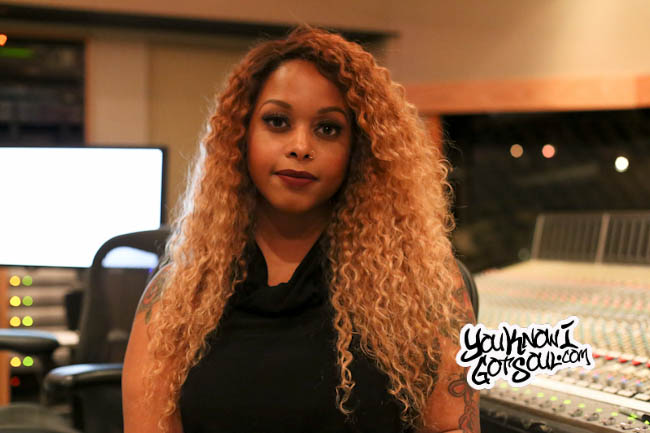 On her road to stardom, Chrisette Michele has been one of the most versatile r&b/soul artists we've seen in the genre in awhile. Her origins are rooted in Jazz, but she's dabbled with hip hop, contemporary r&b, soul, trap, and even experimental production. After releasing what was arguably her best album "Better" on Motown Records a few years back, she's now an independent artist and has even more freedom to release the music that she feels. That diversity will be apparent on her upcoming album "Milestone" which is the first release on her own label. YouKnowIGotSoul sat down with Chrisette Michele at the listening event for the new album and discussed what to expect on it, how she keeps her melodies fresh, and being unafraid to experiment.
YouKnowIGotSoul: We just got a chance to hear your new album "Milestone" which releases this week. It's been fun to hear the diversity in your sound over the past few years. "Better" was contemporary r&b, "Lyricists Opus" had the orchestra backing you, and the "Street Gang" mixtape was trendy. What is the sound that defines Chrisette Michele?
Chrisette Michele: I definitely describe myself as a multi-faceted artist. I love to play with music in general, it's sort of my paint brush and something that I find freedom in. Something I feel like I have the audacity to do whatever I please with. I think bringing it to people is kinda of the scare part because they don't know what's going to come next. This particular album has a really girly vibe. It's got a lot of that analog trap sort of bottom tone to it. Then it's lyrically talking about a lot of what I've experienced over the past ten years in the industry. It's a more personal heart level. What I've been through emotionally and how it's felt personally.
YouKnowIGotSoul: When showcasing so many different sides of yourself musically, sometimes fans get frustrated not hearing your original sound. Having your own label now, how does that affect being able to flip that switch on and just give the fans what they ask for.
Chrisette Michele: I definitely have had a lot of sounds on each album, but not as many singles on each album. So a lot of times in a single driven country, where you might put out one single from an album, and people buy a million singles, and seven albums, the people don't get to hear all of the different sides of the person on that album. I have the liberty of owning the label and being able to put out more singles and show different sides to myself and let people know that I'm a multi-faceted artist before they get the idea that I'm not.
YouKnowIGotSoul: Although you've used similar production styles over the course of your career, how are you able to have refreshing melodies. This album, you have different sounds and cadences that you're using. How do you continue to keep it fresh?
Chrisette Michele: Inside of me is a wealth of music. It just flows daily. It's just who I am. The same way people's grits change over the years. You've got cheese grits, grits with sugar and butter the next time. It's all grits. I just add different ingredients and I'm brave enough to do that. I think what makes something stagnant is when you're afraid of what people will think and so you don't decide to take a chance on grits with sugar. By the way, the grits today, I am a sugar and butter and some cinnamon girl! It's got to taste like porage. I do not like cheese in my grits!