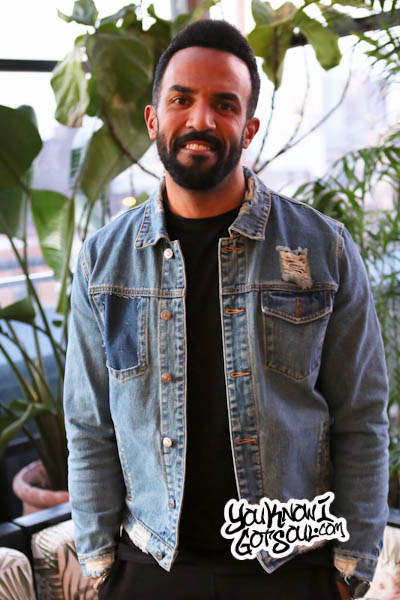 If you've followed the career of Craig David over the past few years, his resurgence has truly been astounding. Following years of being away from the scene and not releasing new music, things really jump started with his wild parties in Miami called TS5. From there, he was able to gain mainstream prominence again among the r&b scene, which led to the rare feat of being able to come back to a major label. Here we are in 2018, and he is poised to release his second album in less than two years, "The Time is Now". With a renewed passion and purpose, it's obvious that the best is yet to come from Craig David. YouKnowIGotSoul sat down with the singer recently in NYC and discussed what led to this resurgence, what to expect on the upcoming album, his take on the r&b landscape, memories of his debut album "Born to Do It", and much more.
YouKnowIGotSoul: We're upon the release of your new album "The Time is Now". What excites you the most about this album?
Craig David: You know what? To make a straight up r&b album. It's been an amazing journey to get from "Born to Do It", the first album which was full r&b, and over 17 years to have this who new passion and discovery; it feels brand new to me. Working with some incredible artists on this album, it feels fresh but all the feels from the story telling of the 2000's r&b records.
YouKnowIGotSoul: We're really impressed with this movement you've been able to build. With your captivating live show which involves your DJ set, and now you're signed once again to a major label. Tell us about your resurgence in recent years.
Craig David: One of the things I've learned over the years is you're always three minutes away from changing your life. In my case, that's being in the studio, recording new songs, and even if some of those songs don't have as much success as the earlier stuff, or a song just up making your own playlist on your computer and doesn't get released, every thing is a stepping stone towards something. I saw me throwing a house party in Miami five years ago, go from 10 friends as a pre game before going out, to fast forward to 100,000 people come to the same party in the UK at Glastonbury. So the move has been incredible, but the one thing is the music. I always feel like you always have the ability, but you have to lean into the unknown, work with young up and coming producers and to also realize that the story that you have from back then is fantastic, but you don't have to keep telling people. Generally, nobody cares. They want to know if you're relevant now. I feel like I'm ready.
YouKnowIGotSoul: You put out the album "Following My Intuition" in late 2016, and here we are less than a year and a half later and you have a new album. What inspired you to move so quickly?
Craig David: The crazy thing with albums now, they are a lot faster anyway. I think just the way people receive music, they're finding it in different ways, and it's a lot quicker than the experience back in the day when you used to go out and physically buy the record, put it on, sit down, live with it. Now it's kind of on the computer or phone, and you want it right away. That meant that the pace of creating music stepped up. It also meant that the quality threshold is all over the place; you have a lot of music out there, but it doesn't mean it's always great. I've always been a strong believer that if you can have the mind set of "I know you want the music, but I'm going to make sure the music that I put out is going to be great." I felt like I just found my wave since the last album and the r&b music feels like in 2018 and 2019 is just ready for r&b and melody and story telling. We've had the r&b of a few years ago about popping bottles and girls; it's cool and it serves a purpose. For me, let's get back to the story telling and still give you those beats. That's kind of the vibe of the new album "The Time is Now".
YouKnowIGotSoul: How does the sound of this album compare to your previous albums?
Craig David: I'd say this album has all of the simplistic production and the melodies that I was kicking when I did my first album "Born to Do It", which I felt was so well received because it wasn't over produced and it had simple stories everybody could relate to. It was believable because I was that 17 year old kid going through those experiences. So being in the position I am in now, I'm talking from a place of experience and wisdom, but I also know that through my TS5 shows where I'm seeing the crowds in front of me, I can test the songs to see if the music sounds right. On a lyrical standpoint, I know there is so much depth in the storytelling. There are so many stories I can tell from over the years that I know people can relate to. It's just the fact that I'm so glad I can pull in some amazing features on this record as well.
YouKnowIGotSoul: What is it about your TS5 show that people gravitate to it so much to the point where it's now a staple of your live show?
Craig David: TS5 started in my apartment as a house party in Miami 5 years ago. I'd have friends over and they'd mess with my playlist. I got my own controller, got my own mic, started hosting this house party and it grew into something much bigger. The thing about TS5 is it reminds me of before I released my first album. I was DJ'ing with vinyl and making mixtapes. I've lived that but haven't been able to bring it into my live shows. What's beautiful about it now is I have all of the skill set of DJ'ing but 17 years of music I can flip and remix so that I can sing "Walking Away" in club environment, but throw it over a Dr. Dre "Still D.R.E." beat. All of the sudden it's a club banger as opposed to an acoustic track. I think people are excited that I'm about to flex differently with my live show, yet at the same time give you "7 Days" in its entirety. It's a vibe.
YouKnowIGotSoul: Talk some more about this resurgence. There was a time when you weren't releasing new music, but I was reading that you've really regained that passion. What has led to that?
Craig David: The journey in an artists career is fantastic because it's like a roller coaster ride. There are moments when you're at the top of it and you can't wait to just go 100 miles an hour, and there are moments where you are slowly building up the hill to get to that. Some artists in their careers don't go all the way back up to the top. They say it's too much work or they put it to the side. My thing was to keep building and keep writing these songs. It got to a point where you ask the questions of what it is that makes you happy. I realized that being in the studio and writing songs makes me happy. Going on stage and performing and becoming a time stamp in your lives when you remember a song. I kept going and going, and then I just felt that I was at a place where I realized to just simplify it. TS5 began to grow, I was writing songs, I moved back to the UK to do the production and work on songs. Next thing you know, a #1 album with "Following My Intuition", a 17 date arena tour, and now we're here in America and it feels like day one. I'm just hyped man. I feel like a 17 year old kid again.
YouKnowIGotSoul: Talk about the state of r&b a bit from your perspective. As an artist from the UK, how do you view it? Especially since a lot of great r&b is still coming from the UK, while in America many younger artists are following trends.
Craig David: R&b has been on a journey in itself, a transitional period of where it was from R. Kelly to Usher and then it moved into Ne-Yo and Chris Brown, Trey Songz. These guys have been very much championing and holding up r&b over many years. Tank is amazing, Tyrese is doing his thing. Then you found where the landscape of the music is. 2017-2018-2019 is set up now for r&b. It feels like DJ Mustard was dominating the airwaves with his sound. You'd hear Jeremih on the records and they were absolutely smashing it. Now it's like it feels like the Kehlani's and Khalid's and the Anderson Paak's and the Goldlink and Kaytranada as producers. You are seeing the new wave of people who are taking it. It's exciting. The Weeknd, I remember when he first started and was championing a sound that nobody was ready for at that time. Radio wasn't playing it. All of the sudden the whole scene moved and they all loved The Weeknd, he was so different and ahead of the game. The scene is ready for that now. We've got some great people.
YouKnowIGotSoul: Reflect on your debut album "Born to Do It". What do you remember most about creating that album?
Craig David: Creating that album was one of the most fun exciting times in my life. I wasn't looking to create an album. I was just making songs. I was just a kid who was passionate and buying records. Growing up in an era where I was buying Biggie and 2Pac while they were alive, while it was really happening. Michael Jackson while he was alive, buying the peak of these people's careers. Jay-Z when he was dropping the early albums. Kanye West when he was dropping the first albums. To be part of that was such an amazing feeling. Hearing Usher when he first dropped records. Chris Brown when he did his first tunes or Ne-Yo when he was doing "So Sick". It was a good time for r&b. So to make an album around that time, I was to grateful and it was the start that changed my whole entire life. I'm here now because of all of those great records that laid before me and helped me. This time around, it's all the new wave and all of those artists that are inspiring me again.
YouKnowIGotSoul: Anything you'd like to add?
Craig David: I just want to say thank you for the love and support. I've been seeing all of the tweets and I've seen how you've been championing and supporting r&b and soul music for so many years now. Just seeing it come to fruition where it will gravitate even more towards, because people will be like "You know they've been supporting r&b for a long time now, and now is the time of r&b." So thank you for having my back, and I'm going to bring the tunes for you on the new album "The Time is Now".