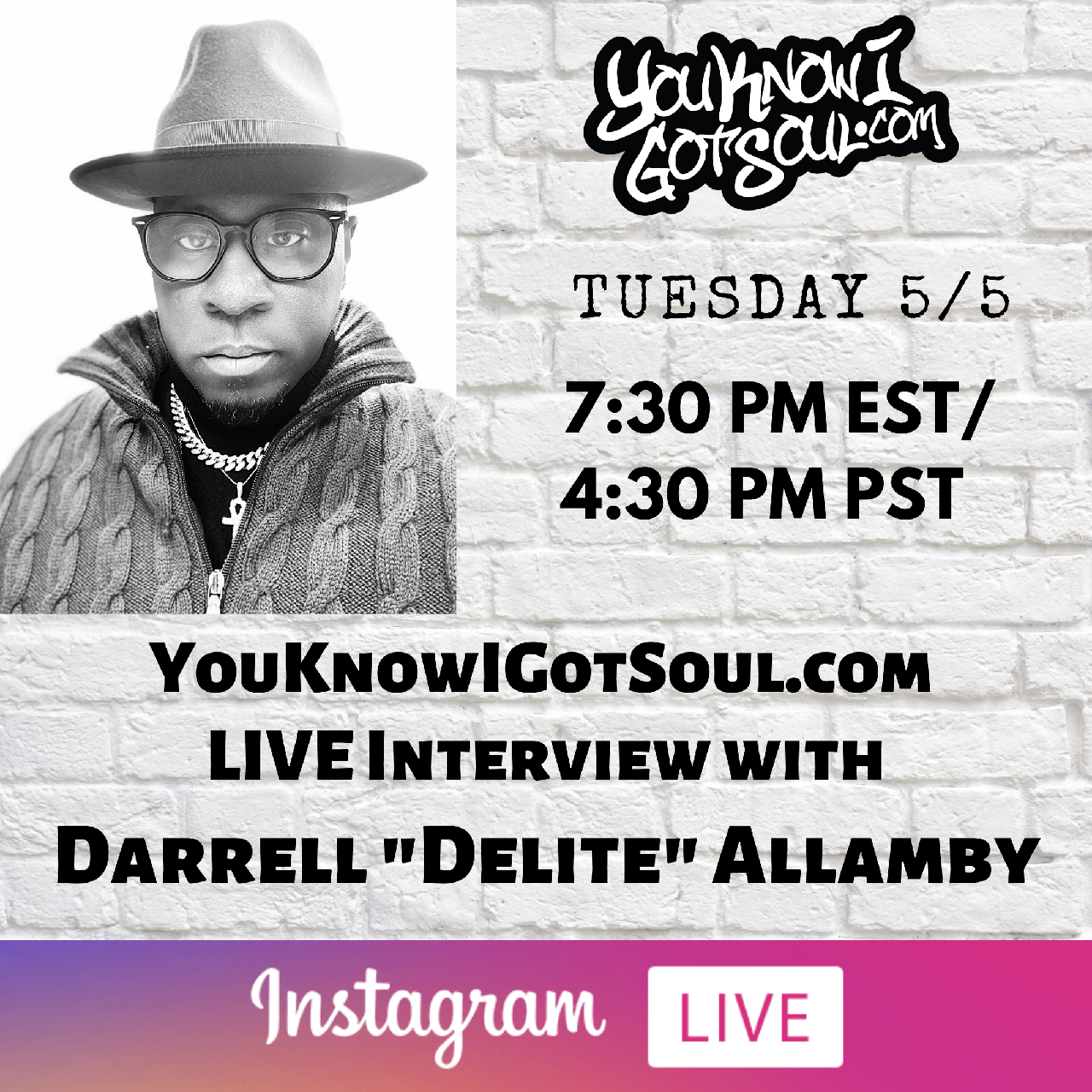 We recently had a chance to catch up with superstar producer Darrell "Delite" Allamby for an interview on Instagram Live.
During our conversation, we first touched on his work with John John of Silk. The pair are currently working on creating John John's debut solo album.
Delite of course has plenty of history with Silk and worked with them throughout his career. We specifically touched on his work on the "Tonight" album as well as Silk's latest album "Quiet Storm".
We took it back to the origins to hear the story of Delite's first placement as a producer. He then filled us in on his production process and what goes into creating hit songs.
The producer reflected back on working on some of his biggest hits including "My Body" for LSG, "What's It Gonna Be" for Janet Jackson & Busta Rhymes, and "Crazy" for K-Ci & JoJo. He also talked about working on Tamar Braxton's debut album, and working with Gerald LeVert, Bobby V., Link, and more.
We wrapped up the interview by talking about some songs he's been working on lately.
YouKnowIGotSoul: Talk about the work you've been doing on the solo album of John John from Silk.
Darrell "Delite" Allamby: About three years ago, John and I had both relocated to California. While we were there, we said we should start doing his solo project. He came over one day and we literally knocked out a song. It gave both of us a vision that this should be done. The song we did was so different than anything he's done with the group and as an artist. It's so upbeat and club driven. Fast forward, here we are now in quarantine, and we're both in Atlanta. I've been pressuring him hard. I have this vision, this thing called Panama Gold, this low key movement I wanted to put everything up under. I kind of wanted to just like present John John through Panama Gold as a as a means to let people know like yo, this cat is really dope. I really love his voice and I feel that you guys should hear what he has to offer not only as Silk but as a soloist. That's pretty much what gave us the spark of energy. So we went in the studio. We busted out a few jams and man it's sounding spectacular. It's going to be epic. It's going to be a good solid EP filled with songs of love. Definitely what we need right now. I call it new 90s R&B. That's the best way for me to describe it because it's a little hint on what was in the past what was done in the past but it definitely embodies a lot of the programming techniques, the technology like, you know Pro Tools and you know, a lot of digital software, the drums pads and programming, everything is done a little differently now than it was then. We've always been a little ahead of our time as far as like the way we were recording and the techniques we were using even back then and so I just wanted to continue that movement by keeping the sound moving forward. It may take people some a little bit of time to probably understand some of what we're doing but if they've been following us all along then they understand that what we try to do is good solid R&B music with a dash of something that feels futuristic, something that takes us into another place.
YouKnowIGotSoul: Take us back to your first placement as a producer.
Darrell "Delite" Allamby: My first placement wasn't even R&B or hip-hop. My first placement was house music. I was still in junior high school. I had no business going to the studio with my elders! I used to sneak into the studio and make music. The producers would take the tracks and they were being pumped in big clubs like The Garage in New York city. So, you know, I wasn't getting paid much for it, but it was it was a hell of an experience. Fast forward from that. I would say my first solid placement was with Vanilla Ice and then then moving forward, everything else that I started doing with TrackMasters and with Billy Lawrence.
YouKnowIGotSoul: Talk about your production process.
Darrell "Delite" Allamby: I really don't have one set way because I kind of use a lot of different things but it depends if I'm doing it by myself or if I'm co-producing it with someone. Generally, I like to play on my baby grand piano, which is where I created most of the songs that I did in the 90s. I don't know if you can see it, but it's the Baby Grand piano in the background. I literally did almost every hit record on that piano and I place them in a really organic way because I would call the A&Rs and the artists and I will literally just play the chords over the phone. I'm kind of giving them the hook because I mostly wrote all the hooks for the choruses for most of the songs that we were doing back then like "My Body". I came up with how you know the flow and then, you know, the other writers that I wrote with Link and Antoinette, they would come in with me and help me, you know, finalize and fine-tune the verses and stuff, but I pretty much had an idea how I wanted things to go and how I want to sound sonically and everything.
YouKnowIGotSoul: Talk about how you created "My Body" for LSG.
Darrell "Delite" Allamby: Oh man, first first and foremost, you know just being in the studio with three icons was just was just it's a lot of respect just being able to be in the studio with them and not just be in the studio with them, but they were comfortable to allow this young kid to produce them and to direct their path because everything we did in that song was brand new for them, you know. Keith Sweat his vibe and cadence are different. Johnny Gill is more vocal acrobatics and Gerald is such a soul singer. I gave them like some youthful flavor, you know me. You know me and that that just that melody in itself. It wasn't easy for Gerald to record it at first. He was like "Man, I'm gonna be out of breath on stage!" But man once he nailed it which you know, that's just him. We also did his solo project after LSG had faded out.
YouKnowIGotSoul: Talk about what it was like working with Gerland LeVert.
Darrell "Delite" Allamby: He's a pro, he's a genius, and he's an amazing performer. He brings the studio to the stage and brings it to the stage. He allows your music to live long once he brought it to that stage.
YouKnowIGotSoul: Talk about the song you produced for K-Ci & JoJo "Crazy".
Darrell "Delite" Allamby: How that even happened was, I had pretty much written most of the song. I was pretty much 75% completed on the writing portion of the song. I started it on my piano, and Los Da Mystro, I was at his house, and I wrote it on his upright piano. I played it to him and he said it was a hit record. I originally wrote it with Toni Braxton in mind. I went to Clive Davis' office and played it for him live, and he was like "I don't know, it says 'Crazy' too much in the chorus". Most of the time I take his advice, but I just had a gut feeling the song was solid. I just saved it. I was at Michael Jackson's recording studio recording K-Ci and JoJo for a song with Aretha Franklin. While we were recording, we took a little break and I was in the vocal booth. I was just in there playing and just singing. K-Ci came in and said they needed that song. Literally two weeks later I flew back out and we recorded the song. The song is a classic. We sold over 3 million copies of it. I'm very thankful to be a part of that process.
YouKnowIGotSoul: So Clive Davis is wrong sometimes!
Darrell "Delite" Allamby: We all are. Alicia Keys used to sit in on all of our sessions, I got tons of footage of Alicia Keys sitting in on our recording sessions. I had no idea she was going to blow up the way she did. When I heard "Fallin", I knew that was the song. If that song couldn't do it, I thought she probably wouldn't make it. She's a different kind of artist. She's not like a Kelly Price type of singer, but she's got her own thing. I'm used to producing crazy vocalists who can do vocal acrobatics. Alicia knew what she wanted. She proved me wrong and many people wrong. I'm very proud of what she's accomplished. She's written many songs that are some of my favorites.
YouKnowIGotSoul: Talk about creating the Busta Rhymes & Janet Jackson song "What's It Gonna Be".
Darrell "Delite" Allamby: I was actually in a recording studio in the lower east side of Manhattan where a lot of the hip hop artists used to produce. Mobb Deep and Busta Rhymes would be there. I was working with Keith Crouch, Brandy's producer. I was just writing lyrics for his music. Me, Link, and Keith were just vibing. While we were in the session, Busta stepped in. Originally, Keith was doing the demos for songs to submit to Janet. They were on their third or fourth round of beats to send to Janet. I told Busta I had something that would work. I went into the studio a week later, and I did a rough demo with Antoinette Roberson and wrote the hook together and I did the track. Right away, Janet said yes to the song. We flew out to the House of Blues studio in Nashville, Tennessee. We went into the studio and I produced her vocals, I recorded her, and the rest is history. Grammy nomination, platinum record, #1 single.
YouKnowIGotSoul: Talk about your work on Tamar Braxton's debut album. This was before she did reality TV and became a huge star. But that album was really good as well.
Darrell "Delite" Allamby: Tamar in all honesty is one of the few artists that bumped heads with me in the studio! It was a crazy experience and a roller coaster, but she's talented. I think what she hated about me is I push vocalists. I'm very aggressive with how I get things out of them. They hate me in the studio, but love me after. If you remember listening to that album, there is a song called "Money Can't Buy Me Love". I pushed her so hard to the point she hit the Mariah Carey notes in the song. That's what I do. Same thing with Silk. I push those guys to the limit. We literally would want to fight in the studio! Once we play the replay and rewind it, they think it's sick! *Laughs* That was pretty much my experience working with her.
YouKnowIGotSoul: Talk about working with Silk.
Darrell "Delite" Allamby: Having the advantage of five voices which all have different tones and tectures and unique sounds. Timzo was one of the few singers that had a bass in a group. I think Boyz II Men was another one. Even groups like 112 did not have a natural bass singer. That in itself was very fun. What I would do is use Timzo's voice as a bassline. I would use his voice and sample it and play it! I did a lot of unique things with their voices, things I was experimenting at the time. I didn't have any one way of doing things. I was having fun and letting the room guide me in the direction of where to go.
YouKnowIGotSoul: Talk about your work with Link.
Darrell "Delite" Allamby: I actually signed him to my record label. We were once in a group together, it was me, Link, and two other guys. The name of our group was Protégé. I put the group together. Link was the last member to join the group. He really wanted to be a solo artist. We had a deal with Eddie F. That whole process, once the group disbanded, I went back to New York and got heavy into production. At that time I was working into Trackmasters, and did songs for LL Cool J, I did "Streets Dreams" and "If I Ruled the World" for Nas. So I flew Link in, signed him, and we recorded the demo of "My Body". That's what I used to shop Link to record labels. I got him a deal at Relativity Records. It was unfortunate his album didn't blow up the way it should have, but it's still an underground classic. People still love the album because it's true to R&B.