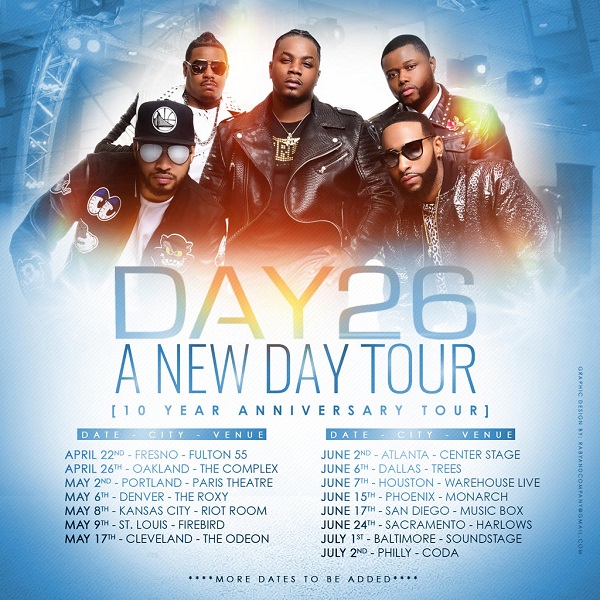 R&B/Soul Recording Group, Day26 – best known from MTV's hit series "Making the Band 4" announced their "A New Day" 10th Year Anniversary Tour. The tour celebrates Day26's 10th year anniversary as a group while their expected to perform fan favorites from their first albums "DAY26" and "Forever In A Day". Day26 will kick off their A New Day "10th Year Anniversary" tour in Fresno, California on April 22nd in conjunction with their forthcoming project.
"A New Day" will be released Spring 2018 via 826 Boyz and Empire Music. The group first gave their fans a tease into the album with the single "4 Shots". The club banger written and produced by Edimah Entertainment, who as the album co-executive producers.
"This journey has been a roller coaster consisting the up's and down's, but we thank God for his vision with Day26. For he is the almighty, and we just thank him for this next chapter of our lives. This Tour is about to be electrifying, inspiring and just not stop entertainment!!" – says DAY26's Willie Taylor.
Day26 "A New Day" Tour Dates
4/22/18 Fresno, CA Fulton 55
4/26/18 Oakland, CA The Complex
5/2/18 Portland, OR Paris Theatre
5/6/18 Denver, CO The Roxy
5/8/18 Kansas City, MO Riot Room
5/9/18 St Louis, MO Firebird
5/17/18 Cleveland, OH The Odeon
6/2/18 Atlanta, GA Tabernacle
6/6/18 Dallas, TX Trees Dallas
6/7/18 Houston, TX Warehouse Live (Studio)
6/15/18 Phoenix, AZ Monarch Theatre
6/17/18 San Diego, CA The Music Box
6/18/18 Carson, CA The Sol Venue
6/24/18 Sacramento, CA Harlow's
7/1/18 Baltimore, MD Soundstage
7/2/18 Philadelphia, PA Coda