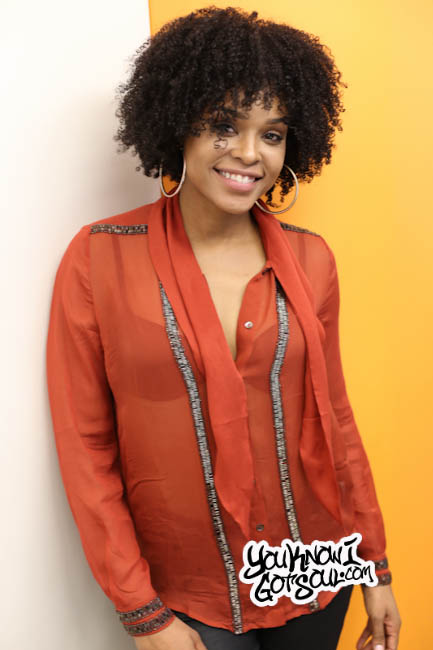 Many times in the past we've seen singers gain fame as artists, and make the crossover to becoming actors, but we don't always see the opposite. Demetria McKinney is looking to break that stigma as she continues to emerge as a singer following her signing to eOne Music. She achieved stardom through acting on Tyler Perry's House of Payne, The Real Housewives of Atlanta, and much more, but is making the transition to music look effortless. With each single she's released over the past few years, she's shown that her talents extend deeply into the music realm. That's clearly evident to anyone who's heard her beautiful voice. Now she's getting ready to release her debut album "Officially Yours" which should be out in the coming months. YouKnowIGotSoul got a chance to sit down with her while on a recent press run in NYC and discussed the progress of her debut, how the transition has been, her biggest influences, and much more.
YouKnowIGotSoul: We're excited that you're back releasing music again as you've just put out the new single "Easy". Talk to us about it.
Demetria McKinney: As the name implies, there are a lot of things that come easy, but they're not necessarily worth it. Anything worth having, you work hard for. That's how I feel I am. I think I'm a dime, I think I'm amazing, I think I'm blessed and a blessing to whoever gets me next. I think that person has to understand that because that's the way I'm going to treat them as well. I think that as women sometimes, we put ourselves secondary because we kind of lose ourselves and the part of us that makes us awesome. So "Easy" is just saying whoever I end up with, it's not going to be a simple thing. You're going to dedicate to me what I dedicate to you, and we're going to rock this thing out.
YouKnowIGotSoul: We've been awaiting your upcoming album since you signed with eOne Music a few years back. The new album is called "Officially Yours", can you talk to us about the progress of it?
Demetria McKinney: The album has been a true labor of love. Between acting and trying to get the music done and being a single mom, it's just been a whole lot. In the process of time since I signed with eONe, I've evolved as well. I just wanted to make sure I had the music true to me and the life I'm living and to what I really want to say. That's super important to me. Now I feel like it's really where I want it to be. Thank you to everybody who's been rocking with me and supporting so patiently. Thank you to eOne for helping me to come up with a project that I can truly say I'm proud of.
YouKnowIGotSoul: You talk about progressing in your personal life. Each of the past few years you've had a new single out that's reflected a different side of you. Can you talk about how you've progressed as an artist over the years?
Demetria McKinney: Musically, I think I change music like I change clothes! What I listen to on a day to day basis is really contingent upon my mood and what's going on in my life. Every now and again, somebody in the world has made me mad, and I'm playing Lil' Wayne! Or every now and then I want to hear some Pink or Celine Dion. I think music is such an extension of who we are, and the fact that I've gone through as much as I have, good, bad, and ugly, has really helped to shape the songs that I picked. And it's helped make "Officially Yours" true to what it is.
YouKnowIGotSoul: It's interesting reading in your bio that music was your first love, since you've had so much success as an actress. How has it been stepping away from acting to focus on music?
Demetria McKinney: It's scary! When you're used to making your money a certain way, especially when you fall in love with the way you're doing it, going back to pursue your true passion can be kind of nerve wracking. There was a time when a bunch of ball players decided they were going to be rappers. That didn't translate so well! *Laughs* A lot of times people have you pegged for what you are, and that's what you are and need to stay in. Going from an actress into my true passion for other people, it may seem kind of backwards. But I need y'all to know, this was in the beginning. I'm getting back to the beginning.
YouKnowIGotSoul: Was there a certain point in your life when you just decided to go for it?
Demetria McKinney: Honestly, RTD Entertainment really, really pushed for me. For the past five or six years, they have been behind the scenes really backing me, really pushing each single and video. Each opportunity to perform. I've been on tour with R. Kelly and I've had some really great opportunities because of RTD believing in me. That led into eOne. I think that those two components made it like it was now or never, let's go do this. Then the fans have been amazing asking for it for a really long time. I'm ready.
YouKnowIGotSoul: Has it been what you expected when making this transition from acting to singing?
Demetria McKinney: Not even kinda close!! I hoped that it would do like T-Mobile and the minutes would roll over, but not necessarily! I had to start all the way over. Branding myself as myself versus Janine or versus a Real Housewives of Atlanta character or versus Tamara on Saints and Sinners. It's a little bit different and people don't necessarily want to step away from what they think they know of you. Getting to know this whole other persona and all of the things that come along with that, it can be confusing for people. I've tried to really make sure I take my time and hand walk everyone through it with me.
YouKnowIGotSoul: Talk about touring with R. Kelly and what you took away from that experience.
Demetria McKinney: I took away that even after all of these years and after everything he's seen and been through, he still has fun and he still gets a little jittery which means his passion is still there! It was amazing to watch this man night after night, sick, well, upset, stuff going on on stage. I was there every night watching what was going on because there was always something to learn. People can say whatever they want about whatever they want, but that man has been in the game for a very long time and it was always something I could learn from him, much respect.
YouKnowIGotSoul: Who did you have a chance to work with on "Officially Yours"?
Demetria McKinney: I really wanted the album to be about me revealing me. It's the most naked I've been with my audience ever. But I'm clothed. I have some production collaborations. Kandi Burress and I had the single "Unnecessary Trouble". She's also got a couple of joints on the album as well. I've got to give a big shout out to Travis Cherry. He's an amazing producer and he's got a couple of joints on there as well. I'm really excited about the production collaborations and the opportunity to showcase each facet of who I am as a singer.
YouKnowIGotSoul: You had this great duet with Musiq Soulchild a few years back. Tell us about that song.
Demetria McKinney: That duet was called "Still Believe in Love" and that song was actually originally penned by me. I had the idea, you go through so much with the heartache, the pain, the nonsense, the games, and it's easy to lose sight of the possibility of love. So I started the song and he was going to do the production for me, and all of the sudden he asked if he could be on the song as well. I was really excited. It was a really cool collaboration. We shot the video and everything went over so smoothly. I learned a lot from him as well.
YouKnowIGotSoul: Tell us about some of your musical inspirations.
Demetria McKinney: I have to always, always pay homage to a woman I never met but she touched me like she touched so many others with that amazing voice, Whitney Houston. The very first time I heard her voice, I knew I wanted to make people feel that way. Even if I couldn't do all of that that she did, the way she was able to tell my story without even knowing me, the way she could feel what I didn't know how to express, it was spiritual almost. There were times when I was going through things, and music was what got me through. It was her, it was Chaka, it was Celine, it was Mariah, it was Aaliyah. It was a lot of influences, but the main one would have to be Whitney Houston, and still to this day she remains the queen.
YouKnowIGotSoul: Tell us about what you've currently got going on with your acting.
Demetria McKinney: Acting has not gone away. It's actually a big part of why I took so long to do the album. Saints and Sinners is going into a second season, we just wrapped with that. It's actually coming out March 7th. I'm very excited. The first season broke records for Bounce TV so you know we had to up the ante this time. I'm also going to be on The Quad which is coming out at the end of this month. That was a really cool experience, just being on a campus and the college life and all of that. I had my son at that point, so I didn't really get to experience all of that. I'm also in the midst of some really cool projects that I'm not at liberty to talk about right now. But I will be making some really amazing announcements very soon.
YouKnowIGotSoul: As you've been through many of your acting roles, have you encountered others like yourself who have a talent in singing that we may not have heard yet?
Demetria McKinney: Absolutely. There are no one dimensional people. Even on Saints and Sinners, Keith Robinson, he plays my husband. He's actually an amazing singer. The same with Jazmine Burke, a lot of people don't realize she used to dabble in some music stuff too, she has a really pretty voice. There are people coming from the other side. Keke Wyatt, that chick is a couple of fries short of a happy meal, in the best of ways! She's on the set and her coming in from the actual music zone and reality zone, to the actual art of acting, she has so many different pieces of range to her. I run into them all of the time, it's just amazing how underrated the other talents are because of this one shining moment. If you get a chance, just look up your people and see what else they do!
YouKnowIGotSoul: Anything else you'd like to add?
Demetria McKinney: I have to shout out my Demetrians. Aisha, Shellbell, Sidney, Alanna Nicole. All of you guys who have held me down since MySpace and Black Planet, even birth! You know my social security number! *Laughs* All of you guys who have been there through the ups and down, thank you so so much. I definitely have to shout out eOne and my management team. My kid, I love you kiddo, you better be doing your homework! Thank you also to YouKnowIGotSoul, you guys always keep up with me and have always been so supportive.