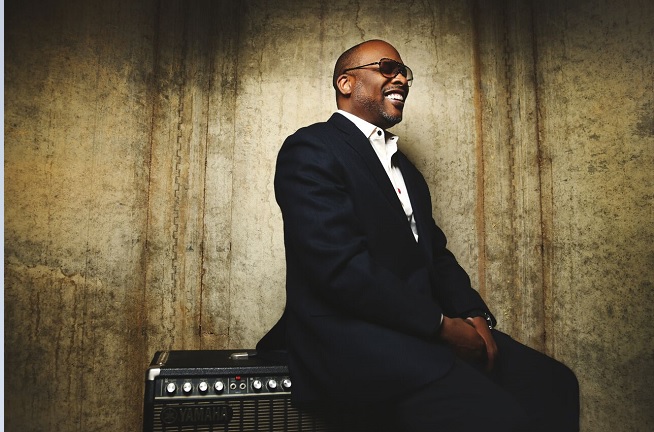 DJ Jazzy Jeff is truly a gem in this music industry. Originally gaining fame in hip hop music alongside Will Smith, he's always had a base founded in r&b and soul music. That manifested with his founding of A Touch of Jazz studios which helped developed some of r&b's biggest stars including Jill Scott, Musiq Soulchild, Raheem DeVaughn, Floetry, and many more. Not to mention producers and songwriters. The goal of those studios was to exercise creative freedom while developing quality music with feeling. That's also exactly what he's been able to accomplish with his new album "Chasing Goosebumps" which came together through a retreat including all of his favorite singers, songwriters, producers and musicians. YouKnowIGotSoul had a chance to speak with him in support of the album and discussed putting the retreat together, his feelings on the music industry, founding A Touch of Jazz studios, favorite memories, and much more.
YouKnowIGotSoul: We were so impressed with what you were able to do in the 7 days of The PlayList Retreat. You brought so much talent together to create this project. How did you conceptualize this whole thing?
DJ Jazzy Jeff: I have a creative retreat that I hold at my house every year. The very first year that we did it, we issued everybody a creative challenge. We basically put people into groups and issued the challenge that you had to collaborate and come up with some music in 24 hours. What I realized is today's generation of music makers have their head in their laptops. It's not a collaboration anymore, it's just your idea. I think you miss the way something sounds when it's more than one person's idea. We did it the first year and it went over incredibly well. The songs were amazing in 24 hours. Then we did it the second year and it was even better because we added the singer songwriter element in it. That's when the wheels really started turning for what these groups of people came up with in 24 hours. It was like what if we sat down and said "Let's make a proper project in 7 days". I know musically, 7 days is something that we can do. It was more so from the writing side and then just the finishing touches. It was just one of those things where we issued a challenge and had creative people in the room, and everybody really bought in. We had a blast doing it.
YouKnowIGotSoul: One thing that really excited us was that you had Glenn Lewis singing on all of these songs. We're big supporters of Glenn, one of the best voices of his generation. How did it come about that he'd be the one to record all of the songs?
DJ Jazzy Jeff: It was almost kind of like how N'Dea Davenport was the lead singer in The Brand New Heavies. This wasn't a Glenn Lewis album, as much as it was a PlayList album, that we just wanted Glenn to be the main vessel. The fact that people really love Glenn and you haven't really heard a lot from him lately, was a big reason. It was very good because it was kind of like we didn't push him with the task of having to write everything. We brought in multiple writers. We treated it like Motown, where he didn't sing all of his backgrounds, we had others who could sing so we added different textures to that. It actually helped the pace of what we were doing. You're trying to do something in seven days. Listen, we couldn't burn Glenn out. It was just being smart and not only the time approach but the creative approach.
YouKnowIGotSoul: From the press release, it says your goal was to promote authenticity in music, and show that meaningful music is not a lost art. Did you find that was something missing in music currently?
DJ Jazzy Jeff: Oh absolutely. I don't know anybody who thinks otherwise. I often tell this story, about two years ago, it was a nice beautiful Summer day and I jumped in my car to go for a ride. I turned my radio on and Earth, Wind & Fire's "After the Love is Gone" was on. I found myself driving and singing and right in the middle of the song I stopped and my eyes filled up with water because we don't have an Earth, Wind & Fire today. We don't have one. You can't tell me that this type of music and music that made me feel the way this song does is gone forever. You look at technology, we have the technology and the instruments. I'm pretty sure we still have the musicians. So what is stopping this music from coming out? You start paying attention to the outlets, and unfortunately a lot of record companies aren't looking for stuff like this. I want something that's going to stick to the wall, somebody's going to buy. When you have everybody giving you fast food, you start accepting that instead of accepting a great meal. Basically, it was kinda like I am never the one to tell you that something shouldn't be out there. I don't criticize the music that's out there now. I criticize what's not out there.
YouKnowIGotSoul: Talk about your role in the whole PlayList retreat. You brought so many artists and musicians together to create music organically. How were you able to steer them?
DJ Jazzy Jeff: Well I mean that was it. Once we kinda came up, I wanted to give everybody the creative freedom to throw whatever we needed into a pot. It kinda was just making sure we picked the right songs. The stuff that we left off of the project is equally as amazing. Picking the right songs. I kept joking that my whole job for the week was basically herding cattle! I had to make sure everybody moves together, but when someone gets a little bit too far out, you've got to bring them back in. Then it really started to get a little bit more intense as we got to Thursday, Friday, Saturday. Because we needed to be finished by Monday. It got to a point that basically Friday, Saturday and Sunday we were up around the clock just finishing up everything to meet our deadline. I have always been the person where I don't understand when you pick someone for what they do, not giving them the freedom for them to do it. You get artists that would get signed by record companies, they love their voice and writing and songs, and then they throw them in the studio with someone that's going to change them. It's kinda like what was the reason that you signed them for, if you want to replace everything that they do? The people that were chosen were chosen for a reason because I am fans of what all of these people do. I'm very, very good at understanding that Eric Roberson and Daniel Crawford together is an incredible mix. It's my job to put them together to let that mix happen.
YouKnowIGotSoul: Many know you from your legendary success in hip hop. Where did your love of r&b and soul music originate?
DJ Jazzy Jeff: You've got to understand that I came up with r&b and soul before hip hop came out. Having older brothers and sisters, I grew up with everything in my house. My dad was a former MC of Count Basie, my dad passed away when I was 10. I grew up with Wes Montgomery and Jimmy Smith and the Jazz 78's in my house. One of my older brothers was in the Parliament Funkadelic. My oldest brother played the bass for The Intruders. Being the youngest, it was the best of everything because I soaked up a bit of music from everyone in my family from my dad to my brothers. Low and behold, I'm in junior high school and hip hop comes out. Not only did I have their music, but I was born with my music. Now I had my own. I just fused it all together.
YouKnowIGotSoul: We've always been in awe of what you've been able to achieve with your A Touch of Jazz studios and all of the talent that came out of there. Talk about originally starting those studios and what you had hoped to achieve when you began.
DJ Jazzy Jeff: You know what's funny. I had almost all of the A Touch of Jazz guys in on this project. We had all talked about what if what we did before, was only a catalyst to get us to this moment now. What I realized is one of the main things I've always been a huge advocate is when things don't make sense to me, it bothers me. It was just certain things about the music industry that just did not make sense. I systematically tried to break a lot of that stuff down. The first thing that I really tried to break down is the creative freedom. Let me save my money up and get a building and put a studio in it that we could go in and basically make music without someone telling us what we should make. I mean, we were able to break through with Musiq Soulchild, Jill Scott, Floetry. It was extremely satisfying because it made me feel like the music we were doing without someone telling us, people really liked it. It made me feel like I was on the right path. The side we couldn't crack through is we still weren't able to put out our own music. We were able to develop it, but I still had to take it somebody for somebody to say yes or no. That was another thing that bothered me because I don't think that anyone should be the gatekeeper of the world hearing your music. I don't think that there's anybody on this earth that has that much musical knowledge to tell you that someone should not hear something. That's why I really started to embrace the internet. It allows you to cut through all of the middle men and get directly to your fan base. You put it out, if your fans like it, they'll let you know. If your fans don't like it, they'll let you know that also. It's not one person telling you if it should be heard or shouldn't. It really wasn't until recently with us not only breaking through the creative barrier, but now we can put our music. We were able to release this project and it on all of the major platforms. The biggest two issues I've always felt were creative freedom and getting paid for what you did. It really wasn't until maybe two years ago that I felt like wow, you have an answer for this that you can just put out music for the people who like what you do and get compensated for it.
YouKnowIGotSoul: With all of the artists who came through A Touch of Jazz in the early 2000's, many are still some of r&b's biggest artists today. Did you ever think about starting your own label with these artists?
DJ Jazzy Jeff: Well you know what, once again, I don't like the concept of necessarily labels. I love the ability to help someone get their music out. I don't think I ever really wanted the pressure of being responsible. That's the way people look at labels. A big part of The PlayList and what I tried to do, is empower the artists to be their own label and give them the tools that they can function on their own. I would love to become partners with somebody on a project, but you don't want someone to feel like they are tied down or anything. I tell people, at the retreat, nobody is hiding behind a tree with a contract trying to sign anybody. My goal is to show them all of the tools that can help the independent artist. You be your own label. I had the blessing of sitting in the seat as an artist, a producer, a production company owner, and a label owner, and realized that because it was all under the same industry, every aspect I sat in was flawed.
YouKnowIGotSoul: Thinking back to all of these names you helped groom at A Touch of Jazz, do you have any stories that stand out to you?
DJ Jazzy Jeff: All of them had stories. You don't realize what you're creating when you're creating it. I think one of the best things was those first 8 or 9 songs that we recorded with Jill Scott. She wasn't signed to a label. Someone didn't tell me to do it. Jill was dope, she came into the studio and we made songs. What I did that was different than what was different than what most people used to do, I bought a CD burner and I pressed up maybe 150 copies of the first 9 songs. I basically gave it to everybody who I felt loved music. That's what got the word out. It was like check this out. I had a friend over at Sony Music, who told me everybody in Sony was playing Jill's demo because they thought she was signed to Sony! I think to me that was a very great memory because that started the whole concept of music is supposed to be shared and passed around to people. I hate we have so many favorite artists that I feel like it's not like they lost their talent. There's a reason why we haven't gotten a Rakim album. It's not because he can't rap anymore. I just want to get through all of that and get back to some music from some of the people that I've been fans of.
YouKnowIGotSoul: Anything you'd like to add?
DJ Jazzy Jeff: I'm just absolutely ecstatic to put out something that was solely done for the creative process and to realize that people really, really like it. We are in utter shock because as much as we appreciate it, that wasn't really the motivation behind it. It was just kind of like I want to hear some stuff that brings back the nostalgia and gives me goosebumps. Eric Roberson was the first to say "Goosebumps are transferable." It's working.
Photo Credit: Dexter Cohen