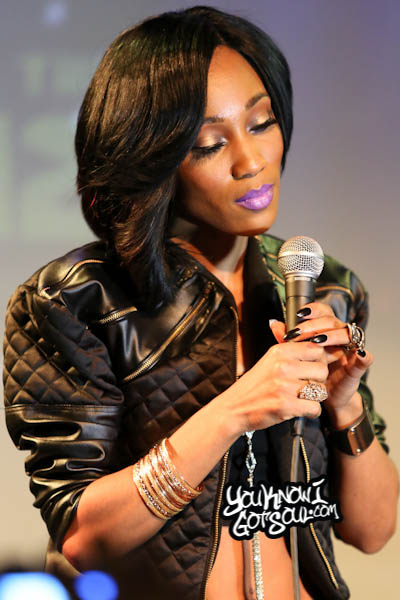 R&B singer Dondria has been on our radar now for over a decade, ever since she was a pioneer in building a movement via YouTube and eventually getting signed by Jermaine Dupri. Lately, the pair have been back in the studio together, so it was only right that we brought Dondria in as a guest on our latest SoulBack R&B Podcast.
During her appearance on the show, among other things she discussed her latest Duets mixtape, being mentored by Jermaine Dupri over the years, and working on her upcoming album. You can listen to or read about what she said to say below, but also be sure to check out the full episode. In case you missed any of our recent podcasts, you can find all of those here.
YouKnowIGotSoul: You've done a bunch of duets mixtapes, and your latest one is inspired by 90's R&B. What inspires you about 90's R&B?
Dondria: I like to nickname it authentic R&B. I think that it's something that everybody is inspired by no matter what genre of music you do or how you feel. We're even getting a lot of samples in hip hop from 90's R&B. I think that it's feel good music. It's life music. I think that it does the perfect job of just explaining whatever situation you're in, love, having your heart broken, I just feel like R&B best embodies that.
YouKnowIGotSoul: Talk about continuing to build with Jermaine Dupri and your upcoming album.
Dondria: He's been a major force in my career. At the time when he discovered me and we started this journey, that was the tail end of artist development too. He put me through that. He showed me the ropes. I remember one day I had a show coming up, and I literally had to perform my show over, and over, and over until it was right! I had the opportunity to get mentored and get advice, this is a legend in the game and a genius. You have to listen! All of the success that he's garnered for himself, he has the touch and the ear. I think that he's figuring out where he can succeed the most too. I think that this project is lit and it's the first step of some amazing things. I cannot wait to drop it.
With this project, I had been always at the studio even if I'm not working. I'm just there. He and Bryan-Michael Cox, and Dallas Austin, they were all there at the studio, and I had just been getting back to my old style. Sometimes life happens and you try to figure out who you are, you are growing up, all the craziness. I found myself getting back to my old stuff, which would be bugging JD all of the time, texting him, calling him. I was just up there and telling them it's time to go now! At first, they were probably confused. But I think it's pretty evident.
It's funny because just watching social media, yesterday I posted just singing a song from my first album. I think somebody did a bounce mix in New Orleans, and it's kind of getting this new life. Everybody is singing along to it on their stories and posting it on their page. So I decided to sing it and there is so much nostalgia just running down the comments. Fans are still playing my first album. It was confirmation that this is what they want and now is the time to give it to them. I just think that we all see that. With JD, when it's go time, it's just go time. When he said we're doing this project, it's in the studio every day until 7 am for two weeks straight. Now that we've got past that, we still may come into the studio and just record more and more stuff. You can just tell there is an energy and excitement in the room that is re-sparked. It's really exciting. I think this music is something that people have been yearning for and waiting for.