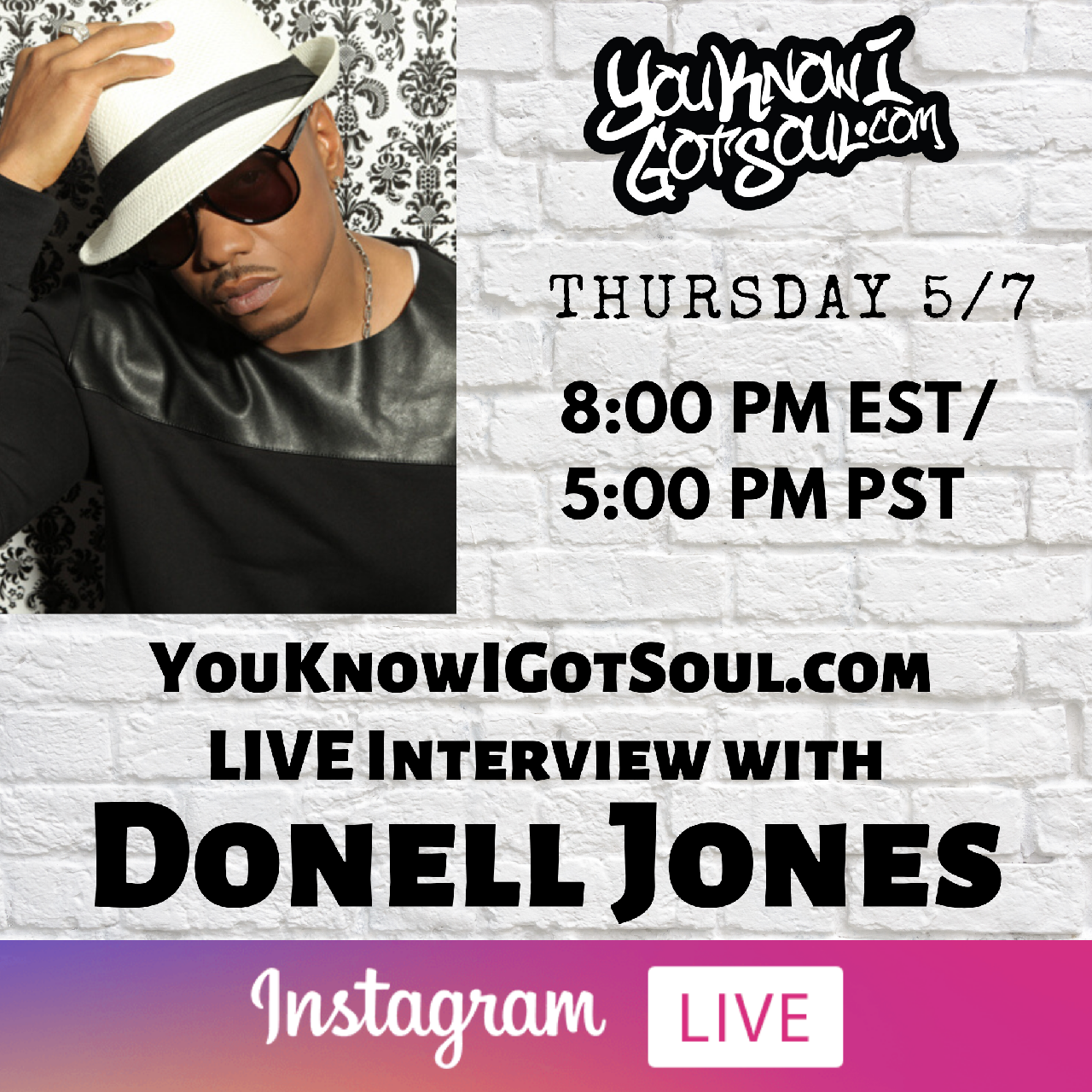 We recently had a chance to catch up with the legendary Donell Jones on Instagram Live for an interview.
The conversation started around his huge collaborative single with Jon B. last year on "Understand". The song ended up being #1 on our list of the Top 100 R&B Songs of 2019.
Donell then talked about the new music he had been working on as a follow up to his 2013 album "Forever".
We then took it back to his origins in the music industry, and he talked about his songwriting for other artists like Usher and 702. He then shared the story of how he originally got signed to LaFace after linking up with DJ Eddie F and The Untouchables.
The discussion then turned to reflections of each of the albums Donell Jones has released over the years, from the debut "My Heart", to "Where I Wanna Be", to "Life Goes On", to "Journey of a Gemini", to "Lyrics", to "Forever".
We ended our discussion by talking about how his music has been sampled quite a bit in recent years and some of the younger generation has been showing him respect.
YouKnowIGotSoul: We absolutely love the song you did with Jon B. last year "Understand". We had it as the #1 R&B Song of the Year and it was such an amazing moment for R&B. Talk about that.
Donell Jones: Jon hit me up and asked me to get on the record. When I heard the song, I immediately said yes, because I just feel like it was a great record. I didn't have anything to do with writing or producing it, that was all Jon. Just out of the respect and love I have for Jon, I had to be a part of it.
YouKnowIGotSoul: Talk about the new music you're working on.
Donell Jones: I'm in the lab now. I just make music every day. It's nothing new for me. Even though we're stuck in the house, I do this every day anyway. I'm just making music, trying to follow my heart and make something great.
YouKnowIGotSoul: Take us back to when you first got signed. You had been doing songwriting and doing placements for Usher and other artists. How did you get signed?
Donell Jones: I was with a group called Porche. We were doing a lot of shows in Chicago and we had made a name for ourselves. We really didn't get signed. So we took a trip to DC and they had a big conference out there, the BRE (Black Radio Exclusive Convention). We went out there, we had a showcase, nobody came to the showcase, so what we decided to do was just go to the hotel and sing for anybody in the lobby. Eddie F happened to be downstairs and we sang for him. He told us not to sing for anybody else, because he was going to sign us. As soon as he walked away, we started singing for other people. He came back over and told us to stop! Two months later he sent us plane tickets for us to come to New York.
YouKnowIGotSoul: So how did you end up going solo, since it was the group that had got signed?
Donell Jones: We had some differences and broke up. At the time, I think Eddie was producing a lot of records for other people and he wanted me to write, so I started writing. I came up with the song "You Took My Heart" for Usher, and Puff heard that and he wanted me to write for Usher with him, so I wrote "Think of You".
YouKnowIGotSoul: How big was it for you to do one of your first writing placements and have it be for Usher and become a single?
Donell Jones: It was huge. It was like it was me, it was my song he was singing. I heard it on the radio and it was a beautiful moment.
YouKnowIGotSoul: Where did you develop your skills as a writer and producer and vocalist?
Donell Jones: Being around Eddie F, he put me around some amazing producers. Dave Hall, Kenny Kornegay. I just watched them do their work and just picked up a lot of things from them and that's how I developed my craft.
YouKnowIGotSoul: Reflect back on your debut album "My Heart".
Donell Jones: That was my first album and I just wanted to make a record you put on and let it play. Back then we were into hip hop and R&B, so you got a lot of loops. It was a really great fresh start, something new for music, and I'm just happy they gave me the shot.
YouKnowIGotSoul: You had the Stevie Wonder "Knocks Me Off My Feet" as a single on that album. How was it covering Stevie?
Donell Jones: To be honest that was extremely hard. I didn't even know it was a Stevie song at first. This guy by the name of Darin Whittington was the producer, and his wife sang the demo, and I sang off of that. L.A. Reid heard it and said it had to be my first single.
YouKnowIGotSoul: Around that time you also wrote "Get It Together" for 702.
Donell Jones: I remember being in the studio with those girls. They hated me! I just kept making them do it over and over and over again. It was something I wanted to hear from that record. It came out to be really good. Those girls put their heart into it. There is something about writing, I love writing for other people, it does something for me.
YouKnowIGotSoul: Let's reflect on the "Where I Wanna Be" album. Every song on there could have been a single.
Donell Jones: We went at it with the intention of making an album that would be incredible. After the first album, LaFace really didn't get it, and I just wanted to make sure they didn't mess it up again, so I tried to make a record where every song could possibly be a single. That's what we did. We attacked it like that. Every album I came with after that I tried to do the same thing, make it where every song could be a single. That's how I approach making music.
YouKnowIGotSoul: Not only that but you also write and produce a decent amount of your own music, you don't seem to get credit for that. What does it mean to be able to do that?
Donell Jones: It's everything. My heart, my emotions, all of those songs are things I've been through. I think that's why people can really identify with what I do because all these songs come from my heart and things I've been through. I can give it the type of emotion it needs because it's something I've been through.
YouKnowIGotSoul: What do you remember about when "Where I Wanna Be" came out. You were on top of the world with the hit singles "U Know What's Up" and "Where I Wanna Be". Talk about being in that moment.
Donell Jones: *Laughs* I was a different cat then! The world was different. Being #1, being a kid and growing up in Chicago, always thinking about it and wanting to have a #1 record. For it to happen for me, it was the happiest moment in my life. The hard work paid off.
YouKnowIGotSoul: How did you approach your next album "Life Goes On".
Donell Jones: The same way. Just wanted to try and make sure every song could be a single.
YouKnowIGotSoul: What do you remember about putting together your "Journey of a Gemini" album? It is one of your best.
Donell Jones: I was going through a lot at that time. I was struggling with alcoholism at that time. I had just come out of rehab, and I had a lot of songs. A lot of the songs that were supposed to be on that album went on my "Lost Files" album. We did a whole nother album. I just remember going to L.A. and linking up with Tim & Bob and Mike City. It was just that time. Everybody was giving me real dope music, it was real fresh. That album was real dope.
YouKnowIGotSoul: Your next album was "Lyrics". What do you remember about that one?
Donell Jones: That was not one of my favorite albums. It was after a bit of a hiatus. I had fun making it, but it's not one of my favorites. I think I could have done better with the time I had.
YouKnowIGotSoul: Your last album was "Forever" from 2013.
Donell Jones: That's my favorite album of all of them. It's really about me and what I'm going through. This album man, I just really put my heart and soul into it. I'm really proud of that album.
YouKnowIGotSoul: A few years ago you had the single "Never Let Her Go" and we thought an album might follow.
Donell Jones: I had just been out of the game for a bit, wanted to do a song. I made the beat, I think I was going up Stone Mountain one day and I saw David Banner coming down. So we hooked up and did the song. It was just like that, quick.
YouKnowIGotSoul: Have you been close to releasing an album at any point, since it's been nearly 7 years since your last album?
Donell Jones: I'm in the process now, I'm going to release something this year. I really want to release something for my birthday, like a single or something like that. I'm ready, I've been working for a long time. It's going to have a Donell Jones feel. I can't say it's going to have a 90's feel, I never changed my style, I'll keep doing what I do.
YouKnowIGotSoul: What is your favorite song that you wrote?
Donell Jones: It would have to be "I Want You To Know" from my first album. My mom and sister and everybody was around during the recording of that song. Something told me to just put everybody out of the studio and I really was one with that record. It just came to me.