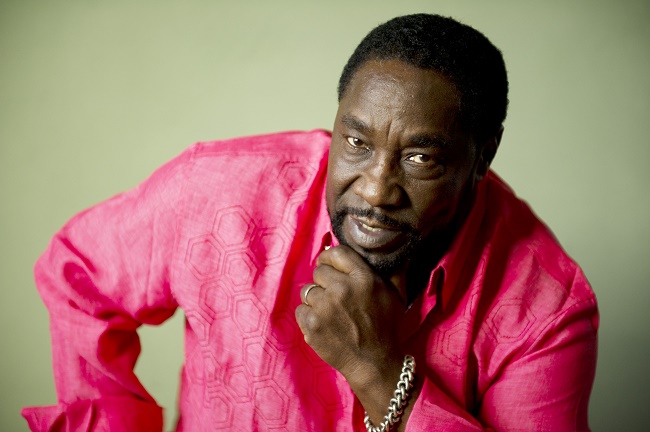 What else needs to be said about Eddie Levert? The O'Jays' lead singer has been able to touch multiple generations with his music and his impact is still felt today. Just recently, The O'Jays' song "For the Love of Money" was inducted into the Grammy Hall Of Fame. The group started finding success back in 1972, but they've surprising never won a Grammy despite all their commercial success. Their much deserved induction into the Grammy Hall of Fame shouldn't be a huge deal at this point, but it's a massive achievement considering that "For the Love of Money" came out in 1974. Along with that, Eddie Levert is showing no signs of slowing down as he released his last album "I Still Have It" back in 2012 and he's back again with the new album "Did I Make You Go Ooh". YouKnowIGotSoul had to talk to the legend about being inducted into the Grammy Hall Of Fame and his feelings. We also talked about his new album and the challenges for him in today's music industry.
YouKnowIGotSoul: Congratulations on being inducted into the Grammy Hall Of Fame for the song "For the Love of Money". How does it feel right now?
Eddie Levert: You want the truth? The O'Jays have been nominated about 5 or 6 times and this is a terrible way to get into the Grammy's. They nominate my song, but they don't nominate me. I feel like "Wow, the song beat me out and now I can't get in there!" Anyway, it was like I came through the backdoor to get there.
YouKnowIGotSoul: With the song itself, it's 40 years old and it's still being recognized today. That must be big for you right?
Eddie Levert: That's the good thing about it. That's the great part about it. The song has lasted that long and it's still relevant now. They're still associating this song to be a Grammy award winning song and that's a tremendous thing. That's a great achievement w within itself. That's just saying a lot about the song and the lyrics that people can still relate to those lyrics 40 years later.
YouKnowIGotSoul: In today's music industry, there's such a division in listeners based on age. How were you guys able to capture everyone?
Eddie Levert: I think that's what is so great about The O'Jays' music. The songs are still associated with life. It's everyday living and it's still the same. Those songs like "The Love Train" and "For the Love of Money", it's still every day living. That's why people are able to associate with it because it's every day living. "For The Love of Money", that's still going on. You've got to give people what they want. This is what people live and that's why we're still so prevalent.
YouKnowIGotSoul: As an artist, you've had moments in the studio where you could recognize what was going to be a hit based on your own instincts. Did you know "For the Love of Money" was going to be special?
Eddie Levert: We knew it was special from the time that bass lick came on. It started out just being a bass lick and then it turned into a song. Then they wrote these great words about the love of money and people lying and cheating. Some people really need it and some people do really bad things with it.
YouKnowIGotSoul: I know you just put out a new song called "Did I Make You Go Ooh?" How did that single come about?
Eddie Levert: That's a true studio song. We were sitting in the studio and Edwin Nicholas who wrote a lot of songs with Gerald Levert, he kept telling me I needed to do something sensual and a little bit sexual. He was like "You need to do that" and I was like "Well, play me something. Let's see what you have". He put the music down and I went home and I was like "How can I be suggestive but not be over the top?". "Did I Make You Say Ooh?" is something that would let their imagination go wild.
YouKnowIGotSoul: Talk about your new album that you're working on.
Eddie Levert: The title is called "Did I Make You Go Ooh" as well. I finished it and we just released it on the 29th of January. I'm out promoting it and out in the cold weather just running around to all the radio stations to get people to buy it.
YouKnowIGotSoul: What can we expect from this album? Your last album "I Still Have It" came out a few years ago. Should people be expecting the same type of sound?
Eddie Levert: It's a little more. This is a little more in-depth than "I Still Have It". The last album was a thing that I decided I would go in the studio and I would show the kids how an old vet like myself can go in the studio with songs and it would be a hit. I didn't realize that the music business had changed a lot. Radio is not the same and it's all social media. I thought what would happen is that people would say "It's Eddie Levert and he's a legend. We're going to play him!" That was wrong. *Laughs* It didn't happen like that. Plus we didn't think we had to work hard at getting it played. We found out by making that mistake and we had to go back and do the work to make them play it. We had to go out to promote it and we had to go out and do radio. We had to get into social media to let people know that it's there. Radio is not the same anymore. You have iHeartRadio, Sirius Channel and Radio One. They're picking the people that they're going to play on a regular basis and I'm not part of that crowd. My relevancy is in question. *Laughs*
YouKnowIGotSoul: At this point in your career, are you still looking to achieve commercial success?
Eddie Levert: Absolutely. I still want to prove to them and the world that I am viable.
YouKnowIGotSoul: Is there anything you would like to accomplish in your career still?
Eddie Levert: I would like to go and do movies. I want to produce other people besides myself. I have a granddaughter who is very talented. I have a grandson who thinks he's talented. I would like to open doors for them and saying all of that, I want to be involved in their careers and getting them started. In doing that, I've started a website called EddieWLevert.com and I've put my music on iTunes, Google Play and Amazon music. I have to get involved. I have to know passwords to all of those. It's terrible. *Laughs*
YouKnowIGotSoul: It's awesome that you're embracing technology and all the changes.
Eddie Levert: You have to if you still want to be a force in the music business. You have to be involved in social media.
YouKnowIGotSoul: Being that you've been able to see the evolution of R&B since The O'Jays, how do you view the state of R&B and was it tough for you to see the genre changing?
Eddie Levert: If you want to be in this business, you have to embrace the change. If you want to be in this business, you have to keep reaching and shifting. You have to be part of what today is. If you're not part of that, they're going to bypass you.
YouKnowIGotSoul: In terms of the artists today, is there an artist that stands out to you as someone who has impressed you with their stage presence? Touring and stage performances aren't as big as they used to be.
Eddie Levert: I think they're more involved with the smoke and mirror. When you had people like James Brown, it was all about James Brown. Now when you go on to see a show, there's about 50 people out there and you don't know who the star is. You don't know who the guy is that you came to see unless they have the spotlight on them. You've got 20,000 dancers and you don't know who you should be looking at. It's about smoke and mirror. I'm still down for the minimum. If you go see Jackie Wilson, you went to see Jackie Wilson. If you wanted to see James Brown, you saw James Brown. I'm still from that school of thought and I'm still that way with my show. Not being selfish or greedy, i just feel like I should be the focal point of what people want to see.
YouKnowIGotSoul: You're still touring and it has kept your music relevant throughout the years. Has touring been important to you?
Eddie Levert: Absolutely because we've been able to stand 4 generations. We're not only getting people in my age group, but we're also getting their children and their grandchildren. Now we're getting kids who are 13 years old and they know who I am. It always blows me away. These kids just need to know who we are. I guess their parents and grandparents played their music so much that they can relate to it. This is the thing I try to convey to radio that people like us are still relevant because these people are hearing their music through their parents which makes me relevant. You should play my new stuff. They play the old stuff which I think is great, but we're still artist. We're still creating and we still have something to say. We still do good music and they should recognize that and give us some airplay.