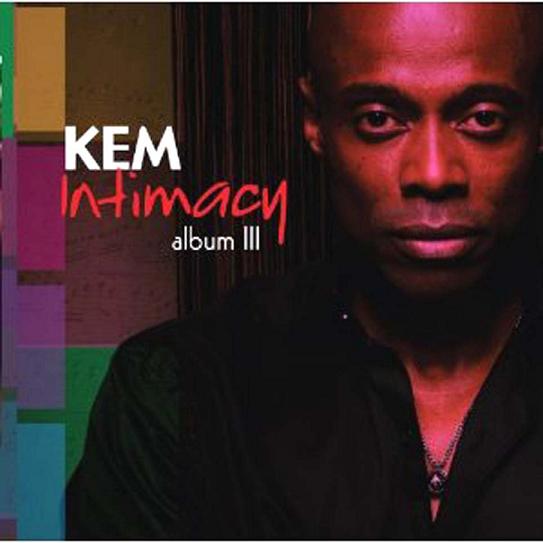 With the way album sales have declined drastically over the past decade, it's been said that going Gold is the new Platinum. Being on a major label no longer guarantees an album will be successfully picked up by the masses. Additionally, with the r&b genre trending more towards independent labels, artists are finding it more and more difficult to reach not only the mainstream audience, but also their core fan base.
Universal/Motown artist Kem released his "Intimacy: Album III" album in August 2010 and is quietly on the verge of celebrating Gold status on an album for a third straight time. Whereas artists tend to find the sales of their albums tailing off over the course of their career, Kem has consistently sold over 500,000 copies of each album since his major label debut in 2003. In fact, Kem seems to be getting stronger in time, having his highest debut on the Billboard Top 200 charts at number two.
This is monumental for the fact that in a time when many r&b artists are struggling with sales, Kem, despite not being a household name by any means, seems to be thriving. "I really just try to stay true to myself musically and that works for me and my fans honor that and I don't take that for granted" Kem revealed to us exclusively in an interview earlier this year.
So talent aside, what makes r&b fans gravitate towards Kem's music? Well for starters, he's full embraced his fan base and recognizes who they are which has made him a permanent fixture on adult contemporary radio. Additionally, I can attest that he has surrounded himself with the right people and has a great team around him. Finally, even after nearly a decade in the industry, his humbleness is infectious, "It's really cool to be living in my gift and living in doing what I'm passionate about. So it's something that I don't take for granted and I feel like I'm very blessed to be able to do this."
Click Here for our Full Interview With Kem
Read below for the full press release
DETROIT, MI – Detroit's own GRAMMY-nominated Motown Recording Artist KEM is nearing 500,000 sales and GOLD status with his third album, INTIMACY. Fans are encouraged to Give the Gift of INTIMACY and share KEM's songs of intimacy and love with their friends and loved ones.
"KEM is currently a two-time Gold record-selling artist with his first two albums, KEMISTRY and KEM ALBUM II, which is a major achievement," said Toya Hankins, KEM's manager and owner of Project Producers, LLC. "In today's economic climate, where Gold-selling albums are no longer the norm, particularly in the R&B genre, we hold the goal of Gold status in the highest regard. In earning the achievement of Gold status with INTIMACY, we hope to remind the music industry that there is indeed a strong market for meaningful, soulful, 'Grown & Sexy' music."
"KEM's music career was built on our 'grass roots' marketing campaign," continued Hankins. "In the early 90's, we sold his first 10,000 albums, literally, out of the trunk of his car, and as his popularity grew by word of mouth, we were able to achieve our initial goals of radio play and a recording deal. And now, we hope to achieve our goals by returning to our grass-roots approach using today's vehicles – technology and social marketing."
The INTIMACY album, which debuted at #2 on Billboard's Top 200 Albums chart in August 2010, has produced three hit singles. The first, "Why Would You Stay," spent several weeks at #1 on the Urban AC Radio charts, and the album's second and third singles, "Share My Life" and "If It's Love" both climbed into the chart's top five. The third single, "If It's Love," currently sits at #3 on the chart.
INTIMACY provides an insightful collection of love ballads reflective of the inner thoughts of a man seeking to understand a deeper meaning of intimacy. KEM, who self-produced his first two CDs, KEMISTRY and KEM ALBUM II, also opens up creatively in INTIMACY by featuring a string orchestra, collaborating with outside producers and including two duets.
INTIMACY features vocal and production collaborations with Jill Scott and the late legendary Motown Producer, David Van DePitte. For the first time, Motown Recording Artist KEM invited an outside producer, Rex Rideout (Luther Vandross, Angie Stone), into his studios to assist with the completion of the CD. The result is a fuller sound and a broader range of musical styles that have greater reach and appeal to a wider audience.
On an intimate note, KEM says, "I've learned that the quality of my life is contingent upon the quality of my relationships. Intimacy is the cornerstone of relationship. Intimacy is relationship with self, family, friends and our Creator. It's the ability to allow one's self to be vulnerable, which is something that doesn't come easy for me. Intimacy is not only about being a great lover, but learning how to be in love. My albums are like children to me. I work endlessly, nurturing each song, with the hope that when I send them out into the world they will make a difference. INTIMACY, my third album, is no exception."
In February of 2001, KEM independently released his first CD, KEMISTRY, sold nearly 15,000 CD's, piquing the interest of Universal Motown. The label signed KEM to a five-record deal in November 2001 and re-released KEMISTRY. KEM previewed music from his second release, KEM ALBUM II, for audiences on a 20-city underground tour, after which the CD was certified gold after just two weeks of release in May 2005. Combined, KEM's two three albums have sold in excess of than 2.2 million units.
In recognition of his talent, KEM was nominated for two NAACP Image Awards in 2006 for Outstanding Male Artist and Outstanding Song ("I Can't Stop Loving You"), for a Soul Train Award for Best Male R&B/Soul Artist in 2010, for two Grammy Awards in 2010 for Best Male R&B Vocal Performance and Best R&B Song ("Why Would You Stay") and the BET Centric Award in 2011.