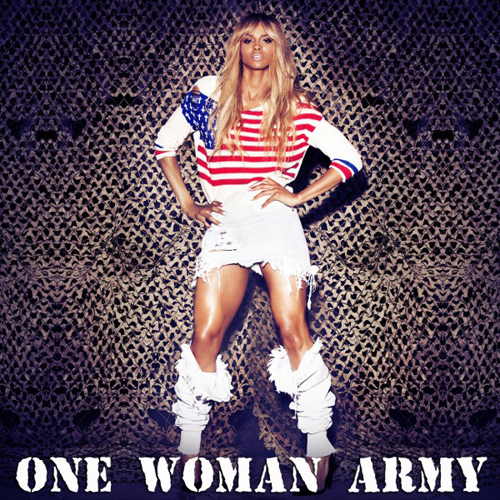 Written by Sope Soetan
Sitting On Top of the World…
From about 2004 to 2007 it would've been virtually impossible to escape from Ciara's many hits on the radio or on television with her energetic hybrid of Pop/Hip-Hop influenced R&B. From 'Goodies' to 'Oh' to 'Promise', Ms. Harris had hits for days. Her talents were often enlisted to feature her vocals with collaborators such as Missy Elliott & Bow Wow to bring extra star power on the Billboard charts.
CiCi not only was an urban sensation Stateside, she had made a name for herself internationally racking up successful singles in the likes of Australia, Germany, England and many more markets. Ciara was without a doubt one of music's biggest female entities – not just in R&B – MUSIC period. With her knack for scoring hit after hit and electrifying vigorous performances she was widely regarded as Beyonce's fiercest competition before Rihanna, Lady Gaga and the like came along. However when the time came to start preparing for the release of her 3rd effort 'Fantasy Ride' everything started turning pear-shaped…
When It Started Going Wrong…
The original first single 'Go Girl' helmed by fellow hit-maker T-Pain failed to recreate the success of her preceding releases, failing to reach the top 20 on both the R&B charts and the pop charts. As a result, the single was later demoted to 'buzz single' status. Many songs leaked early eventually causing the album to keep getting pushed back multiple times. During this time, another lead single by the name of 'Never Ever' was released and once again failed to meet expectations. However it seemed everything was finally starting to pick up again for the starlet when the Justin Timberlake-assisted single, 'Love Sex Magic' became another hit for the Atlanta native. Despite the success of the single, the album itself opened up with the lowest first week sales of her career up until that point with 81,000 copies.
After the release of the album, there was a lot of uncertainty with the project, but eventually Ciara lined up two more singles to promote the album, the sex-soaked 'Like a Surgeon' and dance-floor stomper 'Work'.
http://www.youtube.com/watch?v=aVShOMwvzF0
Both of these songs could've been bigger smashes but her team dropped the ball by not releasing a video for 'Surgeon' as it was rising the R&B charts and by not releasing 'Work' in the US at all. Consequently, 'Like a Surgeon' stalled at 59 on the R&B charts and 'Work' was a moderate success international markets. After the mediocre success of 'Fantasy Ride', Harris pushed ahead and dove head-first into the recording of its follow up 'Basic Instinct' with a promise of the content being reminiscent of the urban heavy sound on her debut offering which made her a household name. But once again just like her previous album, it was a case of déjà vu with the struggles that were prevalent with the launch. (Leaks, push backs, promotion etc). Most notably was the controversial banning of the 'Ride' video which prevented the song from being a bigger hit than it should've been. As a result, the album ended up selling a paltry 43,000 copies in the first week, not even reaching the top 20. This was a far cry from the triumphs she had encountered with 'Goodies' & 'The Evolution'
Perhaps the biggest flaw with 'Basic Instinct' was the single choices. By 2010, the industry was moving towards a more generic dance-filled landscape and songs like 'Gimme Dat' weren't deemed hit potential anymore causing Ms Harris to be lost in the madness of Katy Perry & Ke$ha songs. 'Basic Instinct' actually housed an ideal song to appeal to the new industry trend and that was her duet with R&B veteran Usher, 'Turn it up'. The dance track was set to be sent to radio and pushed as the next single with a video in future. However for whatever the case neither came to fruition and it seemed Ciara had moved on from both the album and her label as she revealed to fans that she had been asked to be released from her Jive contract.
http://www.youtube.com/watch?v=gLpK6_ZoEk4
Looking to the Bright Future…
When it was announced that Ciara had signed with L.A. Reid on the Epic label, fans everywhere rejoiced because Reid played a pivotal part in the success of her early years and fans hoped he could help her recreate the success that is so worthy of the talent CiCi has. I'm now going to outline what I feel could put Ciara rightfully back on top where she deserves – being a reputable name in mainstream music again.
Music:
Given Ciara's ability as a dancer, she needs to be making music which calls for
extraordinary videos and performances. But this is 2012 so nothing similar to '1, 2 Step' & 'Gimme Dat' will go down well in today's charts. Earlier this year Ciara released what was to become her new single by way of 'Sweat' but (thankfully) all plans for that song were dropped after the mixed reception from fans. Ciara's new album needs to be carried out correspondingly to the latest output from fellow singer-dancers, Chris Brown & Usher. So unfortunately this means she is going to need to follow suit by releasing dance-pop for the US pop and international markets while releasing pure R&B jams for urban radio.
It has recently been announced that Ciara has been prepping for the filming of TWO new music videos. One of the new songs has been revealed as a ballad by the name of 'Sorry'.
I must admit I was a bit skeptical when I discovered it was a ballad but hopefully it's not promoted as the main single and just as single for her urban audience because a ballad is not going to get her the hit she needs right now. Not much is known about the other song but an amazing snippet leaked recently in the form of 'Overdose' and if this isn't lined up to be her next major single, it NEEDS to be because it's poppy enough for the masses but not derivative to tarnish the quality of her music and greatly disappoint her core fans. It's a sure-fire comeback smash. It also wouldn't hurt for Ciara to log in some studio time with Bangladesh to create something similar to the heat Brandy had with 'Put it Down' as that sound would fit Ciara like a glove.
http://www.youtube.com/watch?v=r9G8c_4sUiA
Promotion & Overall Project Management
Firstly, whenever a new single is released to the internet, it needs to be released to radio and iTunes within two weeks at the latest with a video following soon after. This needs to be done in order for the buzz and hype of the single to stay afloat.
She needs to promote on the biggest talk-shows in the country such as Jay Leno & Jimmy Fallon not just 106 & Park. Ciara was once a mainstream force – she can do it again.
Finally, as we all know Mr Reid is a judge on the American X-Factor and if Ciara is a priority he needs to do all he can to secure CiCi a performance slot when the show's new season begins as this would be a perfect platform for her not to only remind people why she's one of the premier performers today but the millions watching will have more of an incentive to purchase the single off ITunes and request it on radio which could assist in Ciara getting the comeback smash she's deserving of.
If all of the above is achieved then I don't see why Ciara can't recreate the blockbuster success of her first two albums, if not exceed them.