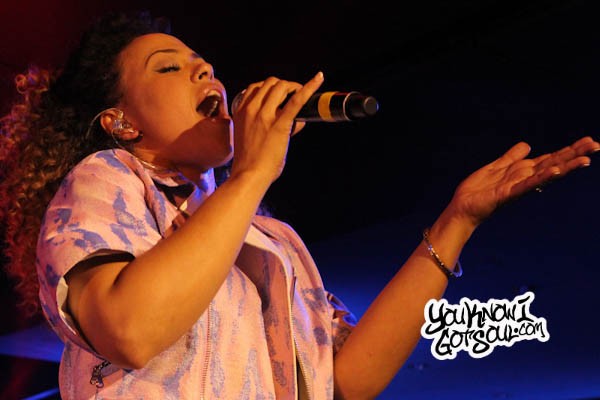 Following the release of her long awaited project "ELLEVATION", Elle Varner joined us as a guest on a recent episode of our SoulBack R&B Podcast for an interview. During the appearance, she discussed releasing the new project, the layoff between projects, leaving major label RCA, and much more.
Check out some of what she had to say below, and listen to the full episode for more.
YKIGS:  We've waited so long for this project. How does it feel?
 
Elle Varner: I'm feeling so excited and grateful right now. I'm excited to finally release this project. Just of course things could have been different. We always can look at life that way. But what I'm starting to see here is things falling into place in a magical phenomenal way that I couldn't have predicted myself. For example, I'm independent now. I own my masters, I started my own record label. These are things that could not have happened until much later in my career had things gone differently. Just being able to meet with people not just as an artist, but as a label owner is powerful. Just to have a project to talk about and put in people's hands is great.
 
YKIGS: How hard was it following your debut album when fans would ask for new music, and you weren't able to put out a project?
 
Elle Varner: It's been a learning process. What I've learned and am still learning, is to have an emotional barrier and understand how the business works. Don't internalize everything, that's what dangerous. When you tie in your emotions in the fabric of your life into one aspect of your life. I experienced that for some time. What saved me from that was going back to the basics and creating. Going into the studio and creating, nobody can take that away from me. Even though I wasn't able to release music and it was frustrating, I got through it and here I am now.
 
YKIGS: Do you consider this project a mixtape, album, or EP? We've heard it called all three.
 
Elle Varner: It's definitely an EP. It's an extended EP with 9 tracks. It's absolutely setting up for the sophomore album, which I'm pretty much finished with. Things are just starting to come together in terms of, I've just done so much from BET Awards to Essence Festival. It's nice to be back in the mix. I' meeting all of these artists. It's just really exciting to officially be back and have something to talk about that I know is coming out. It changes the whole experience from this idea to a reality. I'm networking and just being out there in this space. "ELLEVATION" is the setup for the album, which will have certain tracks that are already favorites. I'm known for that. "Nothing" will be on there. That's pretty much the only one that people will know.
 
YKIGS: The song "Wishing Well" is a very self-reflective song about letting go. Talk about the change in mentality from some of your earlier songs where your lyrics were more angry.
 
Elle Varner: Thank you for bringing that up. That literally is why this project is called "ELLEVATION". It's also a cute pun on my name. All of that baggage and anger and disappointment was brining me down in so many ways. The fact that I called it this, and it's such an uplifting message, and I'm in such a better place, I'm happy to share that. Of course "4 Letter Word" would have been great if it came out, but now I don't have to be defined by such a hurt project. I was hurting badly. I love those songs and always will, but I don't have to define my second album by that particular emotion. I think my music has always uplifted people in some way and struck a chord. I'm happy to be doing that.
 
YKIGS: How do you look back at your time on RCA Records?
 
Elle Varner: I'm grateful to RCA for helping me start off on a professional level and help me get my name out there. What we started will always be revered and appreciated by me, but it's time for a new chapter. I went to NYU and Clive Davis School to learn the music business, I always saw myself potentially as an executive or running a label. But something in me said I should go after the artist thing. Just to do it because I could. I'm glad that I did and now I get to be an artist but also start expanding the business side of my career as well.
 
YKIGS: When you started your career, it was probably the toughest time for an R&B artist to come out. What challenges did you face on your journey?
Elle Varner: At the time, I saw a void in the R&B space. I grew up on such classic R&B, it was just perfect. We were going to take hip hop and marry it to acoustic/R&B that I had going on. It was definitely unique. We did that. All I had to really was just take a stand for it at the label. When you have that confidence, it brings everybody on board. Once we got to the point of deciding if we were going with it. "Refill" for example, some people wanted me to take out the fiddle. I was just so confident about it and it really showed. It yielded the result that I was hoping for as far as cut through and bring classic R&B a little more mainstream at that time. It started a domino effect. With each artist that comes and breakthrough certain thresholds, you open the doors for others, that's a beautiful thing. I'm happy for R&B right now as a whole.
 
YKIGS: With the long layoff between albums, and the transition from major label artist to independent artist, was there ever a point where you considered giving up?
Elle Varner: I would be lying if I said I didn't! On the song "Be Encouraged", the lyrics go 'I've been where you are, so low/Wonder why I'm here, foreal though'. It's a little bit dangerous the level to which I identified how much I validated myself by my success. That's cool and all, but on a much bigger note, even whether I'm singing to five people or five thousand, the importance of that doesn't change for me anymore. I know that it might be one person in that room that was there and needed to be there. I don't take any of this for granted. As long as I keep showing up and doing the work and having fun with it, it's going to be more than ok.